Version 2 can be found here, but this one remains much more hilarious.
Sadly, these sims were lost in the Great Computer Wipeout of '11. Which is a real shame because
oh my god they were so perfect
.
I decided to put all my Hetalia sims into a boarding school and set them free to see what the game did with them. And the game knew
exactly
what to do with them.
I'm currently rebuilding the school and the sims, but I don't think it will ever live up to
this
. So, in memory of the greatest sims to ever live, here's the story of my Hetalia sims. It's a tale of romance, betrayal, and a serious lack of showering.
WARNING: A
shitton
of images. You might hurt your computer. DA refuses to let me resize them so…yeah. Sorry. This was originally in three parts posted elsewhere, but I really didn't feel like separating them. Probably should have. Whatever, you'll live.
---
Chapter 1
I built a boarding school for my Hetalia teen sims to see what mischief I could get them into.
Turns out they really didn't need my help...
There was a lot of normal school things going on.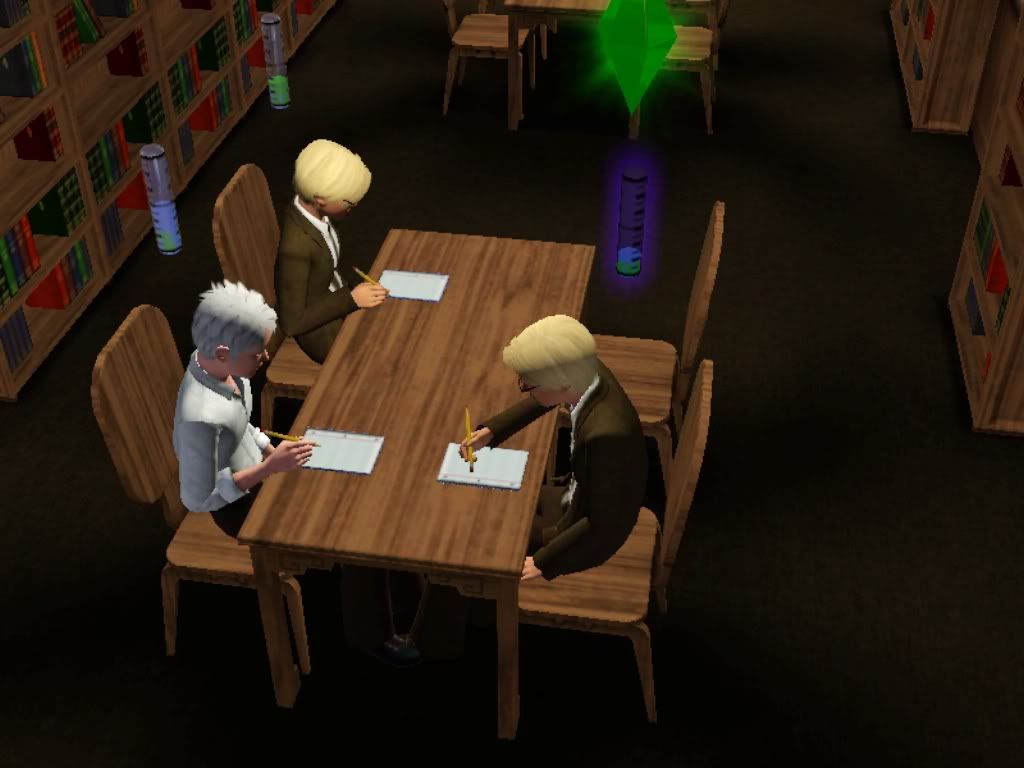 Like homework. (That's Alfred, Gilbert, and Matt, left to right....or maybe it's Matt, Gilbert, and Alfred. I don't remember now...)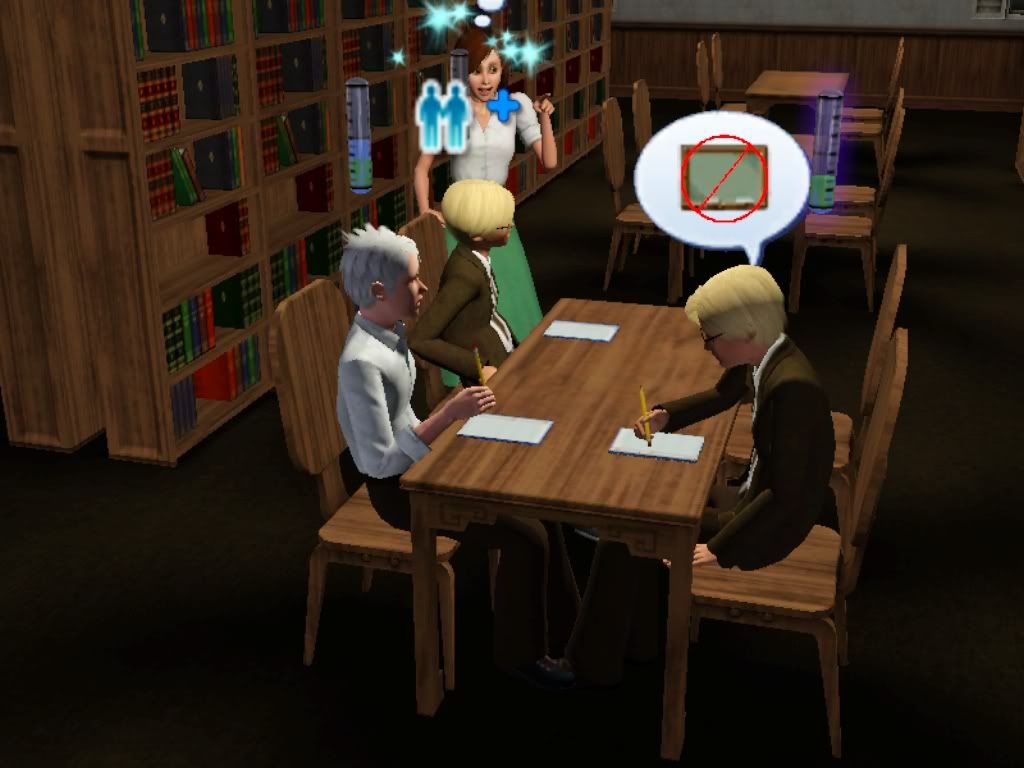 "Hey. Hey guys. Look over there."
In case you're wondering, that's the headmaster.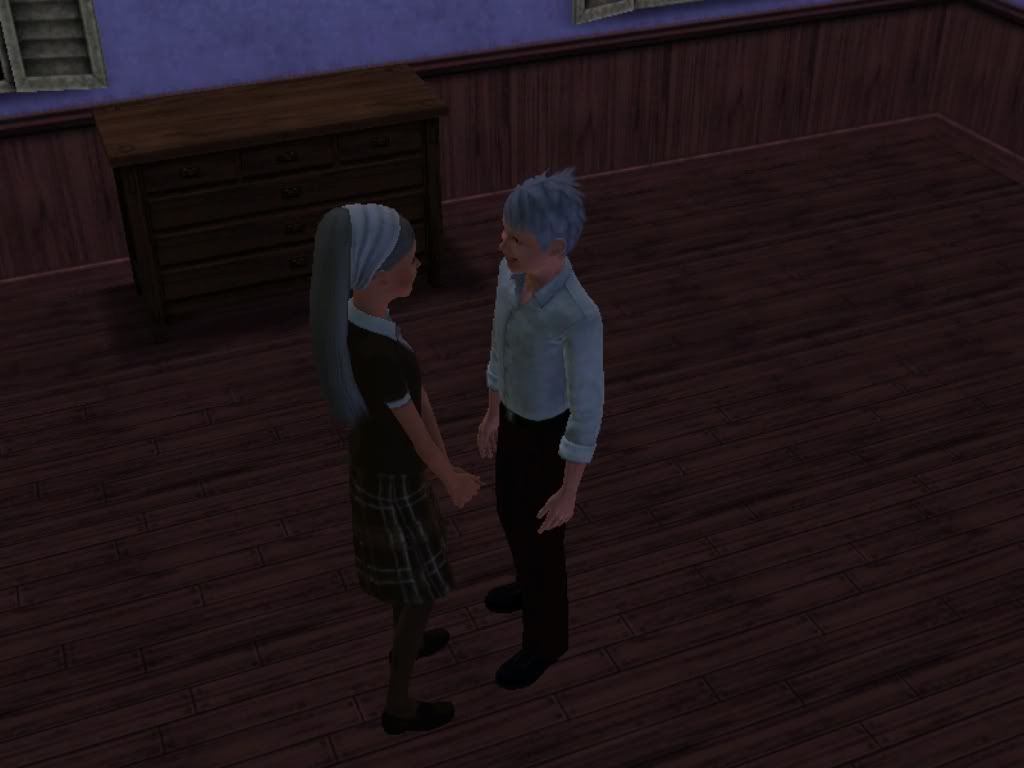 The 'Gaze into Eyes' action is only available for flirty sims, which is a shame, because it's really adorable. The sim gazing kicks back their heel and generally looks starstruck.
Oh, for those of you who want to keep track, that's Natasha and Gilbert.
There's Ivan and Gilbert.
Only sims argue in a bathroom.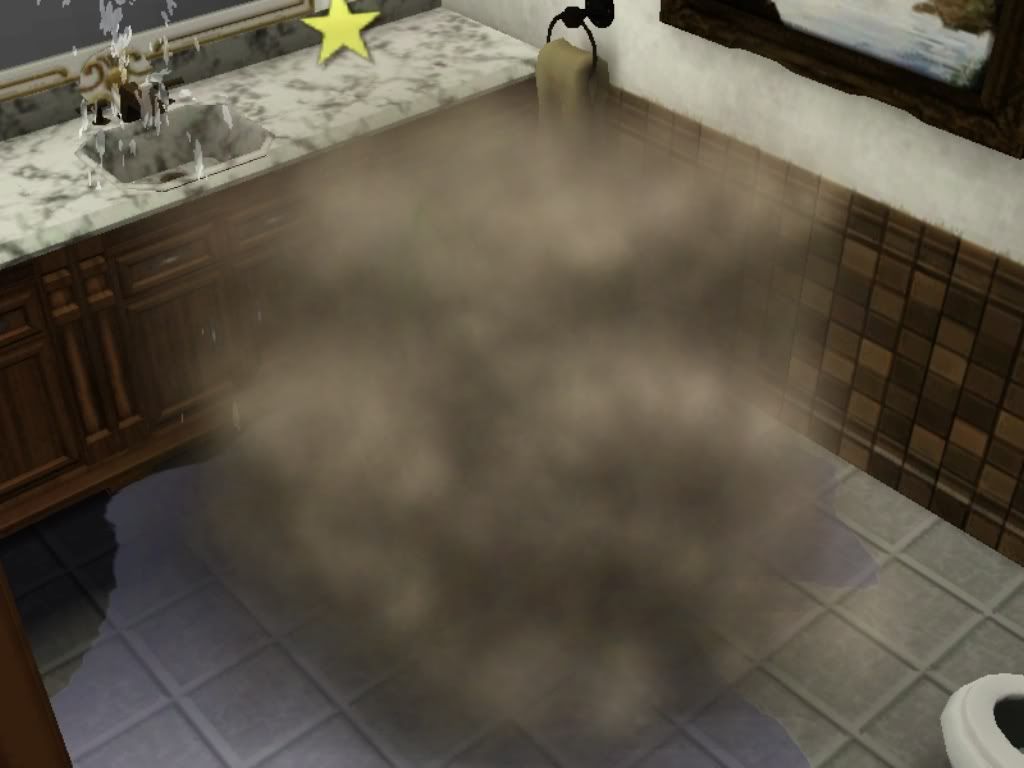 Hint: Ivan won.
(This may have something to do with his 'evil' trait. Instead of 'fight' he has the option to 'beat up'.)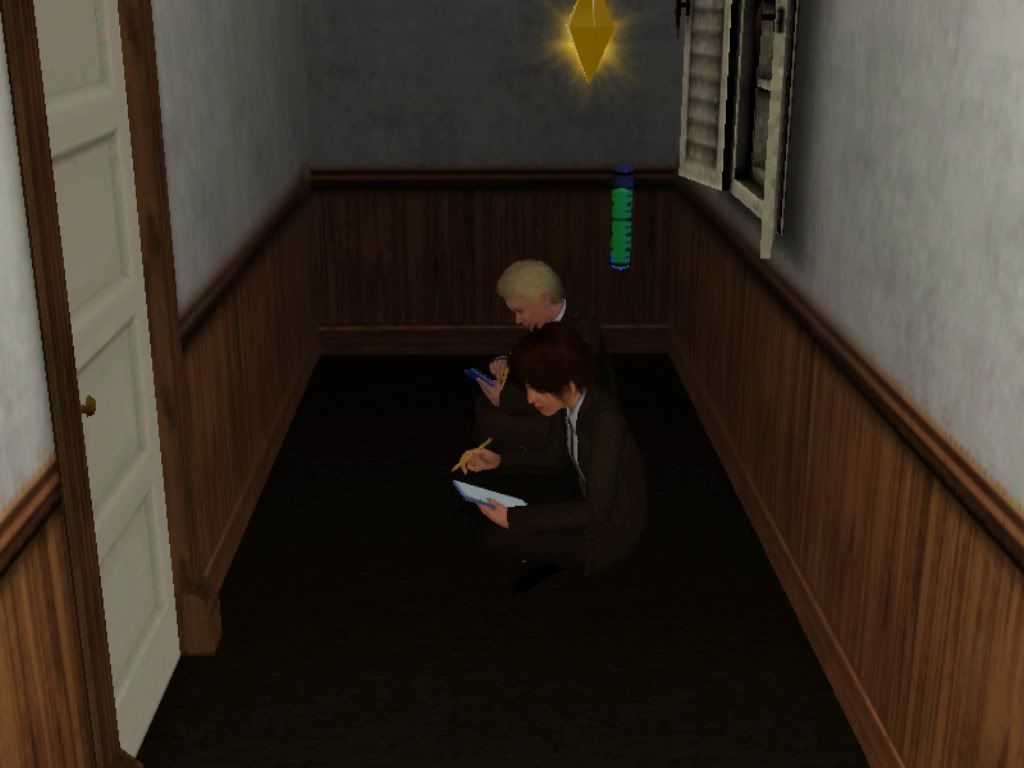 Ludwig and Felicano do homework in the darkest corner of the dorms they can find. There's a library over there, you guys....
Maybe Ivan has more work to do. This is a daily occurrence, by the way. I'm not sure why.
Gilbert and Elizabeta in the school gym. They're like the only ones that use it.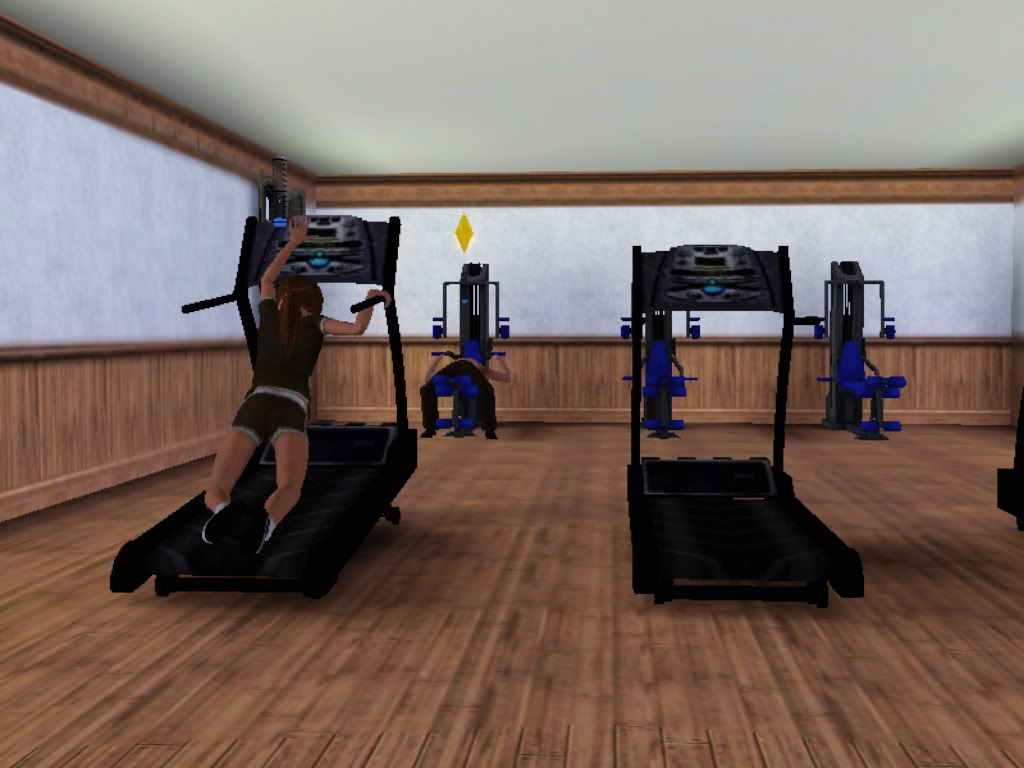 Wonder why.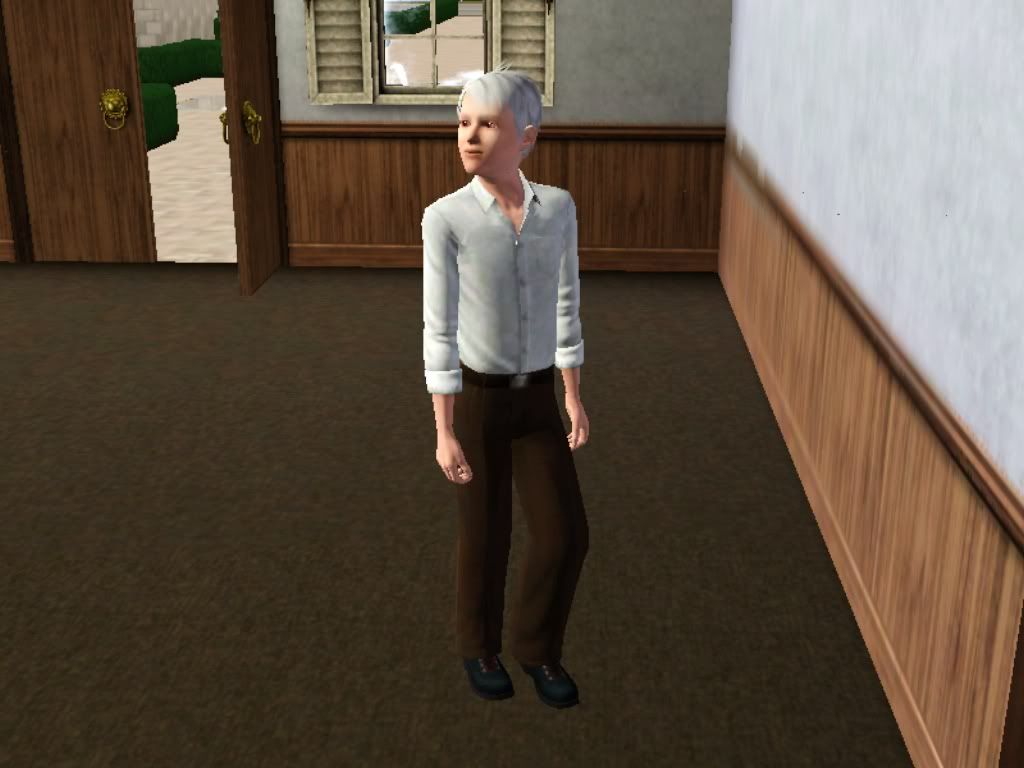 I usually follow Gilbert (Because there's like twelve students and I had to choose a favorite, and Gilbert is pretty fun to follow.). His usual expression is "I'm so awesome."
I love this game.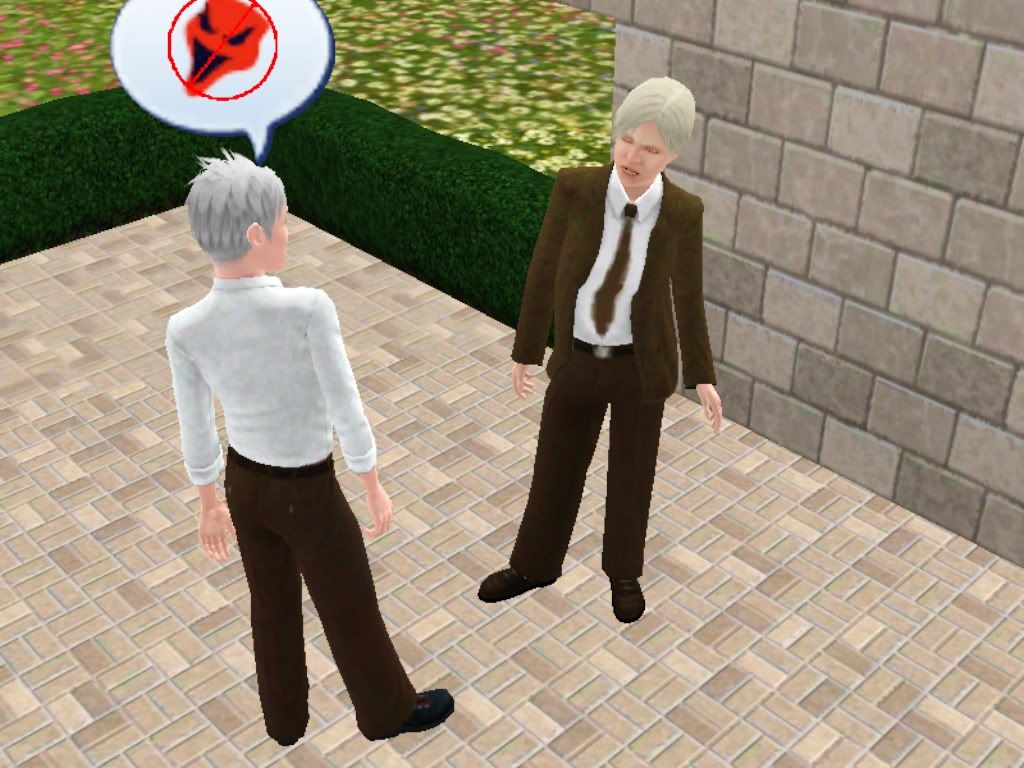 Gilbert had the sudden desire to go make fun of Ivan (he has the inapproprate trait and they've declared each other enemies at this point, so it's really only to be expected when he's bored).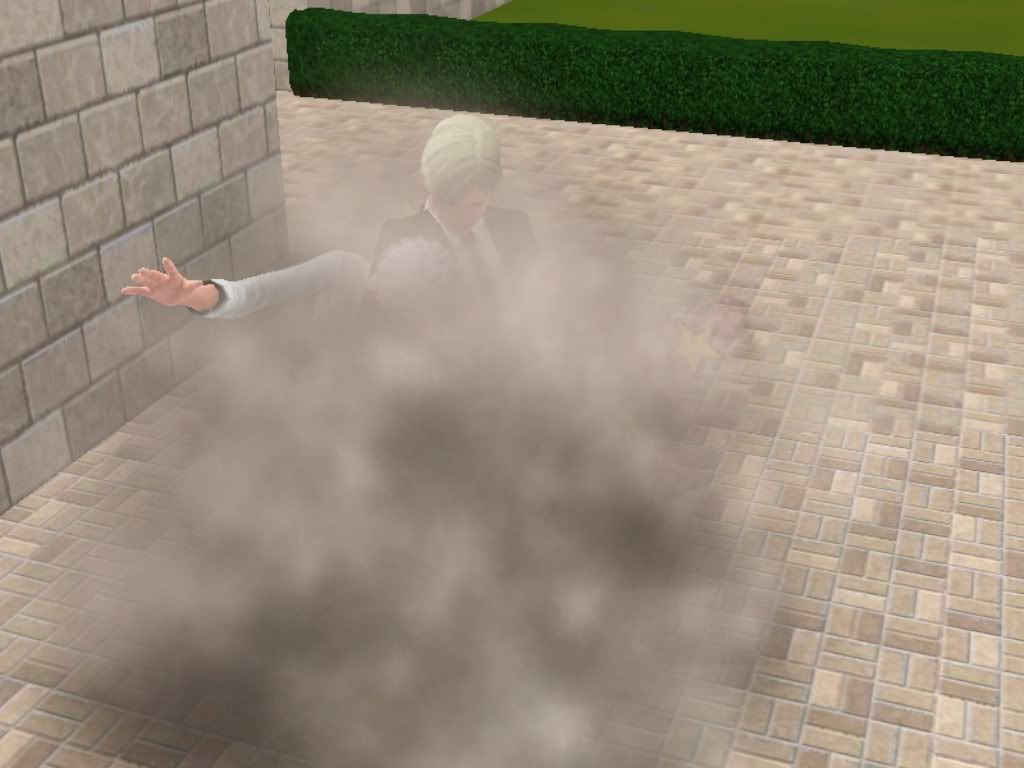 Ivan didn't take it well.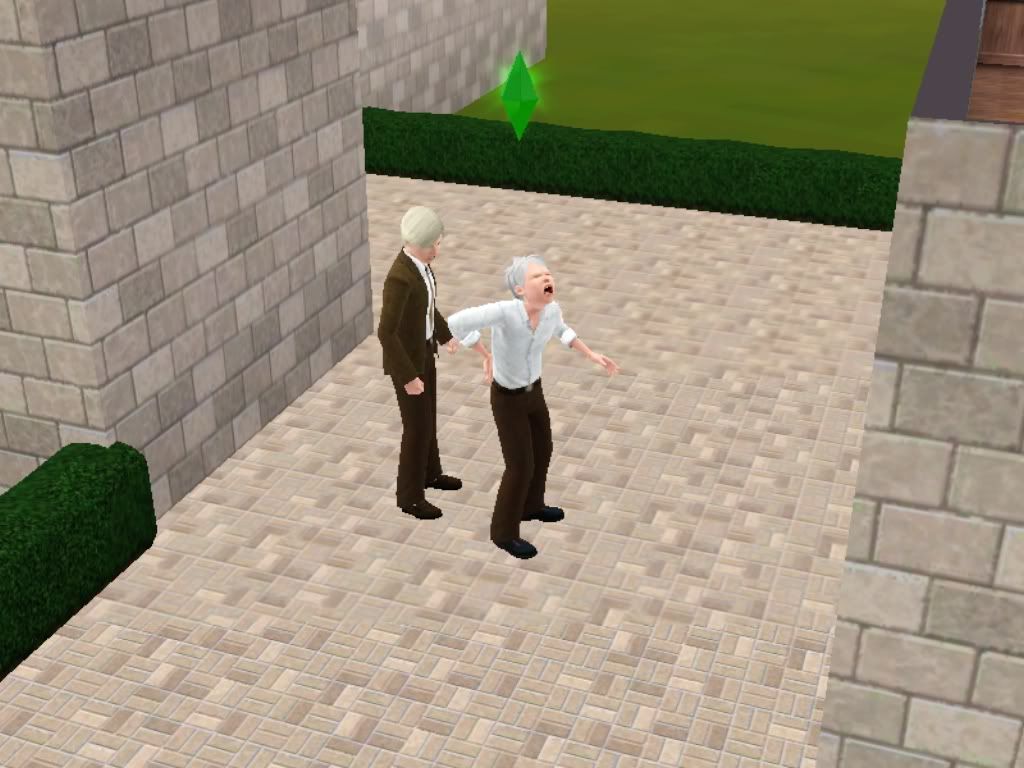 Hint: Ivan won again.
Sims doesn't actually have any negative side effects for getting in a fight (unlike in Sims Medieval, where they have a nice 'injured' system...). Sims usually requires a little imagination, so I decided that whoever lost the fight would wind up in the hospital wing for 24 hours.
Because I want to use the hospital wing.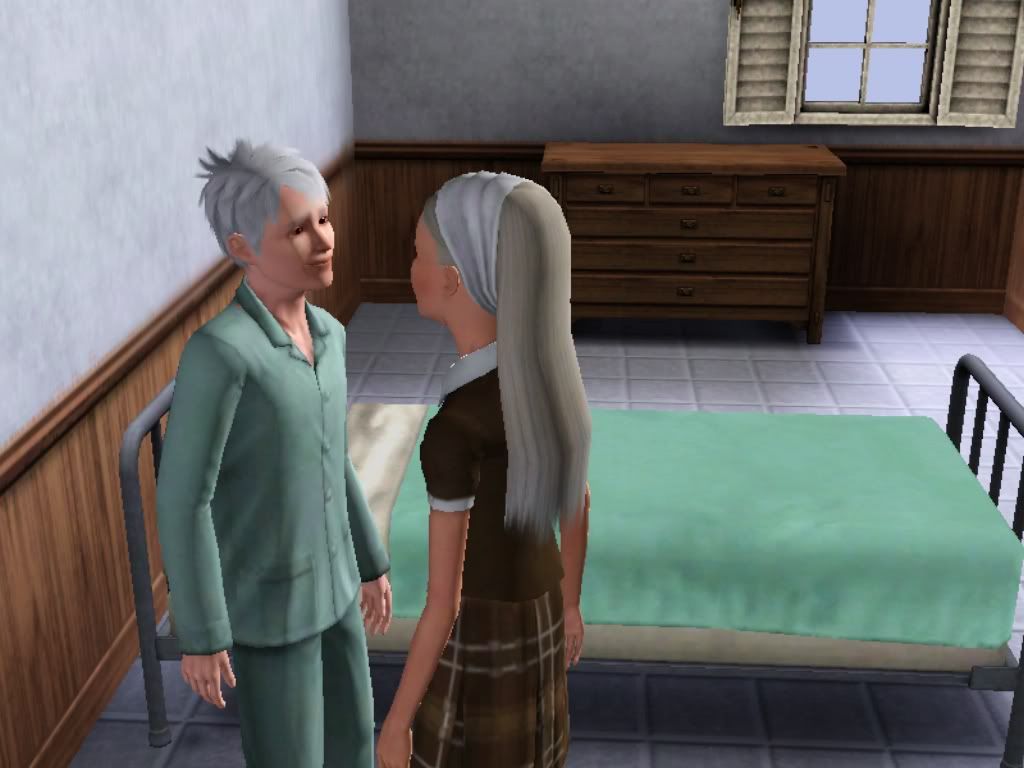 Fortunately, he wasn't alone.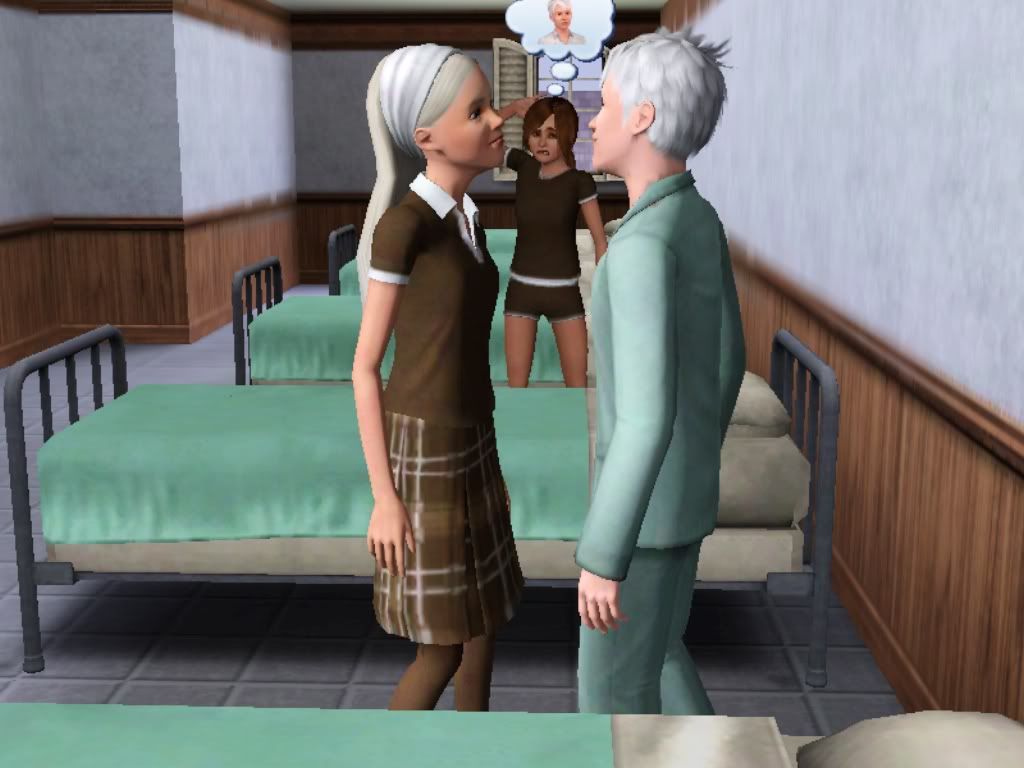 There's Elizabeta. Being the awkward person she is.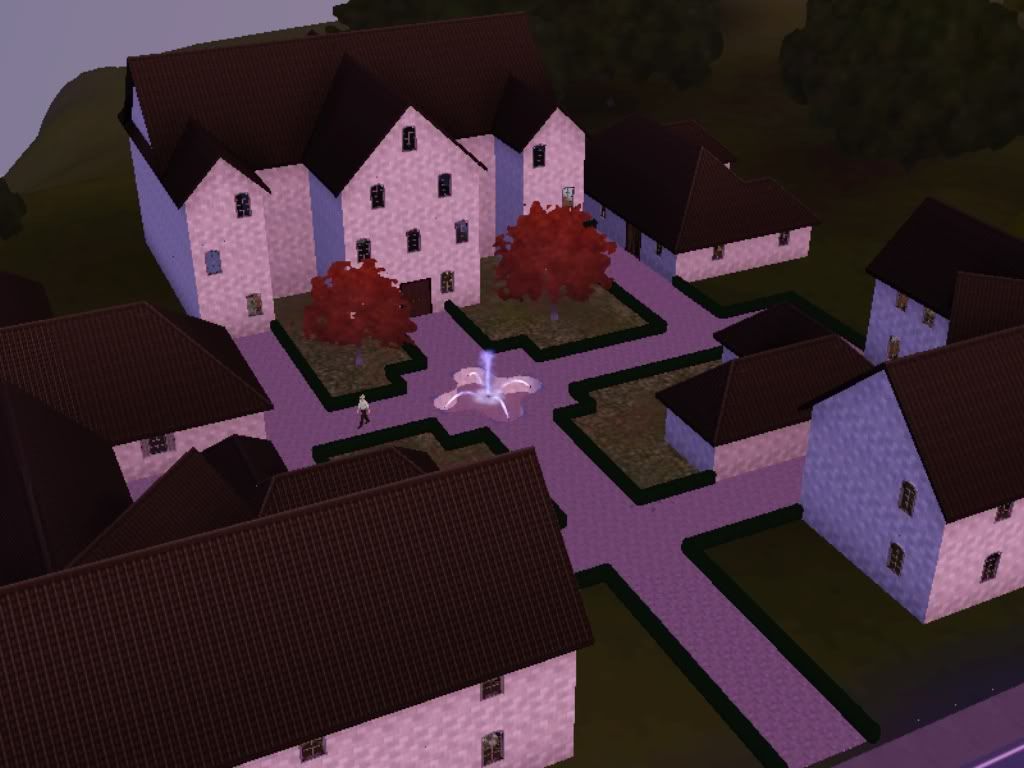 24 hours later Gilbert was fine and they went about their merry lives as Sims do. Aging is off so there's really no time limit on anything. I've been letting relationships develop more slowly than I normally would because there's no rush to get something done before a sim ages up (usually it's about 20 or so day before the next stage).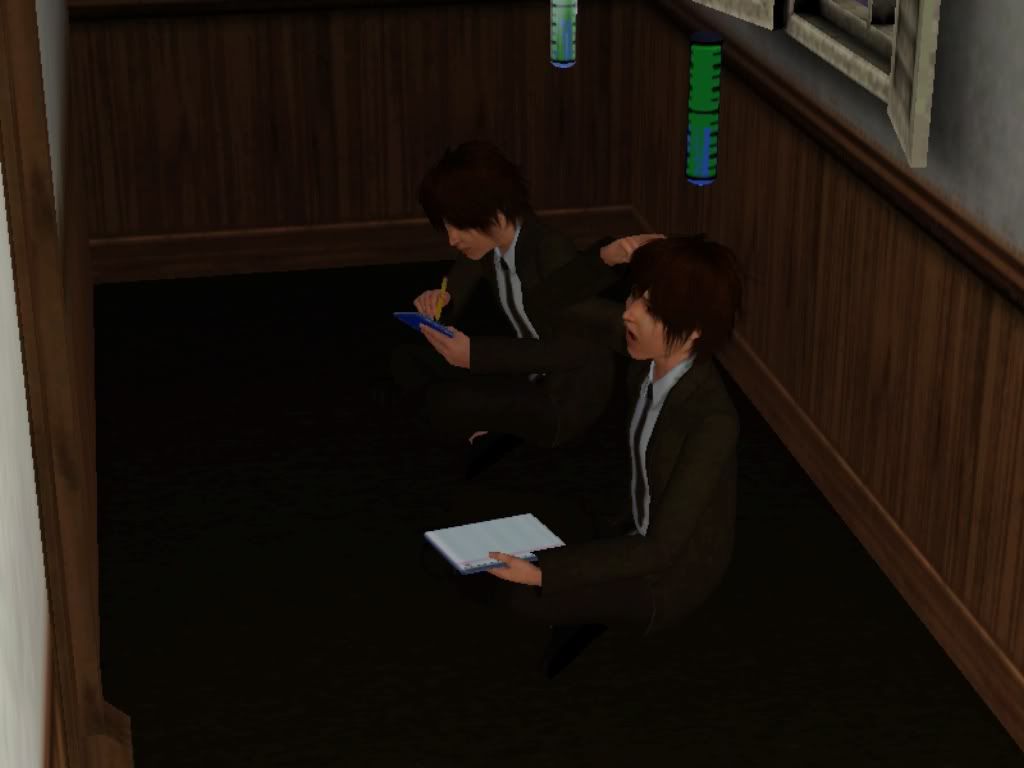 Is there something about this corner I'm missing? Now I'm suspicious.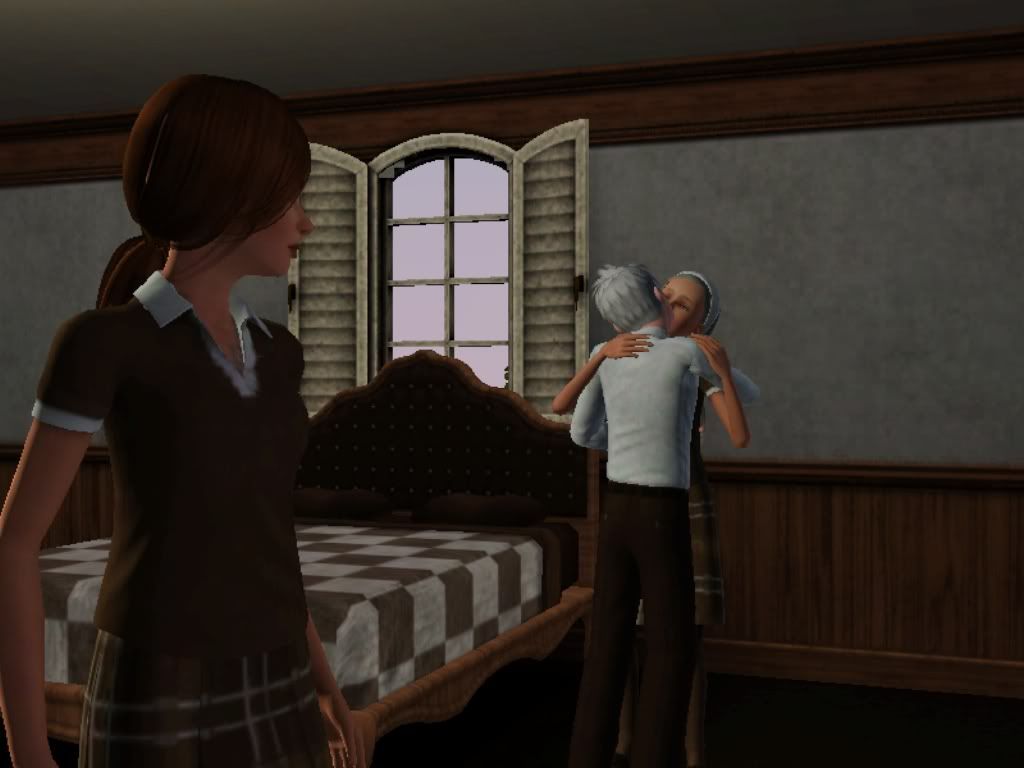 Gilbert snuck into the girl's dorms.
Elizabeta's so cute.
Gilbert got his ass kicked again.
Maybe it's because he and Natasha weren't just making out in that empty dorm room…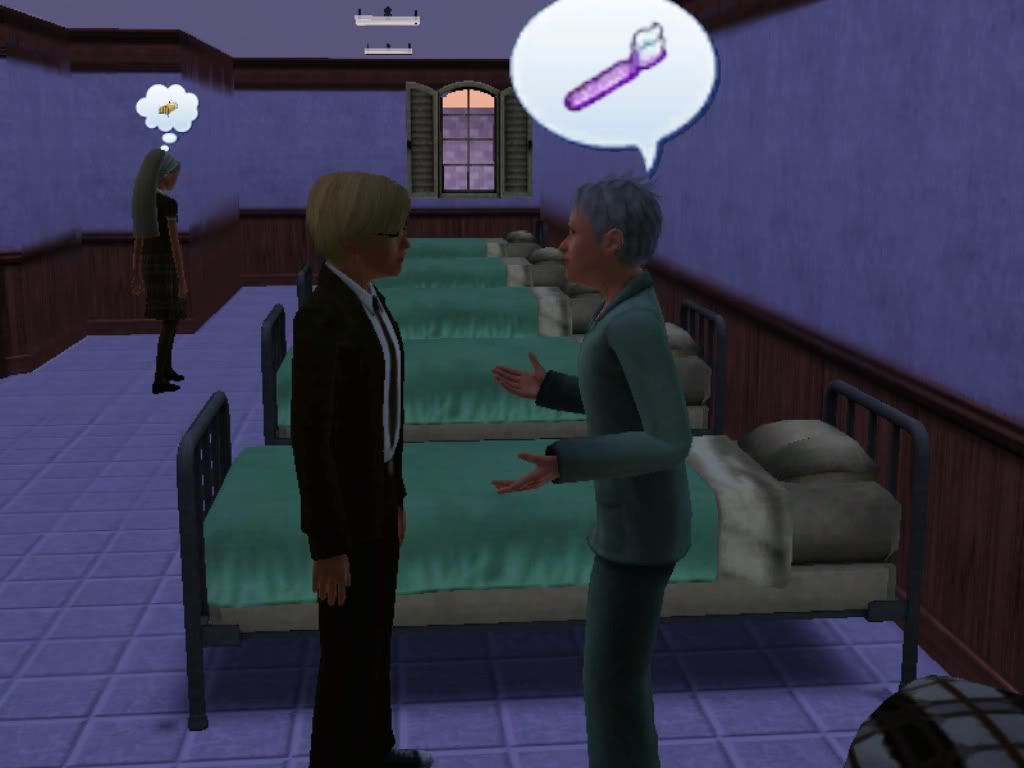 Fortunately, he seems to have several friends who give a shit when I stick him in the hospital wing for another 24 hours.
"Hey, man, do you think you could bring me my toothbrush?"
"Why?"
"...that's right, you don't have a girlfriend, do you?"
"Why does that matter?"
That's Alfred, btw. My headcanon states that in any AH universe these two are best friends.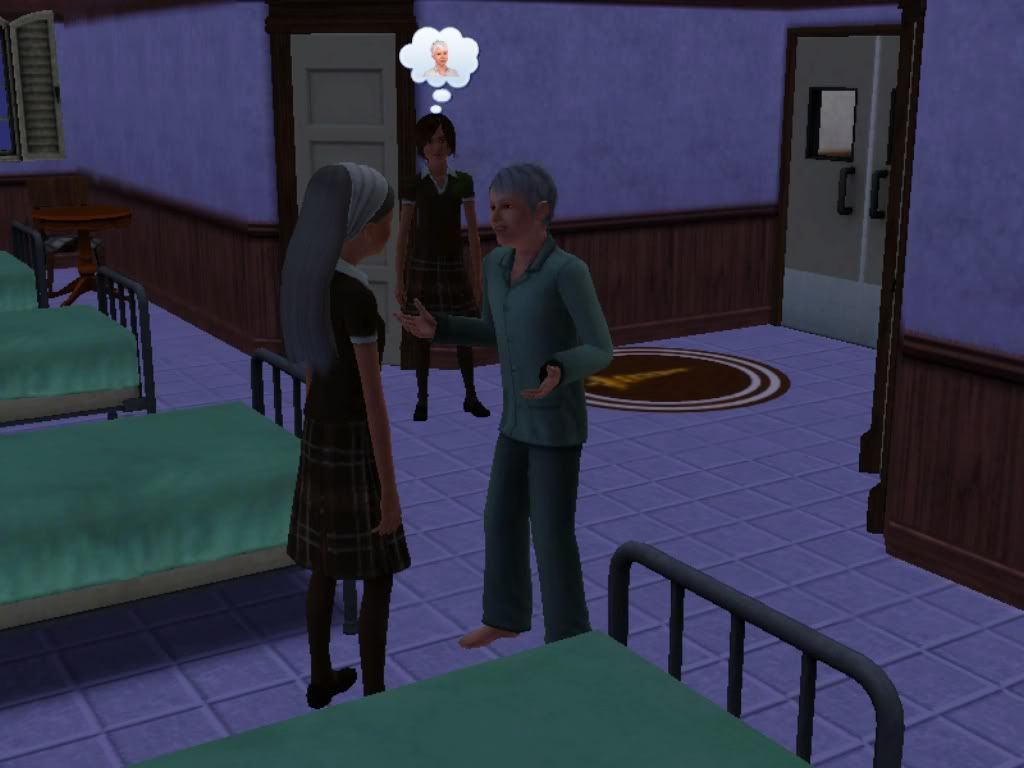 Seriously, Liz, what are you doing...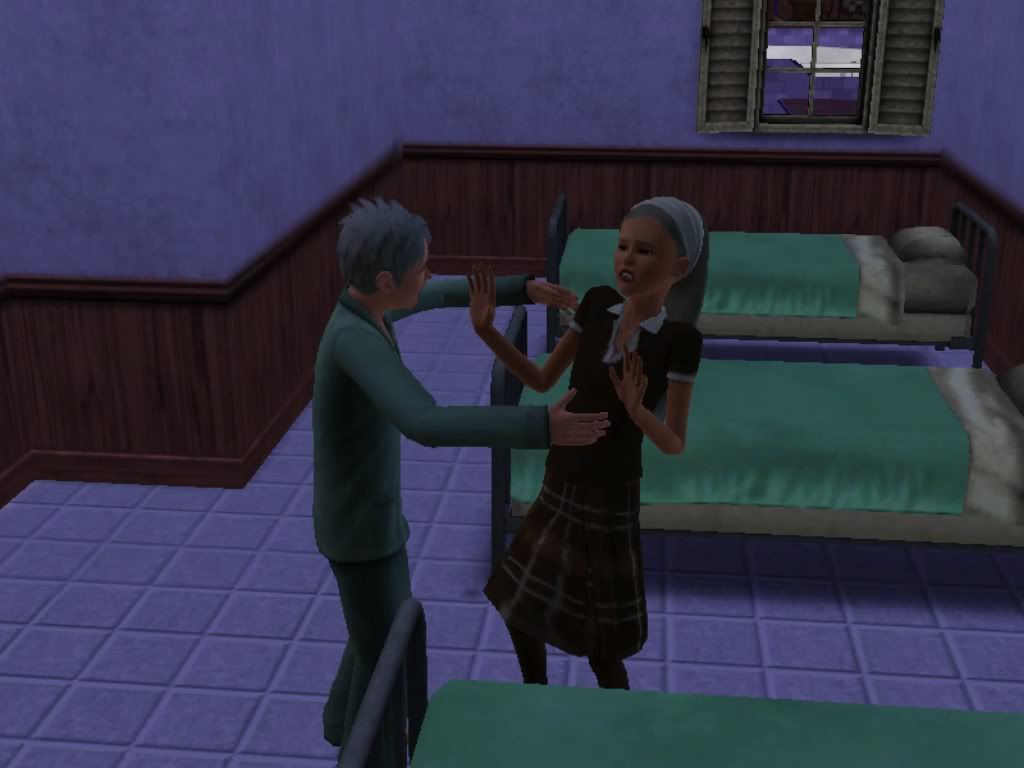 Natasha wasn't in the mood.
Natasha and Gilbert have incompatible astrological signs, which means their relationship hits some bumps now and then.
I should have listened when my mom was ranting about zodiacs.
And yes, Elizabeta and Gilbert have compatible signs.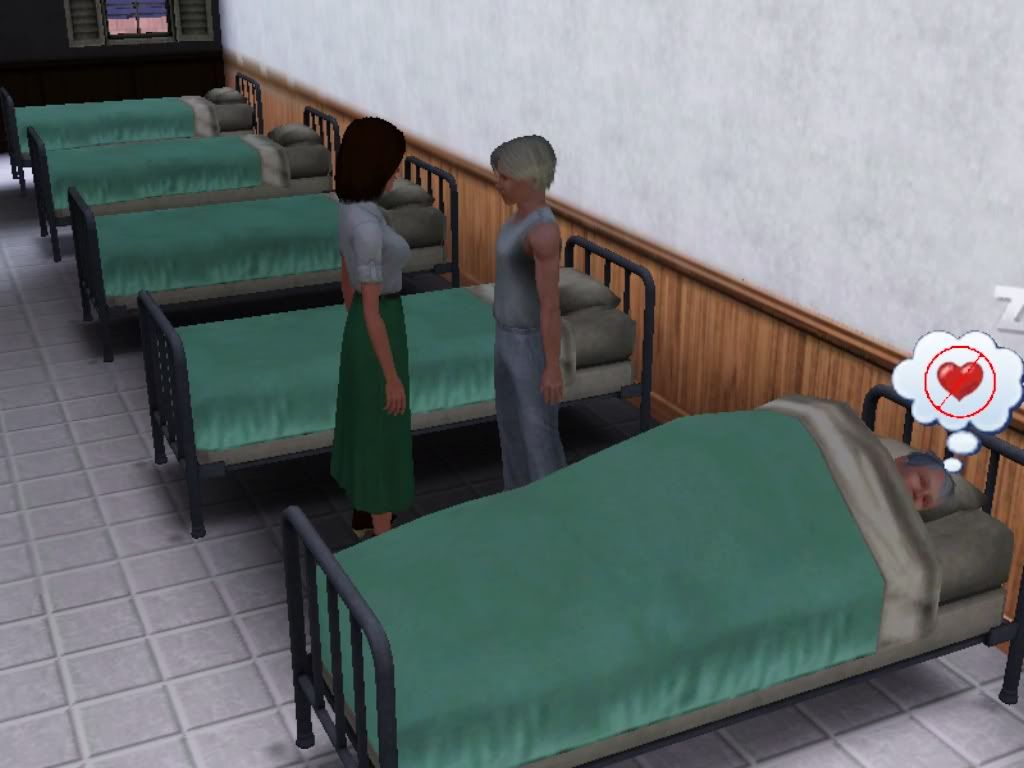 That night, Ivan decided to watch Gilbert sleep for a few hours.
I didn't notice until the headmaster came in and started talking to him. Before this, he was staring down at Gilbert. Just standing there.
It's like he's planning on finishing the job…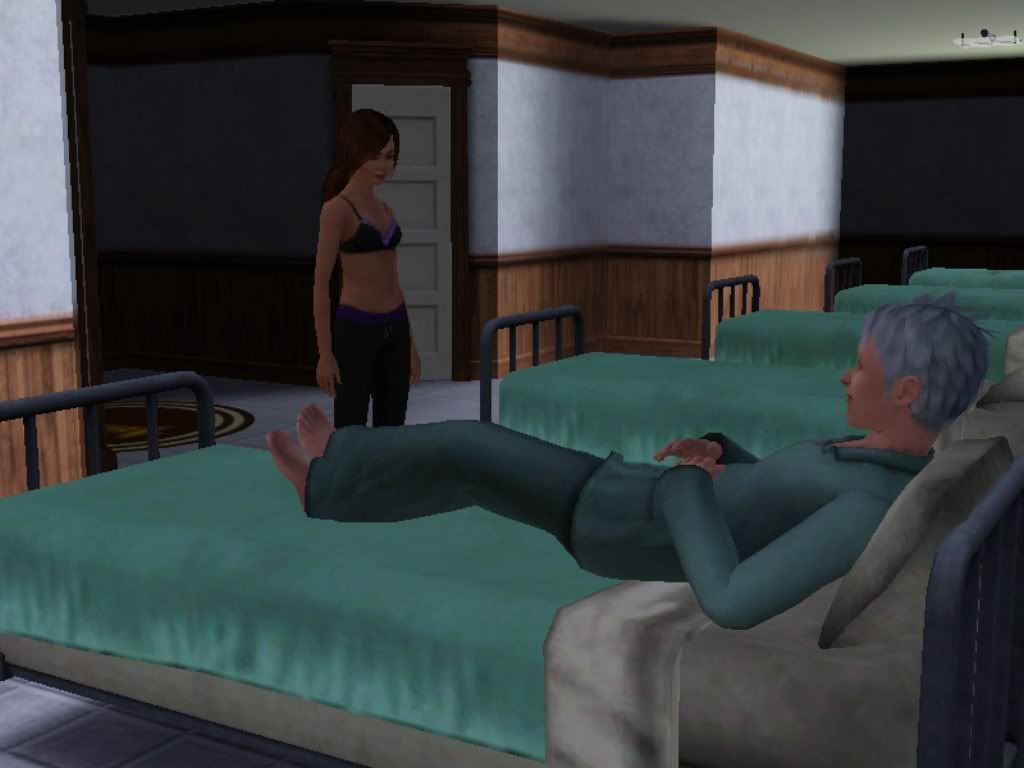 Fortunately, Gilbert slept through the whole thing. Elizabeta showed up the next morning to work on homework together, since it was Sunday. Those are her pajamas, so the game doesn't register that she's in a bra.
Gilbert doesn't seem to mind. At all.
Gilbert manages to stay out of the hospital wing for several hours and considers tempting fate again.
"I WILL KILL YOU."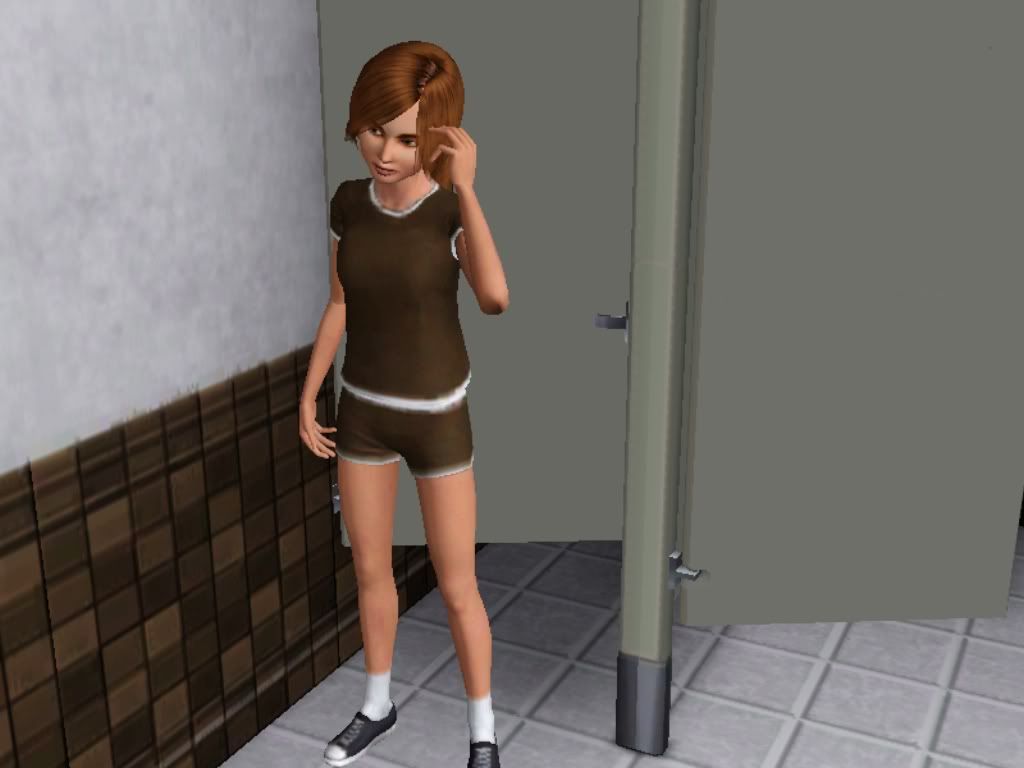 Elizabeta's Gilbert-sense seems to be tingling...
Elizabeta tells him not to get into trouble and Gilbert tells her he knows someplace they can hang out without being annoyed. Gilbert gets grumpy when Ivan's around.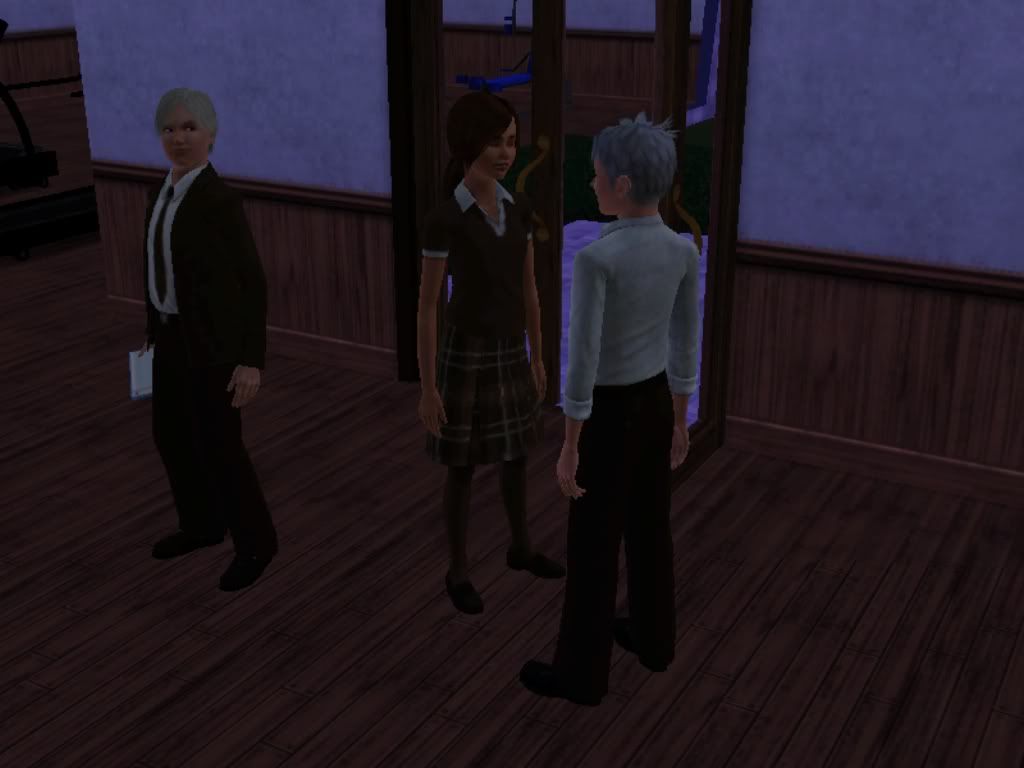 Ivan didn't trust them. He's just looking for his little sister I'm sure....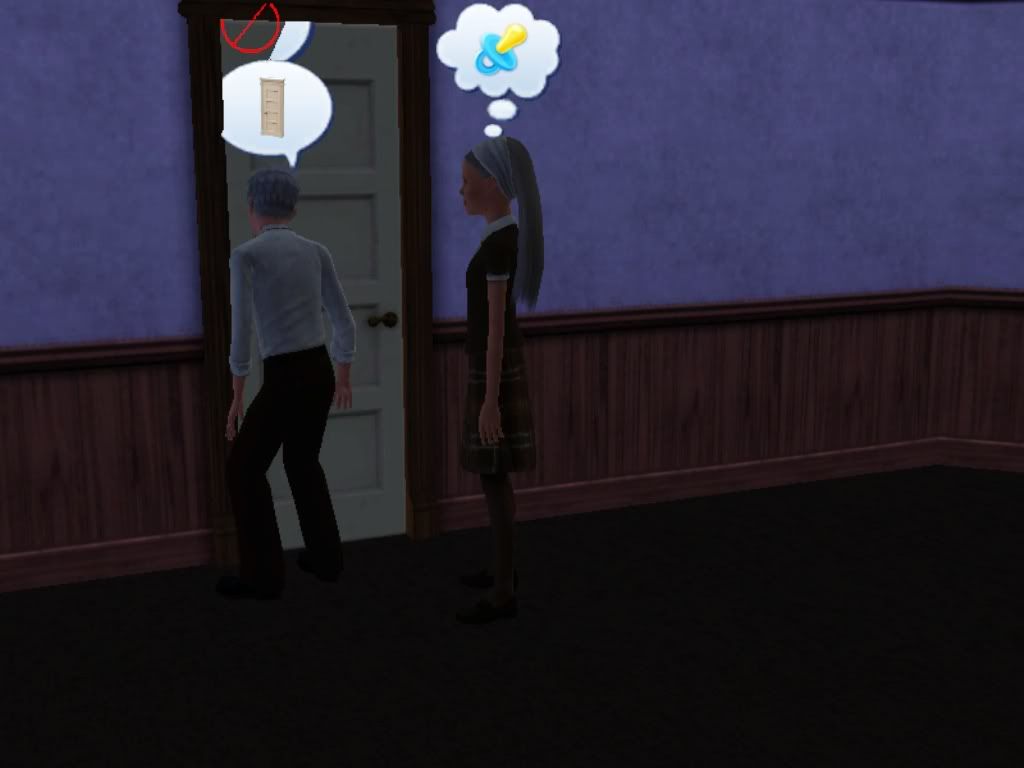 "I've been thinking about having kids-"
"NUUUUUUUUUUUUUUUUUUUUUU-"
Natasha is never at a loss for attention. I TOLD YOU THIS HAPPENED EVERY DAY. LOOK, EVEN THE HEADMASTER IS THERE.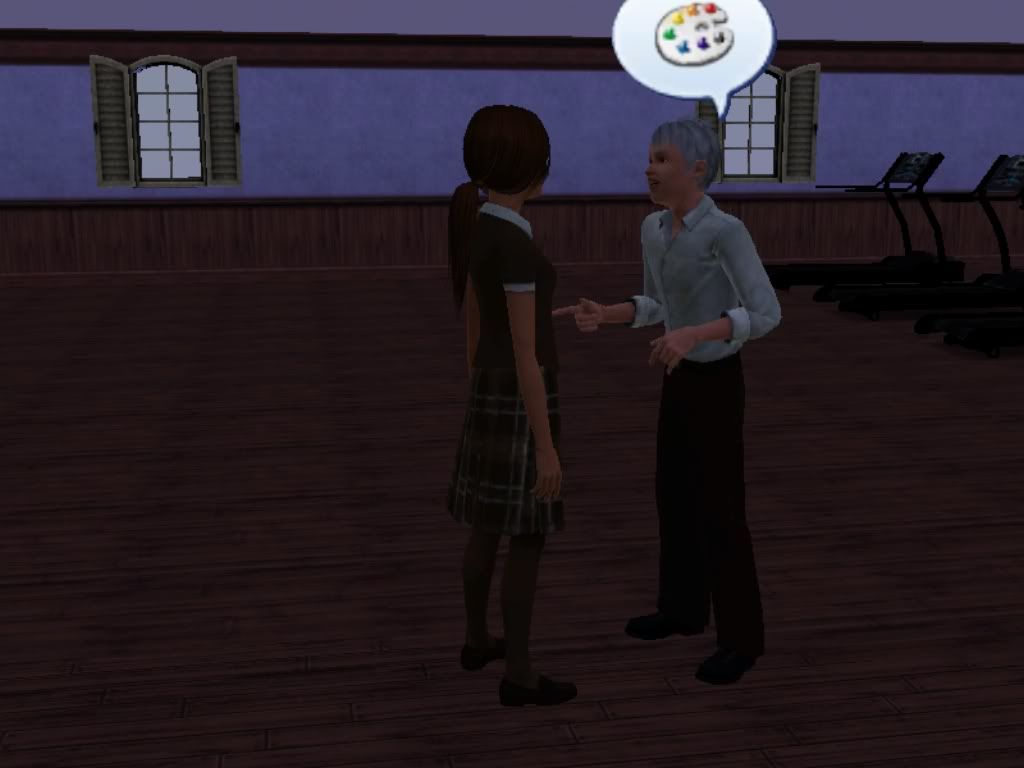 Meanwhile, Gilbert and Elizabeta decided to hang out in the empty gym again. They're having an awesome time and laughing when an awkward silence falls…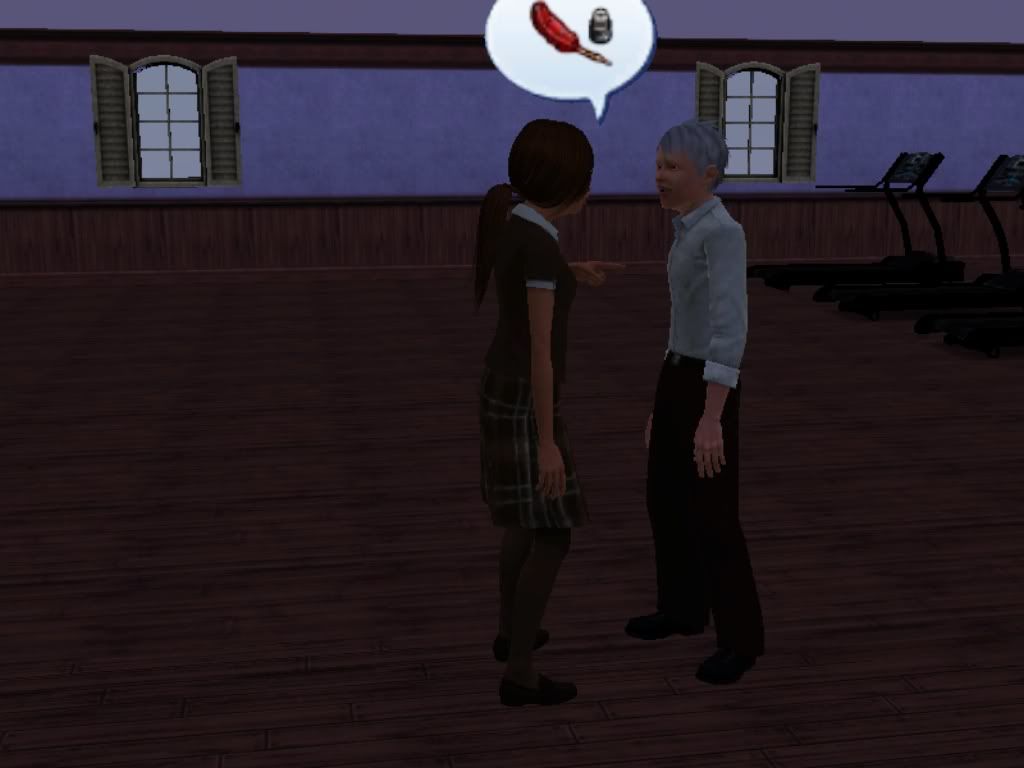 Elizabeta breaks it by turning the jokes in a more suggestive direction.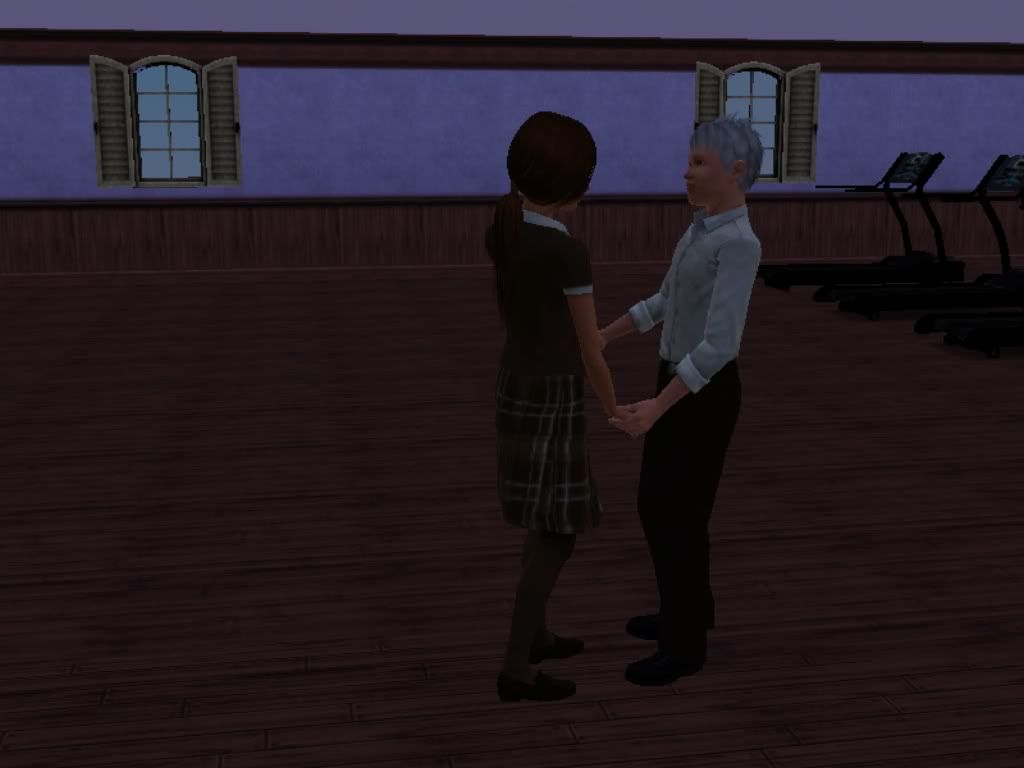 Gilbert responded rather well, considering both of them are in relationships (Elizabeta is with Matt. Yes. It's complicated. The game did that by itself.)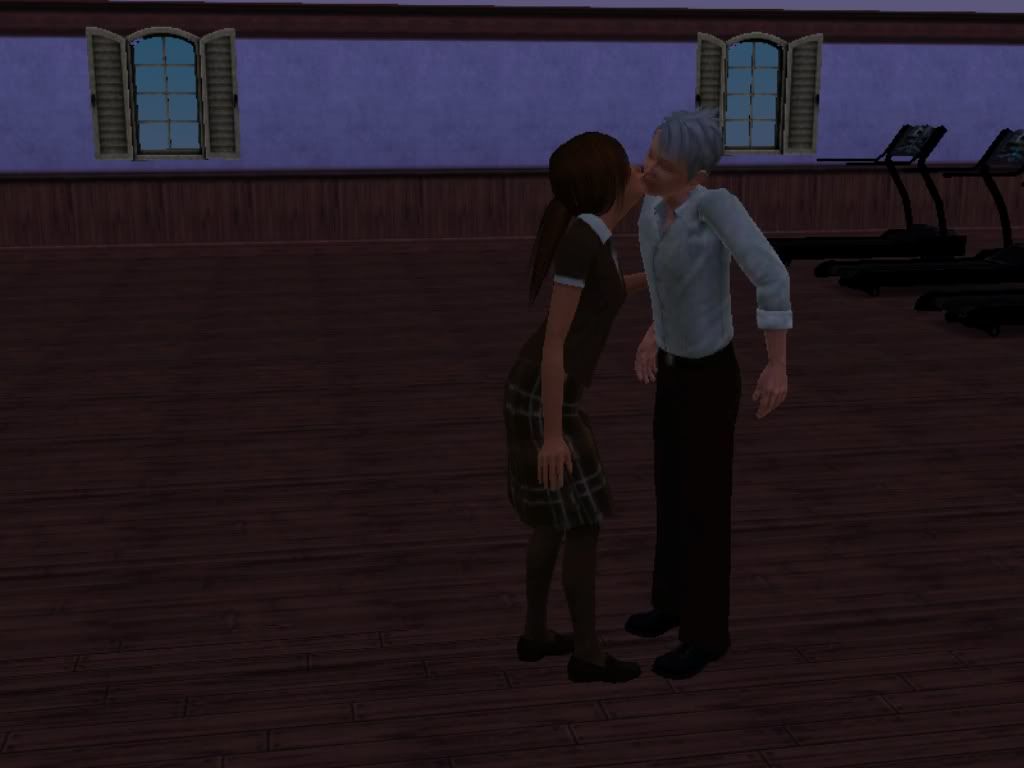 Very well.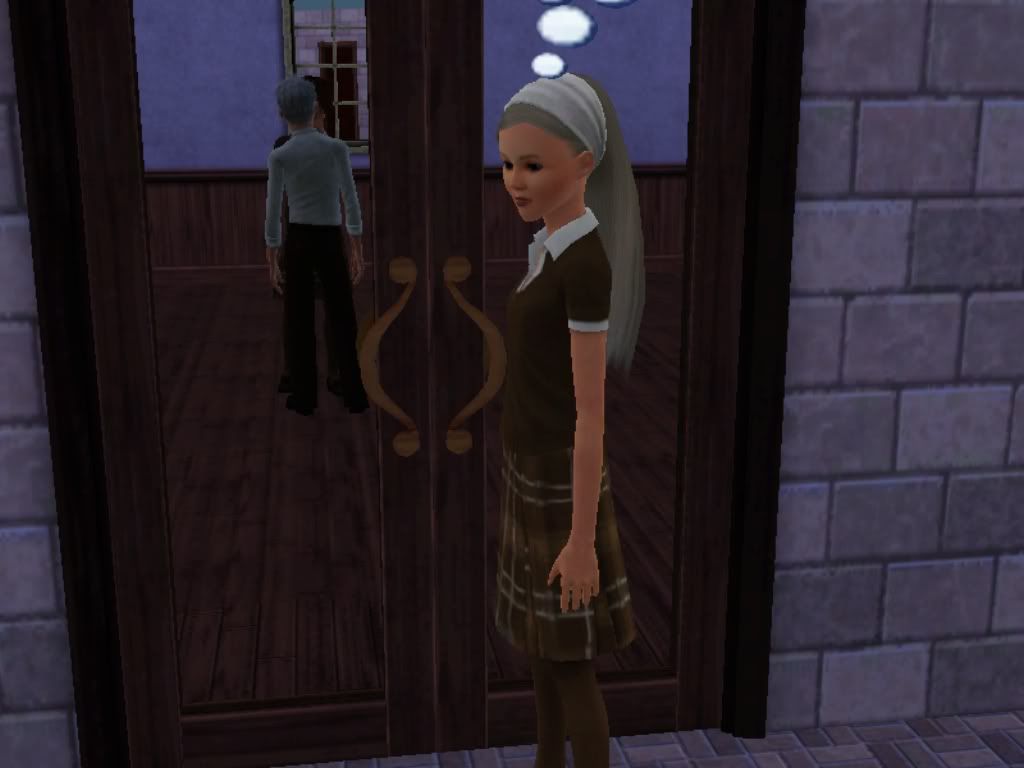 …aw crap.
---
Chapter 2
I SHOULD POINT OUT THAT NATASHA IS A SNEAKY NINJA AND MANAGED TO SEE THE ENTIRE THING WHEN I WASN'T PAYING ATTENTION. Seriously. I went to go find her because I realized she had they betrayed moodlet but Matt didn't. She WATCHED THE ENTIRE THING AND I DIDN'T NOTICE??
Gilbert and Elizabeta have been best friends for a while now, so the moment they kiss they both jump to being completely head-over-heels for each other. Meanwhile, Gilbert and Natasha's relationship is somewhere around "I'd probably care if you died."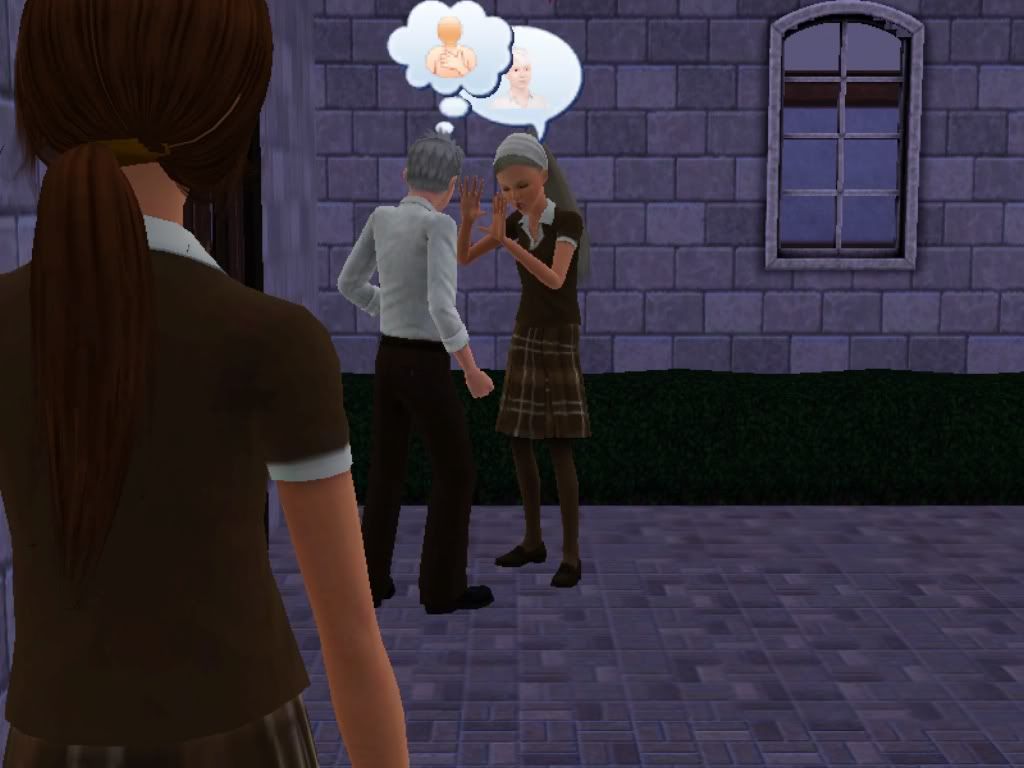 Gilbert and Elizabeta realize they're caught and leave the gym. Natasha immediately confronts Gilbert.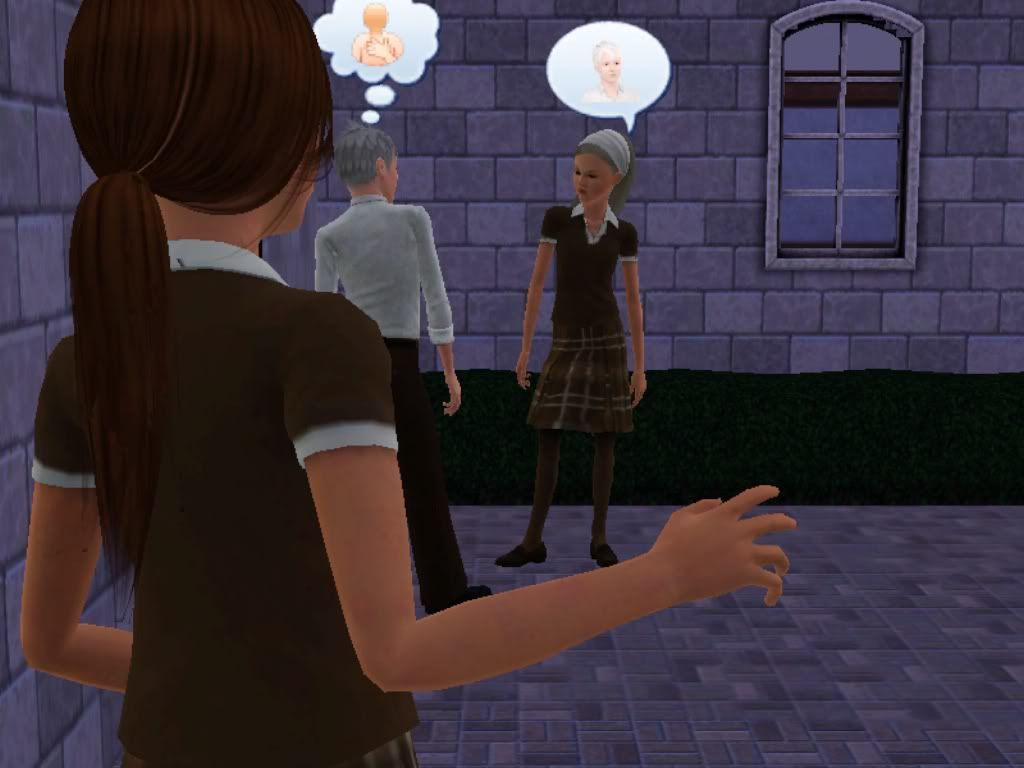 The conversation isn't going well.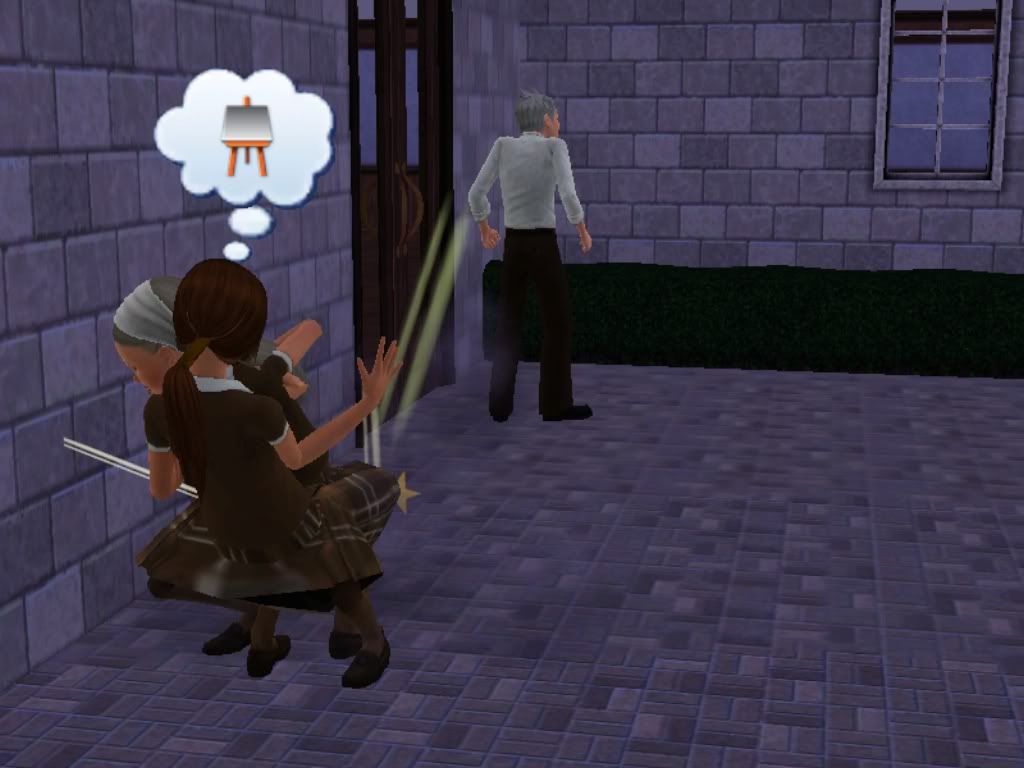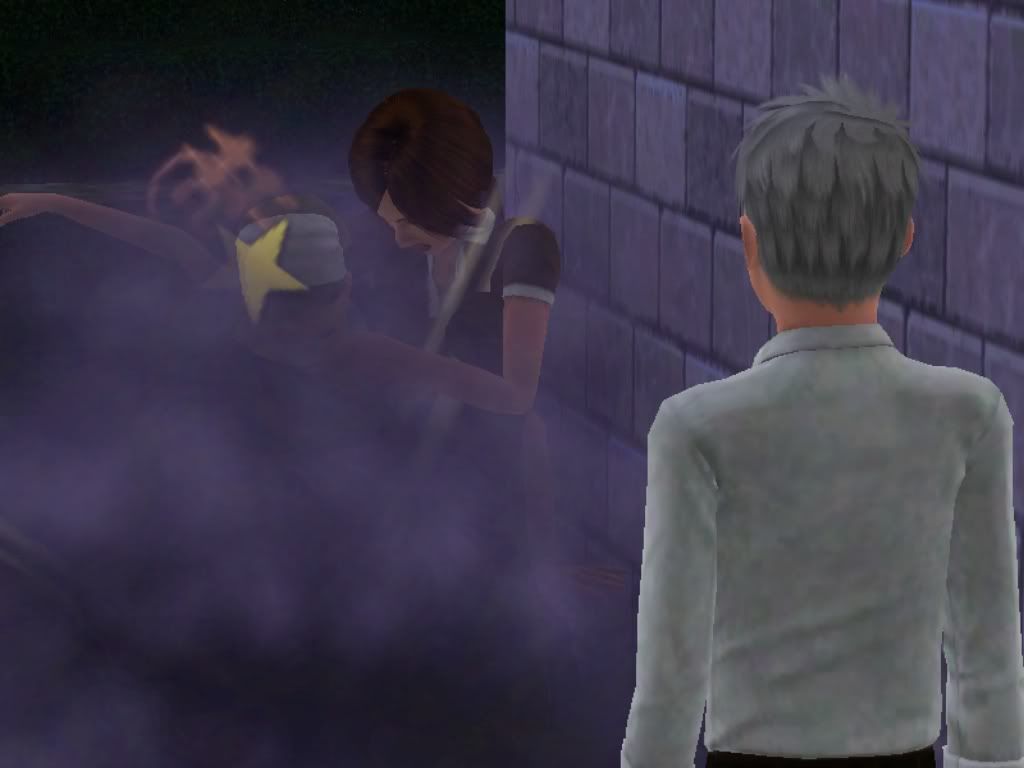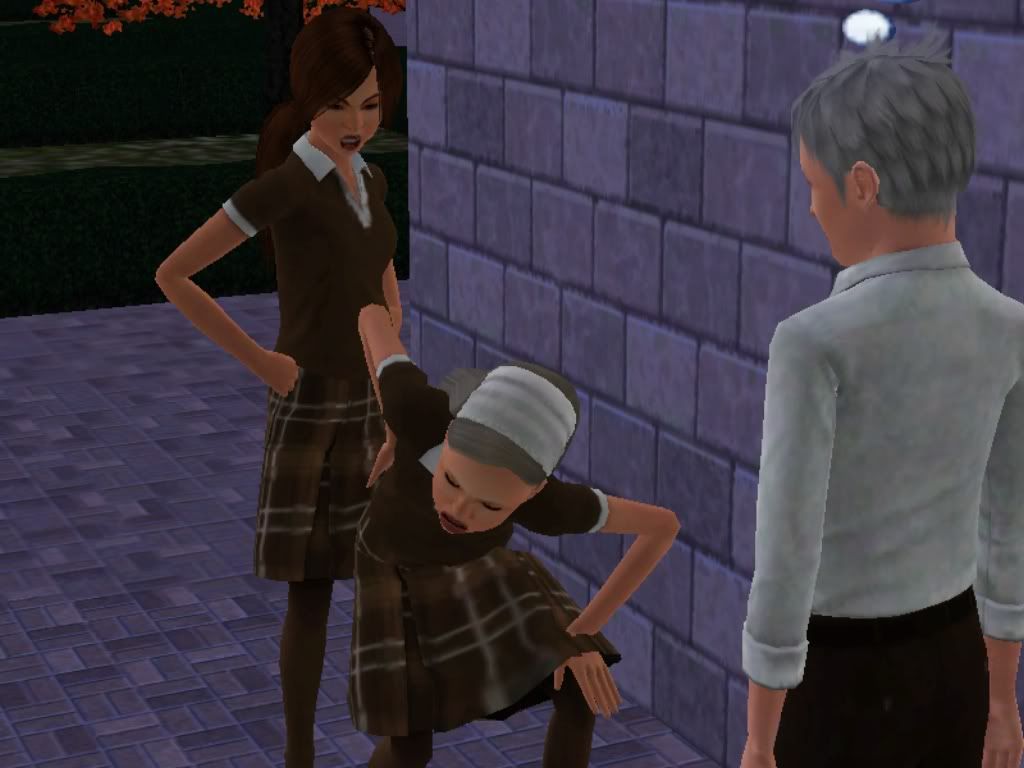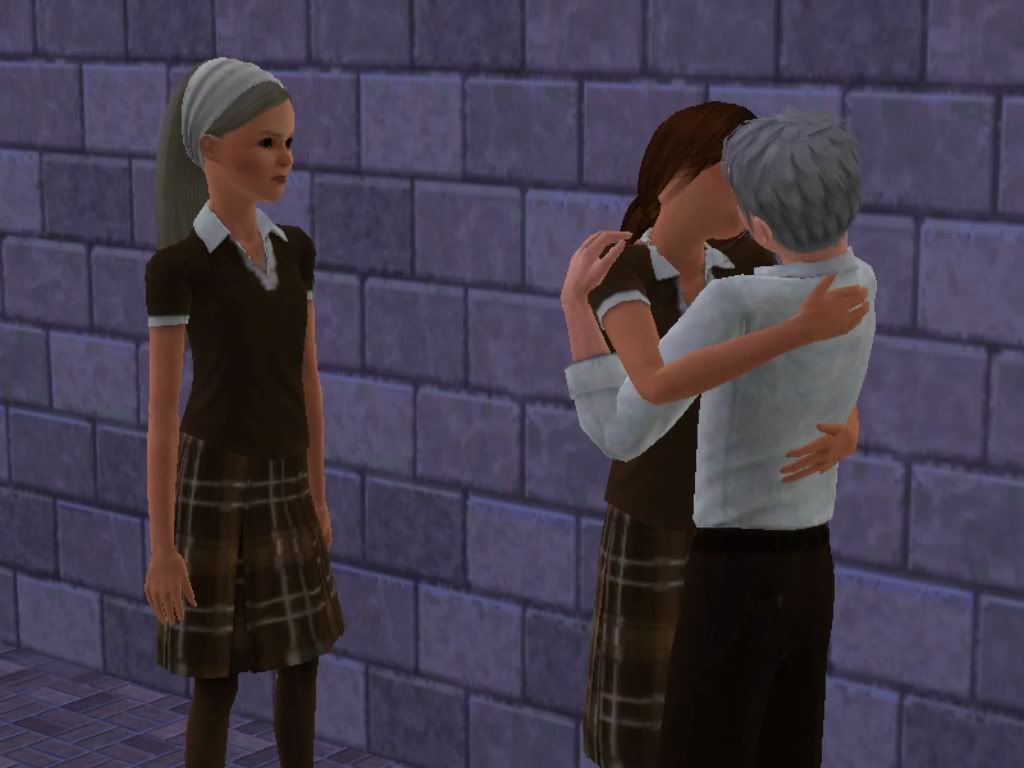 Oh, now, that's just cold.
Gilbert cuts things off with Natasha completely. Elizabeta, could you possibly try not to look so satisfied?
Natasha then stormed off to talk to her brother. That's not concerning. Meanwhile, Gilbert figured out how to get into the girl's dorms (again) and he and Elizabeta spent some quality time together.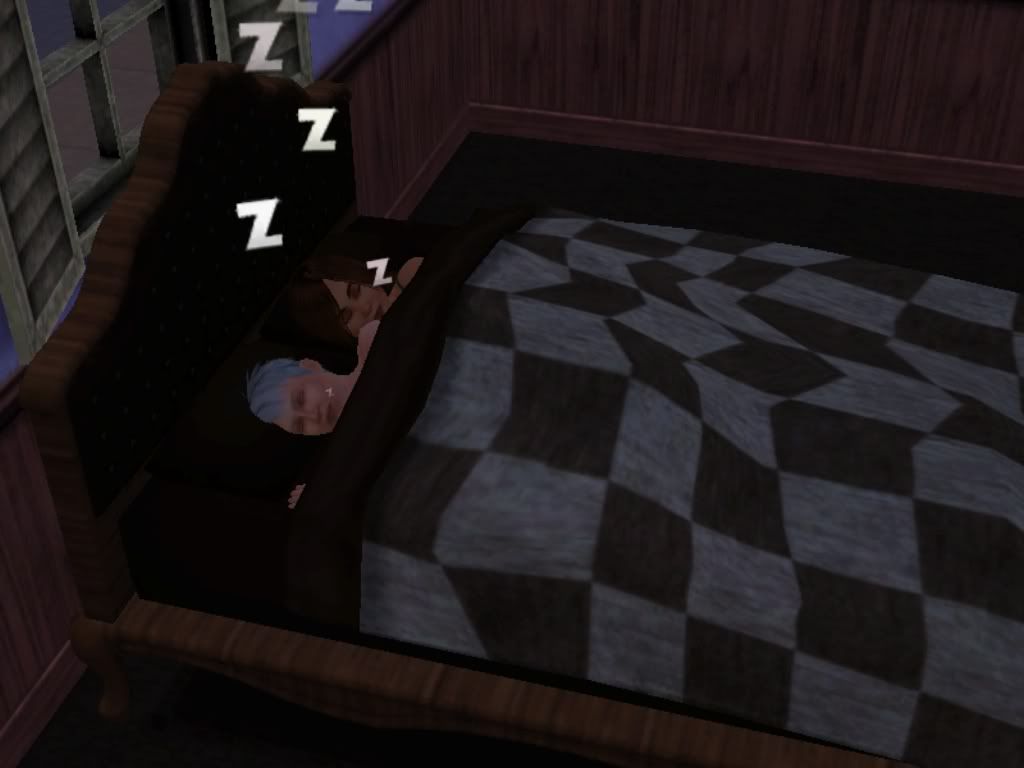 Sadly, no, it's not what you're thinking. But they're so cute snuggled up like that…
The next day Elizabeta figures she's not being fair to Matt. She tells him to meet her behind the library after class.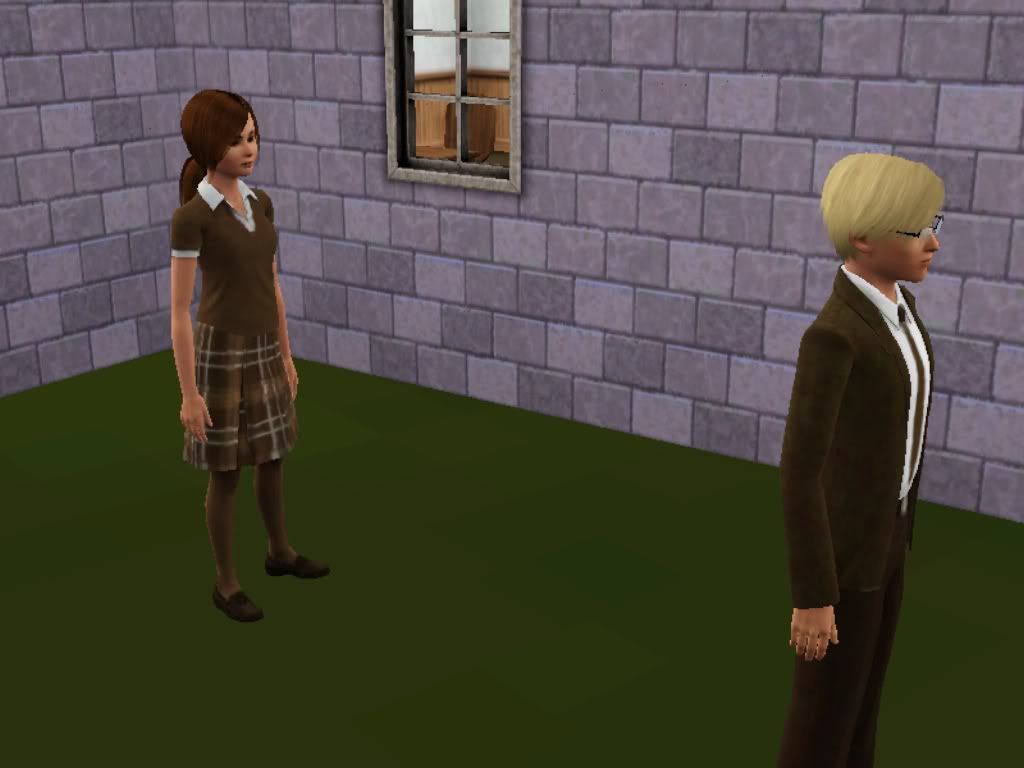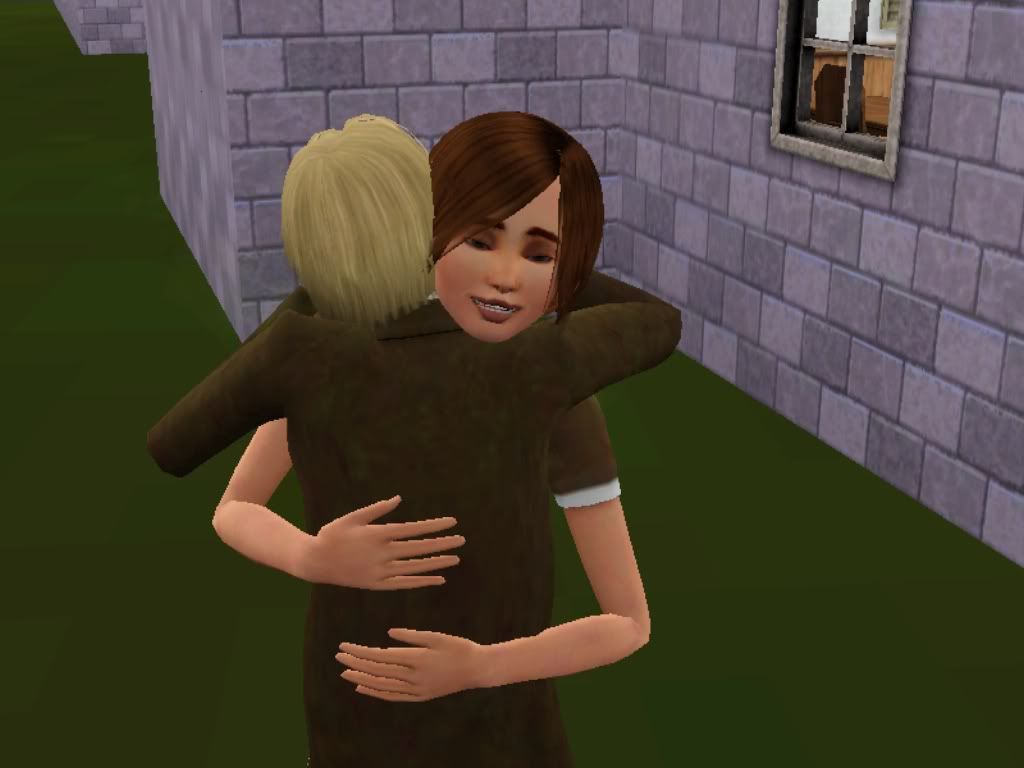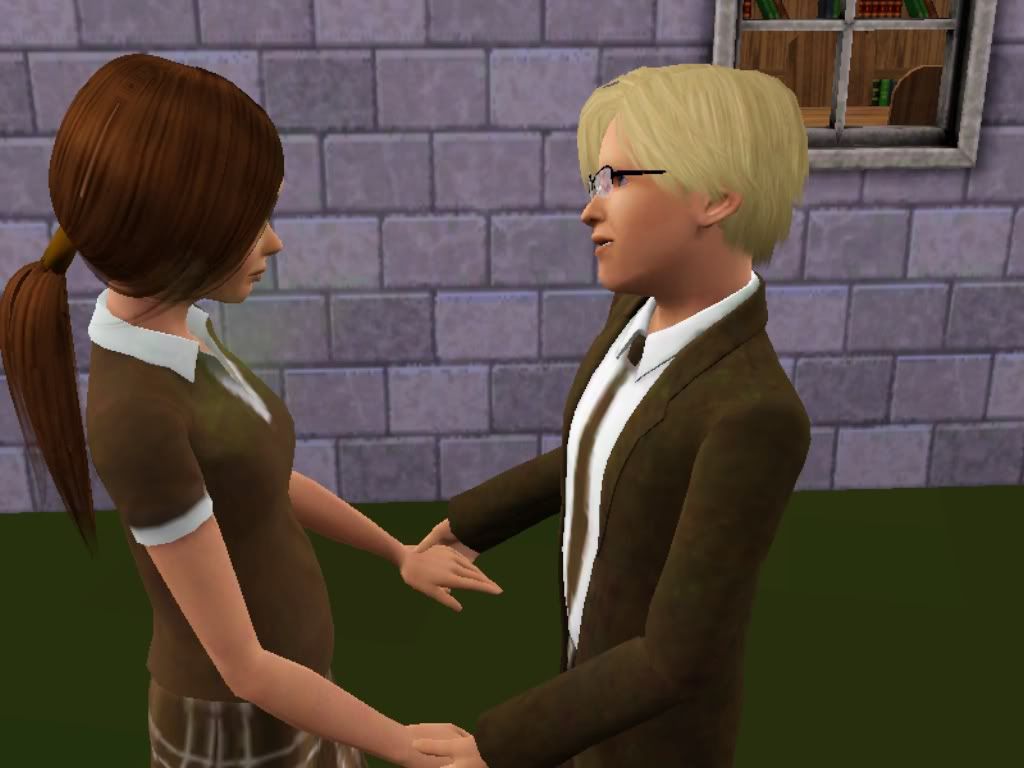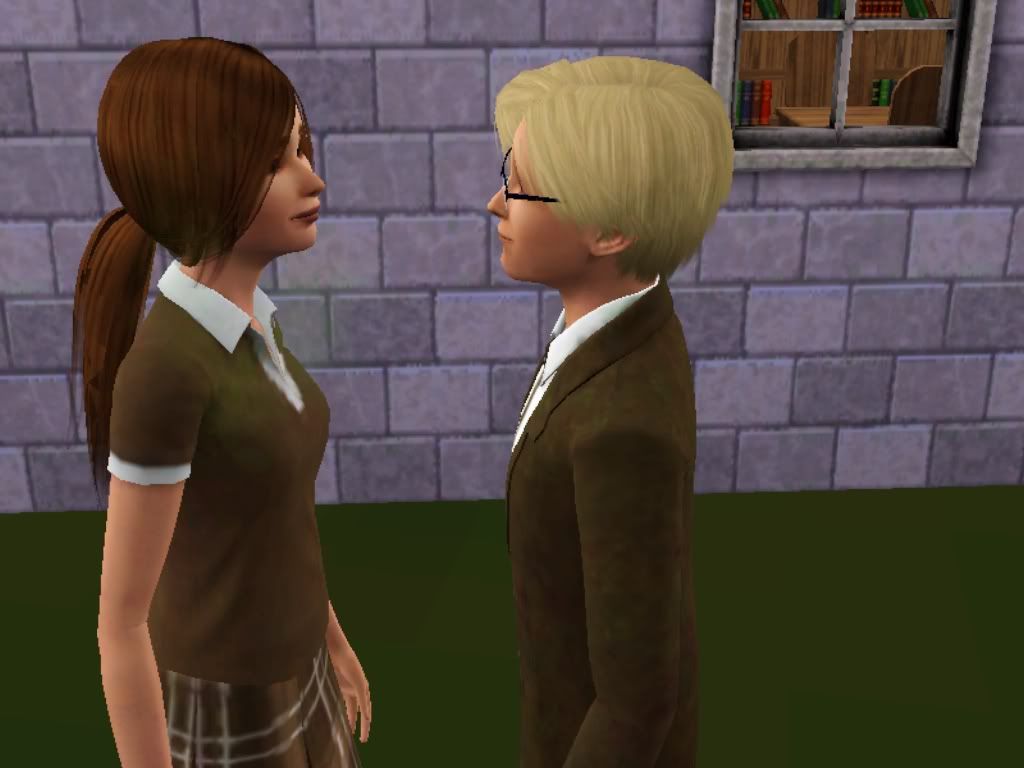 I told you no one showers in this game.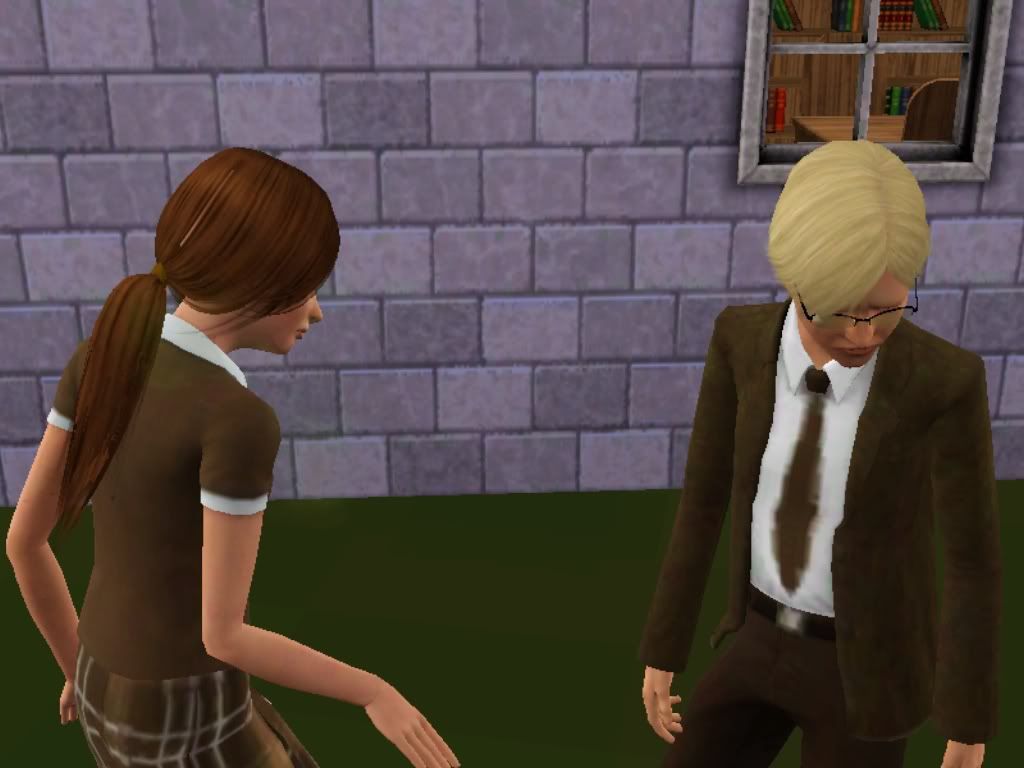 Elizabeta finally figures she has to tell him some time.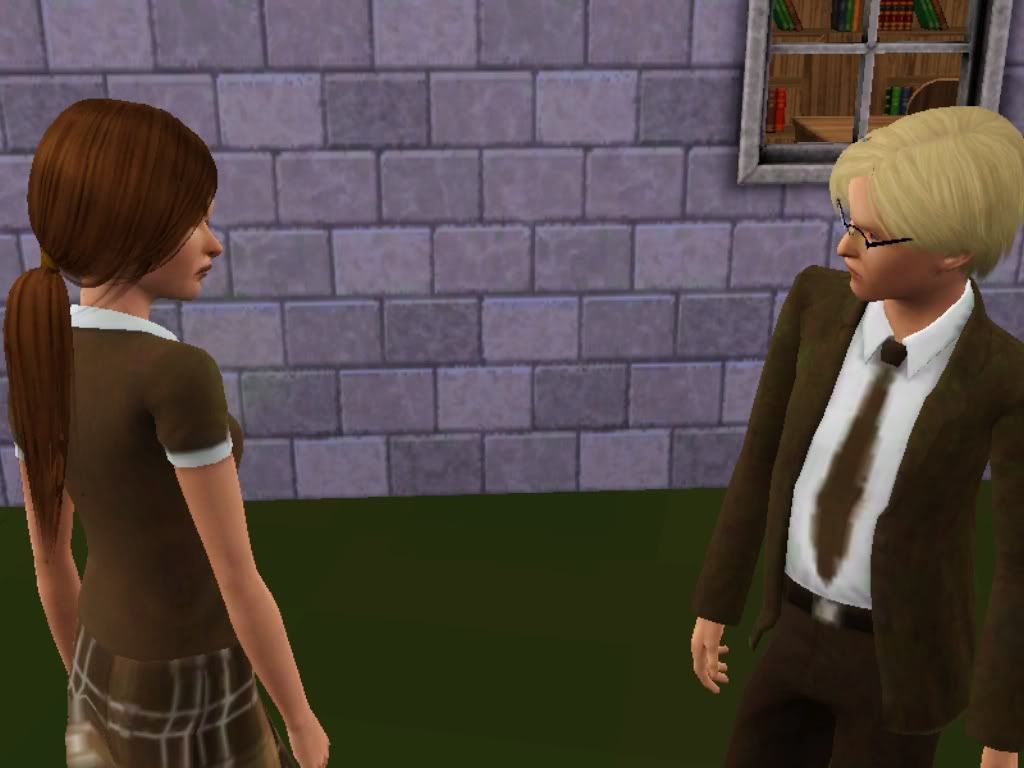 Matt's infuriated for about nine seconds.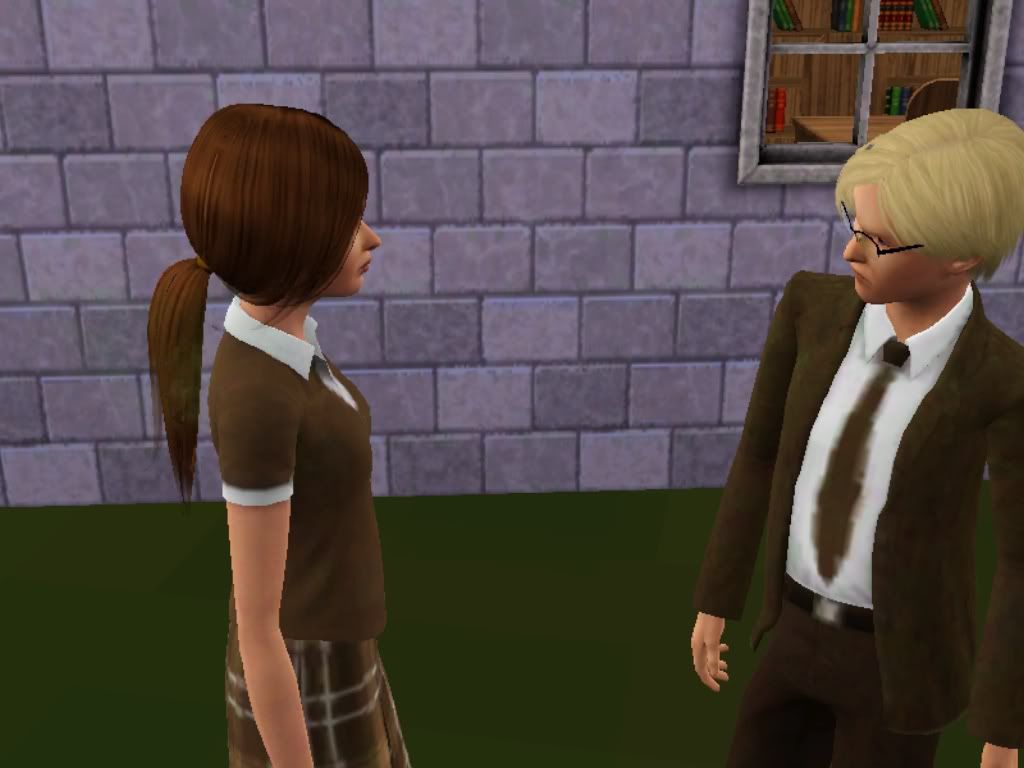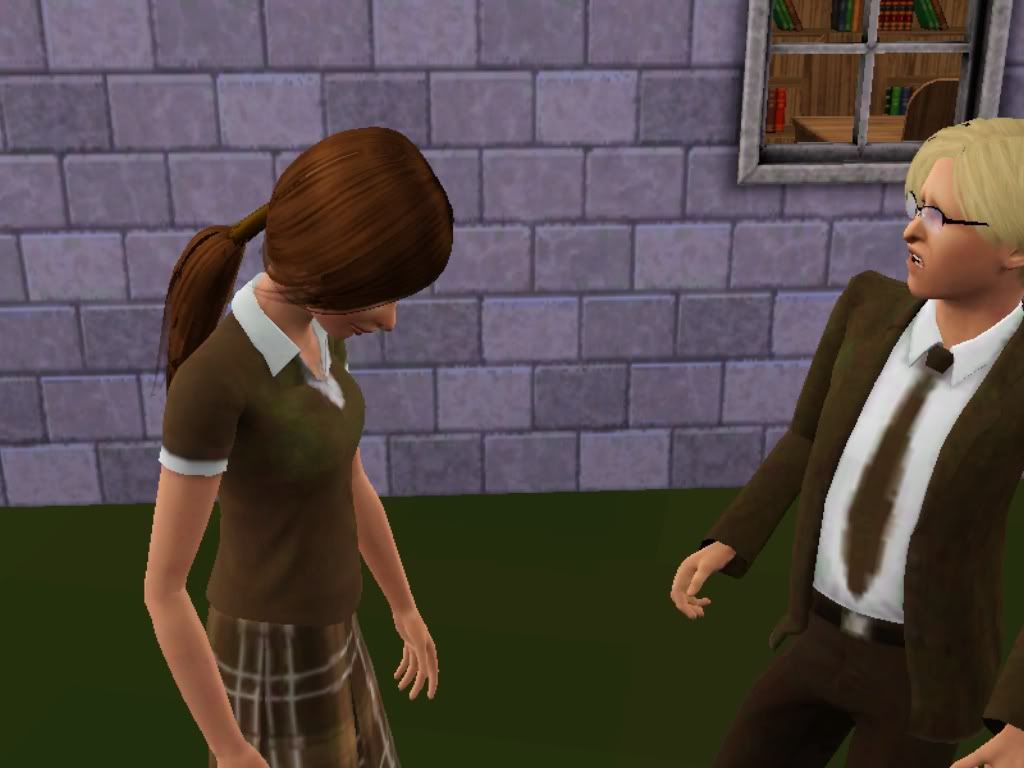 And then…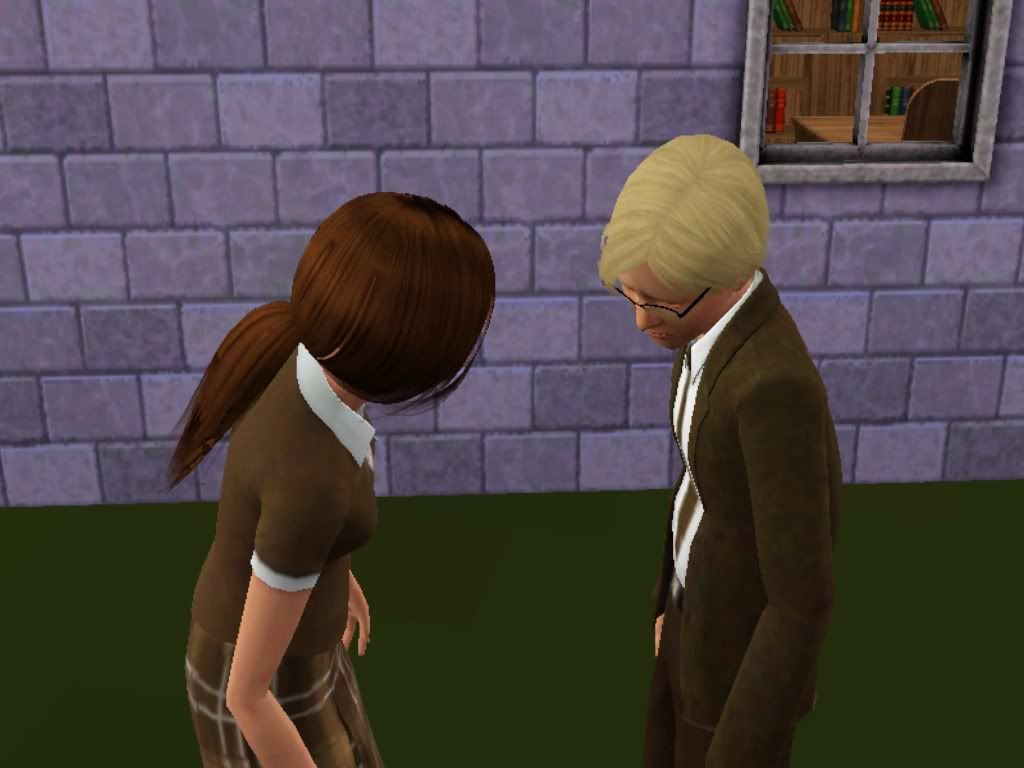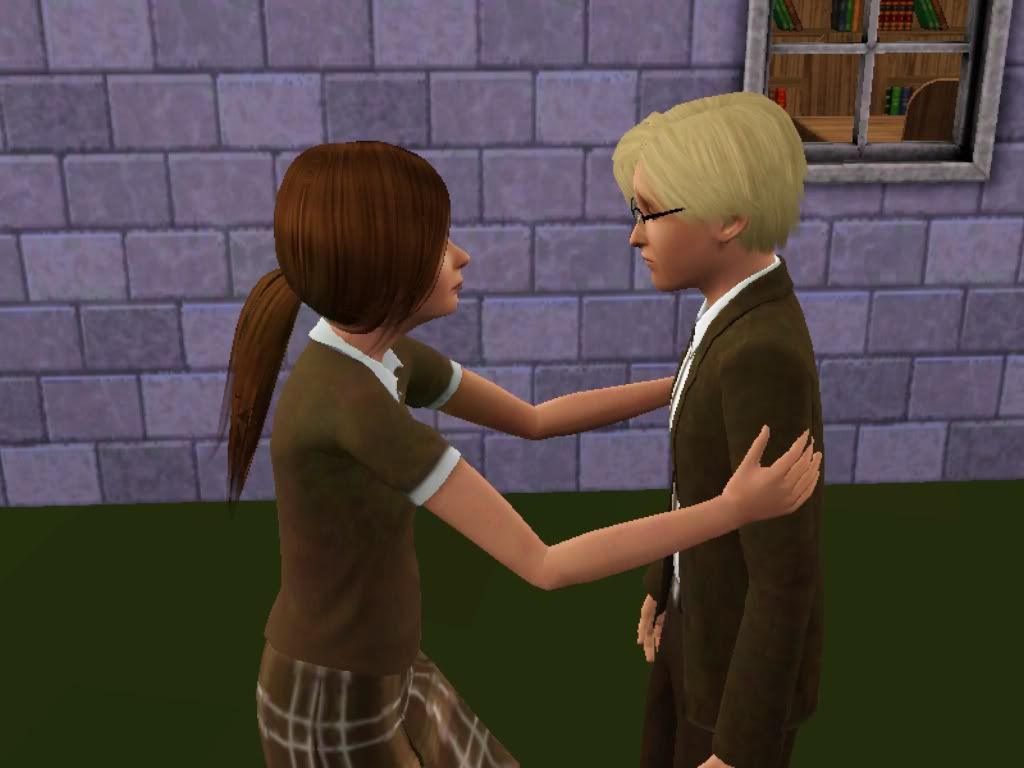 "We can still be friends, right?"
"..Yeah. I guess."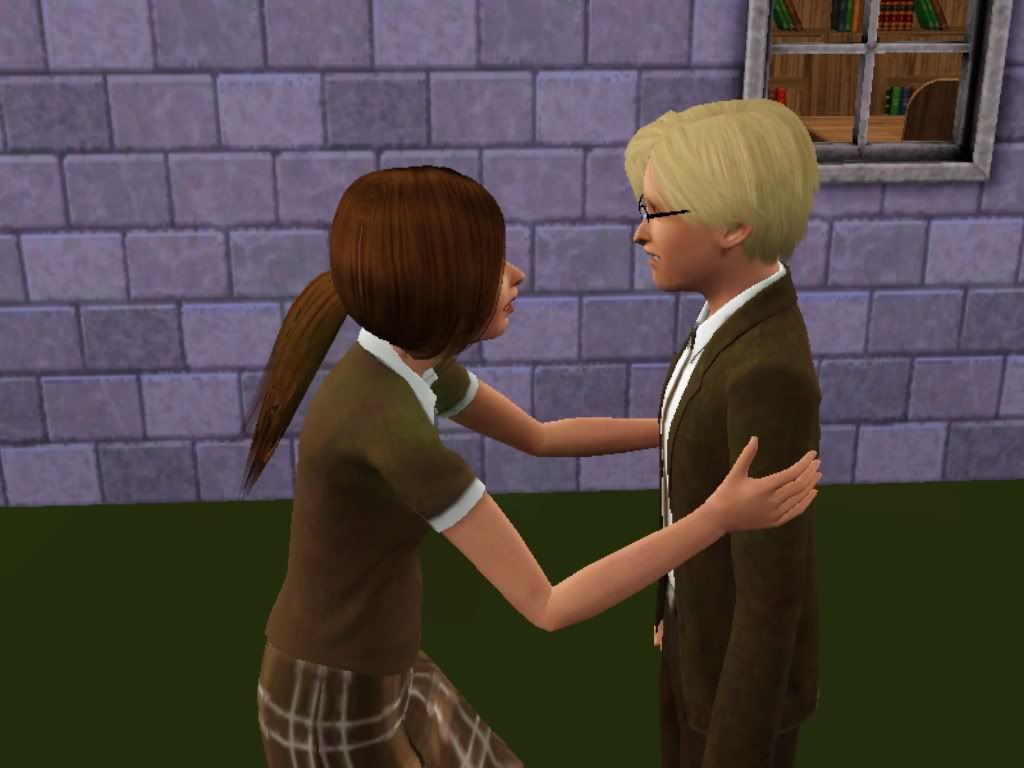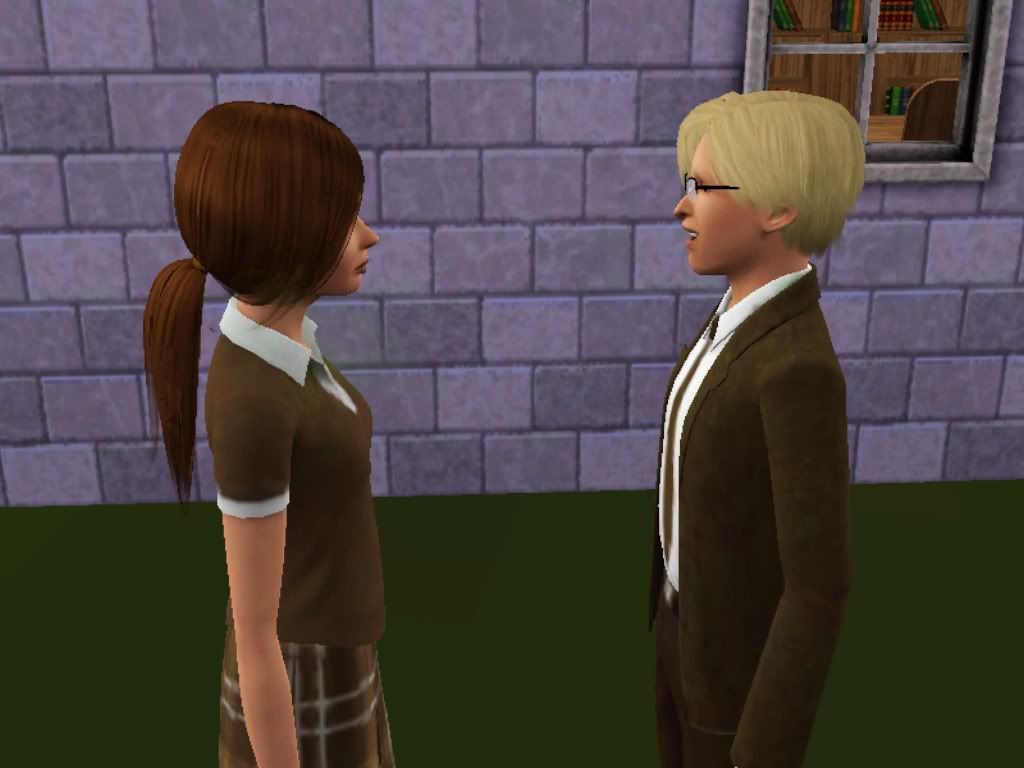 Matt's mood seems to go up again. Which is good, because I hate making him sad. He's just so sweet…
He's fine until he runs into his brother outside the bathroom and starts crying. Gilbert at least has the decency to look uncomfortable.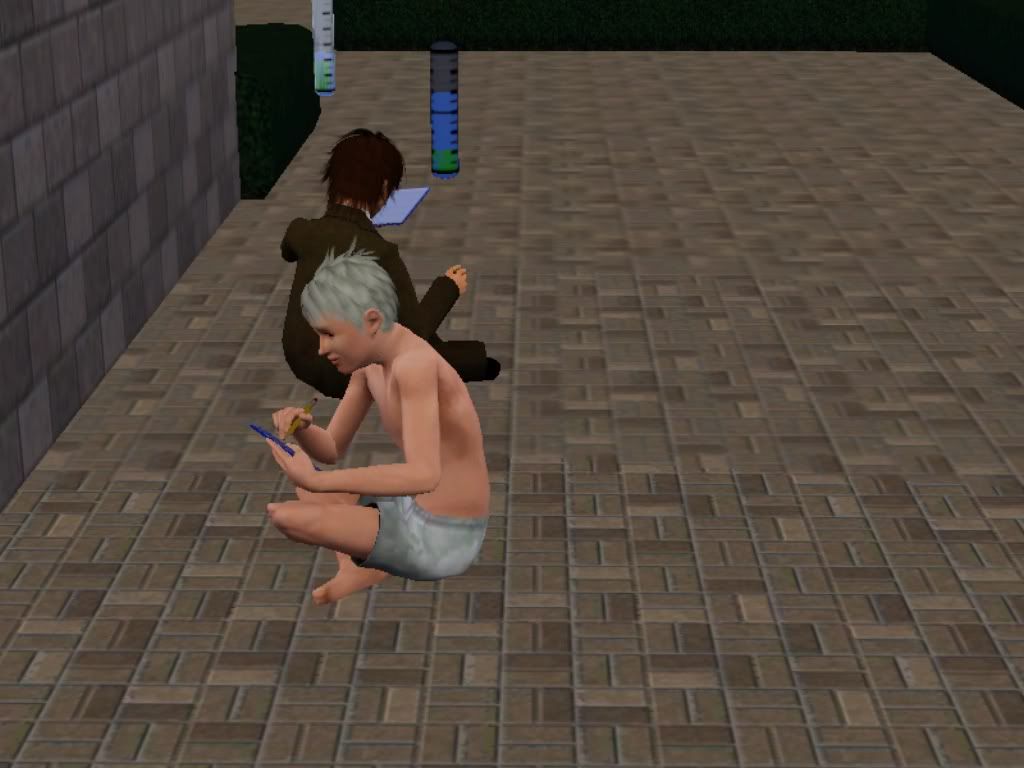 Not that Gilbert is ever truly uncomfortable.
For the record, the game registers those as his underwear, not his pajamas. So it really is as weird as it looks.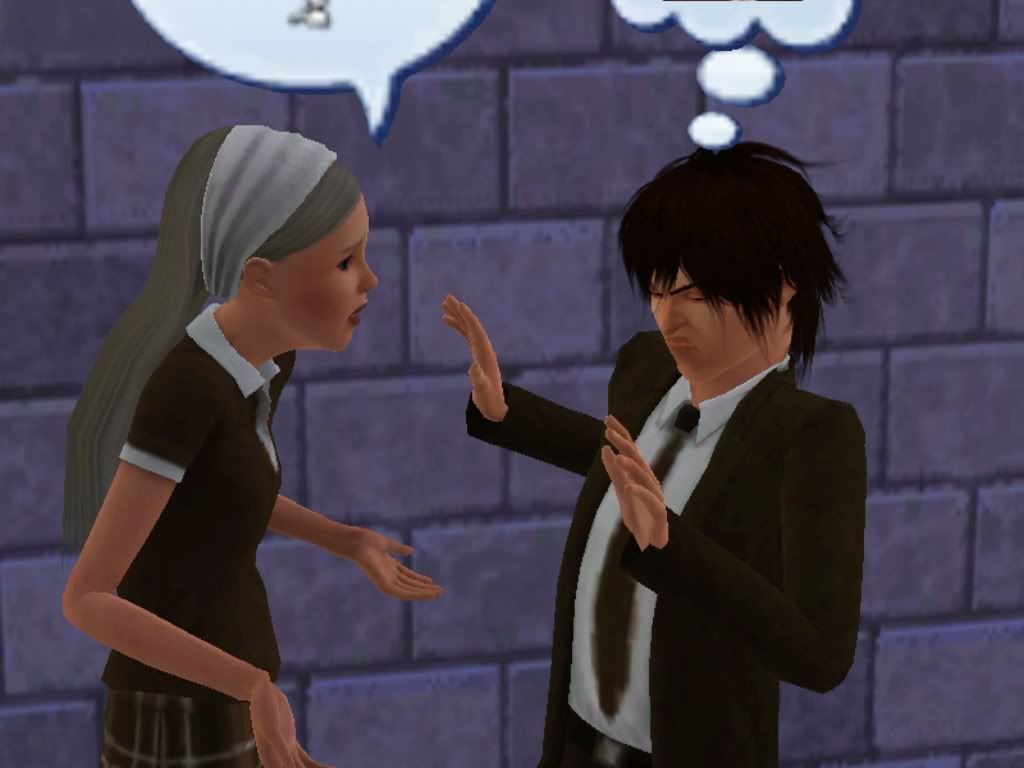 Meanwhile, Natasha has been trying her luck with a few other boys. After all, it's a big school, and it's mostly populated by boys, so how hard can it be, right? Maybe she shouldn't have tried flirting with Lovino.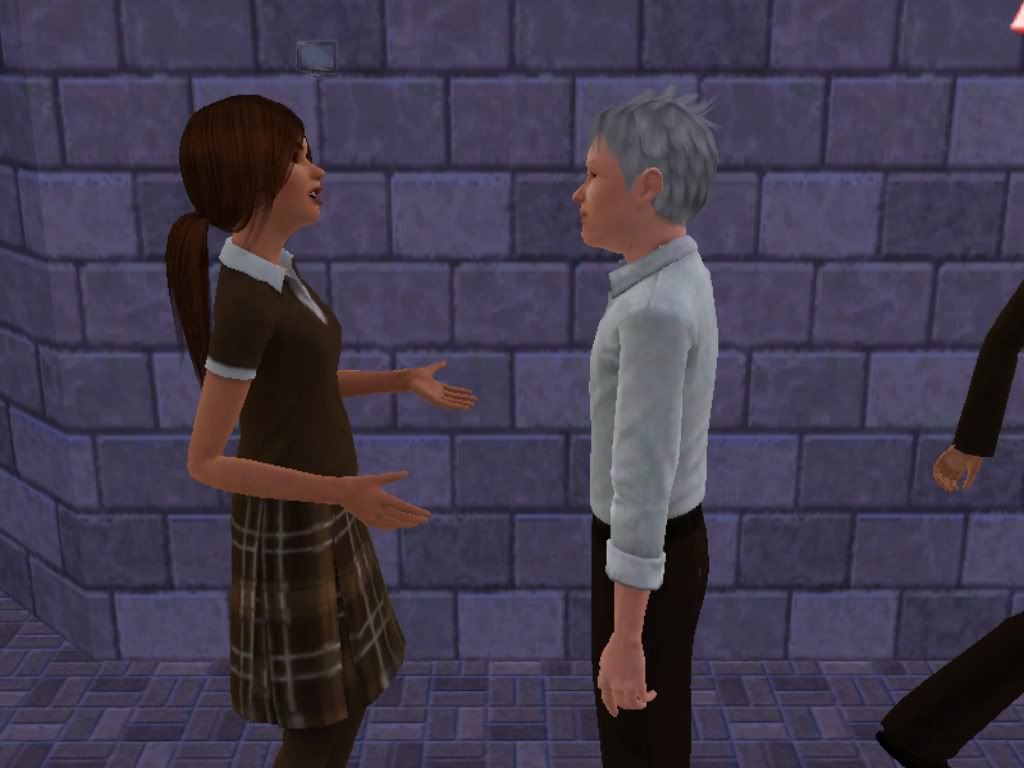 Elizabeta and Gilbert, on the other hand, have been having a great time. They actually haven't changed much beyond hanging out with each other more than their respective boy/girlfriends (obviously). Mostly they just tell jokes. (They both have the 'great sense of humor' trait so it's what they both want to do most of the time.).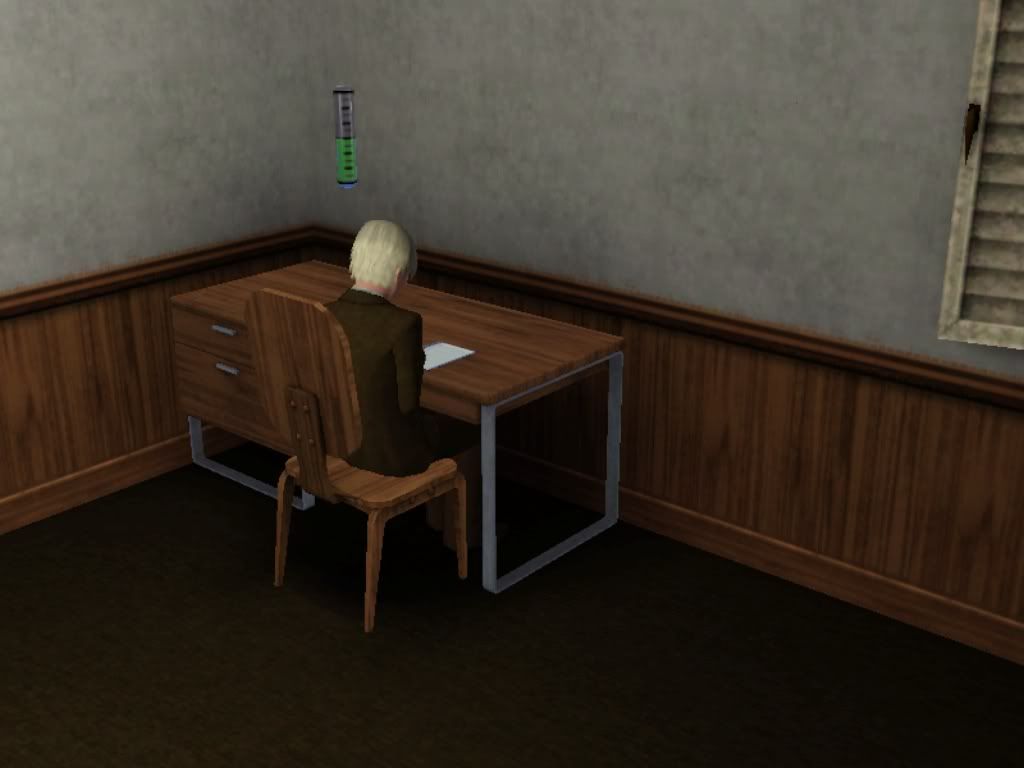 Gilbert has taken to sleeping in Elizabeta's dorm room (no, nothing has happened yet, stop asking). Ivan seems to have snuck into the girl's dorms too. There he is, sitting at Elizabeta's desk like this is perfectly normal, ruining the mood.
I feel like this is a threat of some sort.
It's been a few days and Gilbert and Elizabeta still haven't officially declared each other boyfriend and girlfriend yet, but they do find the time to be romantic (and stick their fingers in each other's shoulders, apparently). The uncomfortable-looking guy in the corner there is Roderich. Gilbert doesn't like him. The game did this by itself.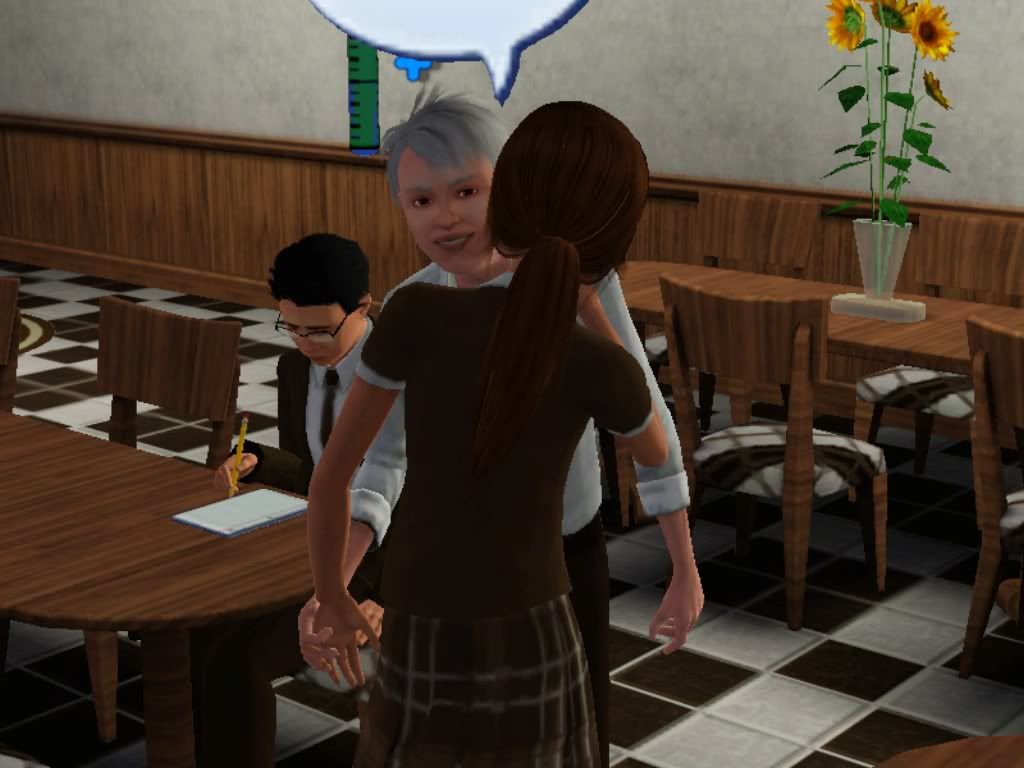 ..Gilbert why are you staring directly at the camera? That's so weird.
Gilbert finally just outright asked if they could go back to her dorm. That's Alfred, by the way, not Matt. I know. They're impossible to tell apart. I need to give one of them a different tie or something.
Alfred looks rather pleased that his best friend is GETTIN SOME. (Seriously, the moment they made to leave Alfred started laughing and clapping. I love you Alfred.) Despite the fact that his brother has been in tears about Elizabeta dumping him for Gilbert lately. Alfred's such a good brother.
For future reference, it's called woohoo. I will address it as such.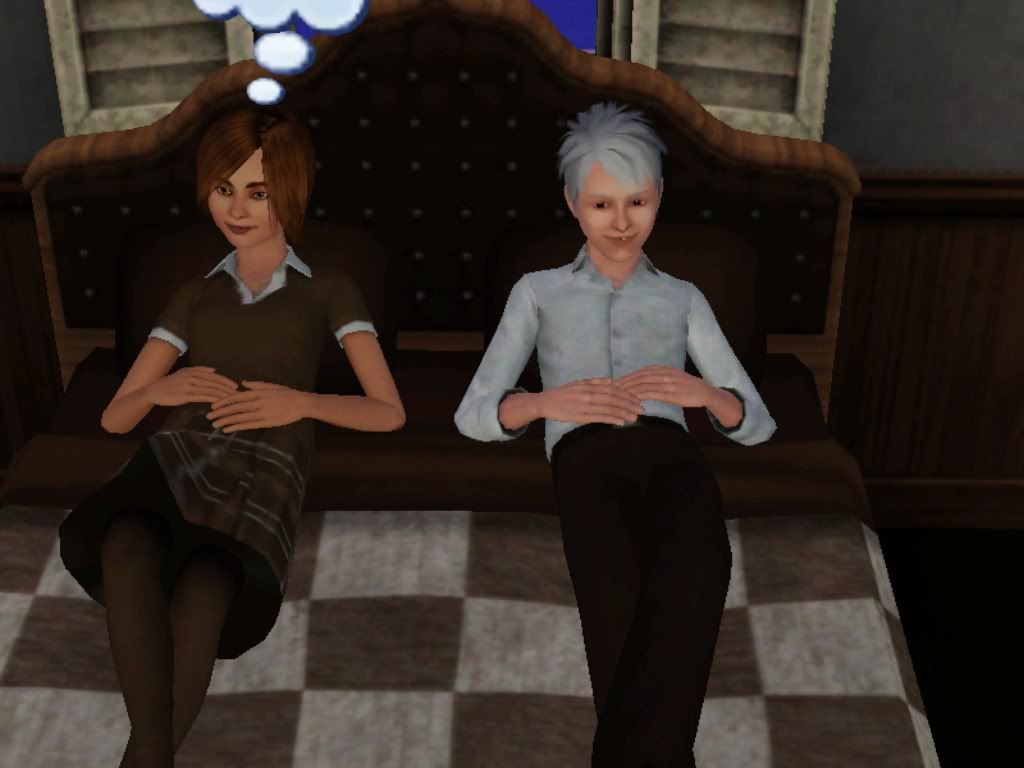 They went to the room with high intentions, but the moment they got there both of them just stopped behaving and fell asleep before anything could happen.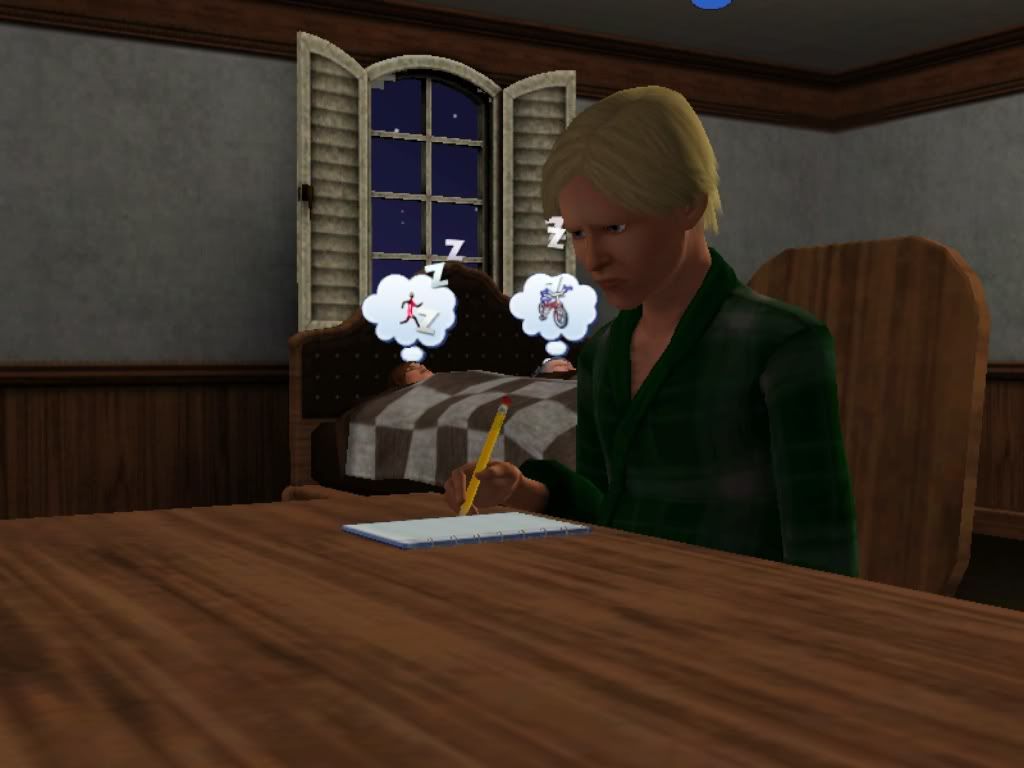 Matt showed up in the middle of the night to work on homework. In Elizabeta's room. While she was sleeping with her new boyfriend.
Matt, why are you hurting yourself like this? Furthermore, this is stalking.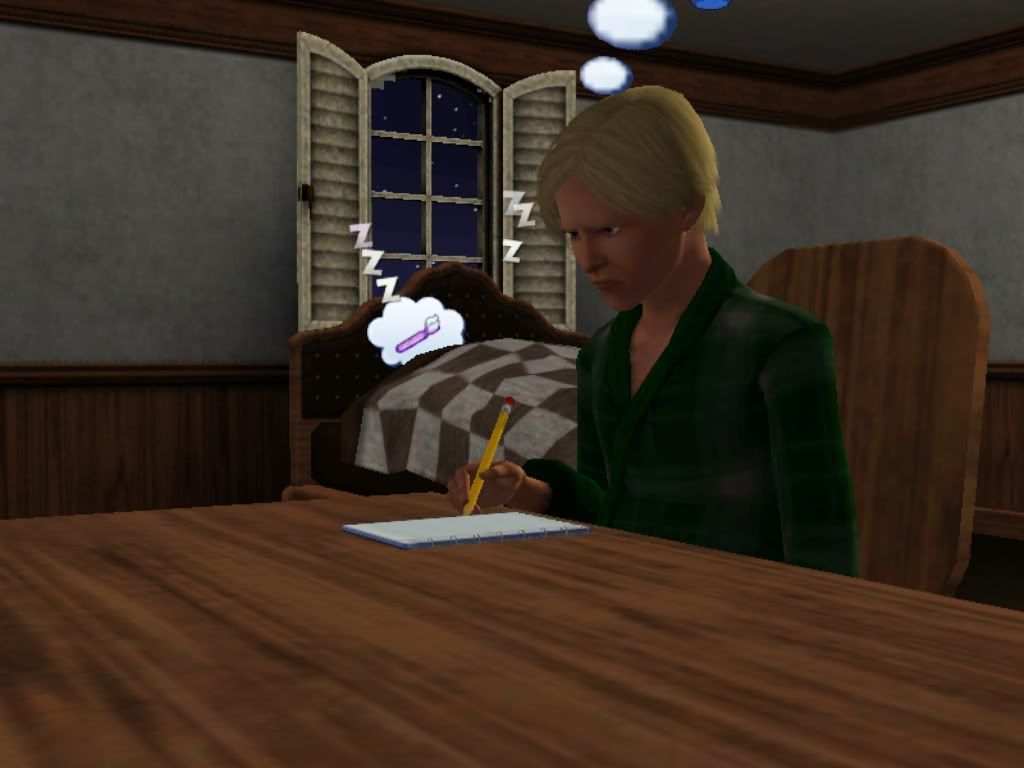 At about three am Elizabeta and Gilbert (either having slept through Matt's intrusion or not being bothered by it) wound up cuddling together in the bed. Matt looks very focused on homework.
Half an hour later Matt finally finishes his homework and leaves to get something to eat. That was weird even by sim standards.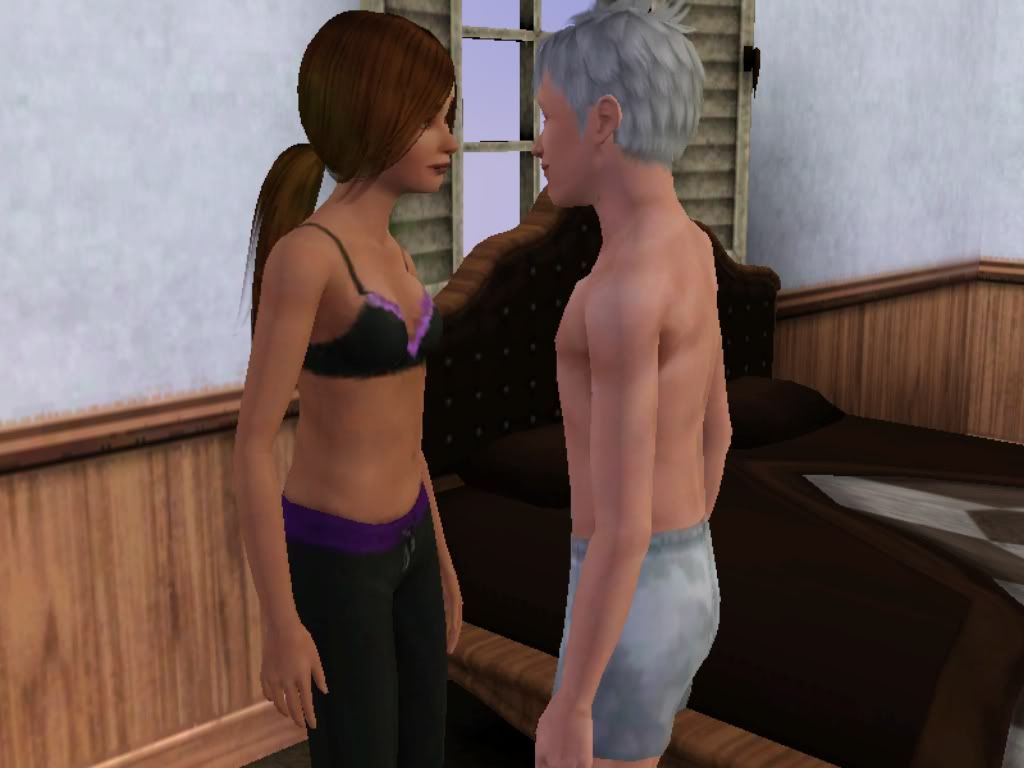 The next morning they're in good moods again so I get rid of a few easy wishes they have to flirt and kiss. But they both really need showers before class so it's cut short. (I don't know what it is, but the sims at this school never shower. Ever. That would be the green mist around their armpits. Smell is visible in the sims.)
In case you were wondering, in the sims the school is a rabbit hole, which means I can't follow them inside and watch them learn. Usually, rabbit holes are huge buildings that function as objects and sims disappear inside them, but since I wanted to build a residential lot for them to live on, stuff changed. I downloaded custom rabbit holes that I could put on residential lots. They're the rugs you see on the ground. When the kids go to class, they march upstairs, step on the rug, and vanish for eight hours. Imagination. It's useful here.
Anyway, there's a school, a diner, a hospital and a bookstore scattered about campus. JUST IN CASE YOU WERE WONDERING.
(Actually they haven't quite figured out that their classes are on the same lot as they live, so they get on a bus in the morning, go in a circle, then run upstairs.)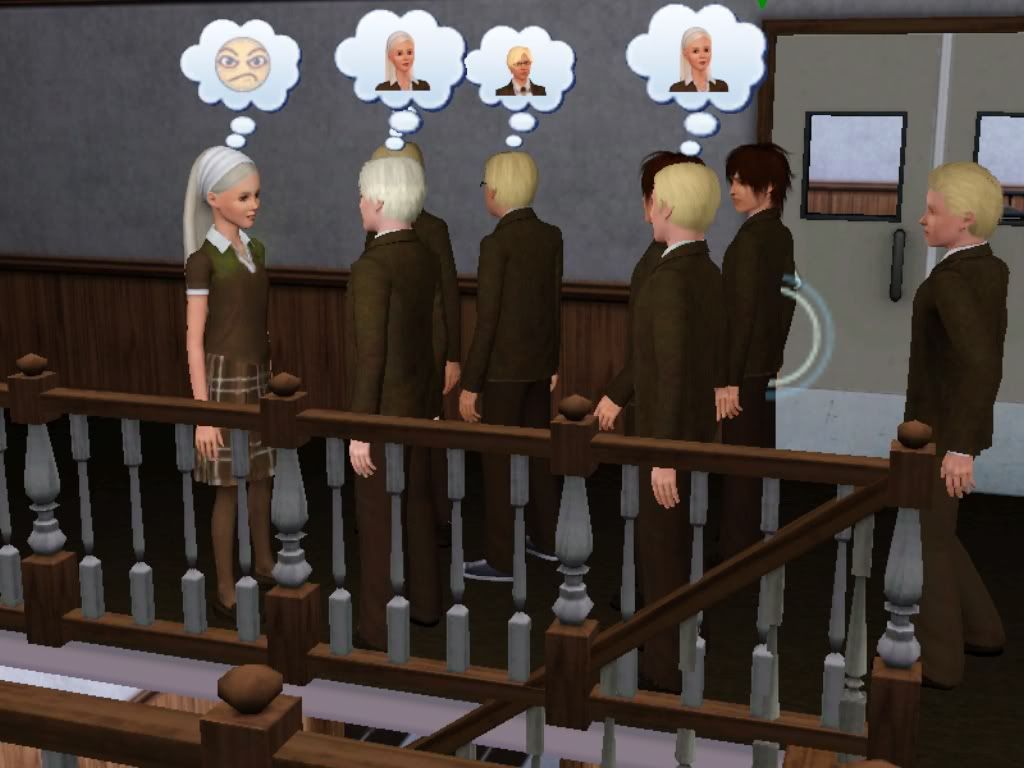 Natasha is still not really at a loss for boys. I haven't really been following her that much, I wonder if she's got a new romance blossoming somewhere…
(Seriously, is she that pretty? EVERY. SINGLE. DAY.)
It was Friday and Elizabeta wanted to go jogging. Gilbert figured it couldn't be that hard…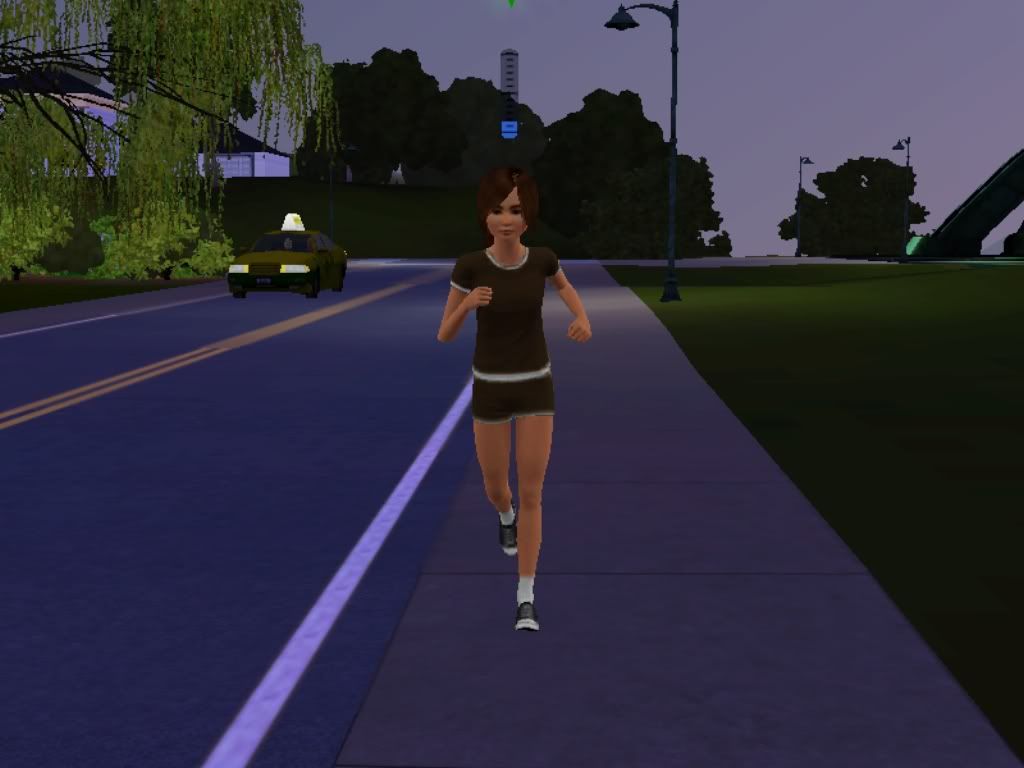 …he eventually ran out of steam and called a taxi. Again, the game did this by itself.
Not exactly the best thing for Gilbert to be doing.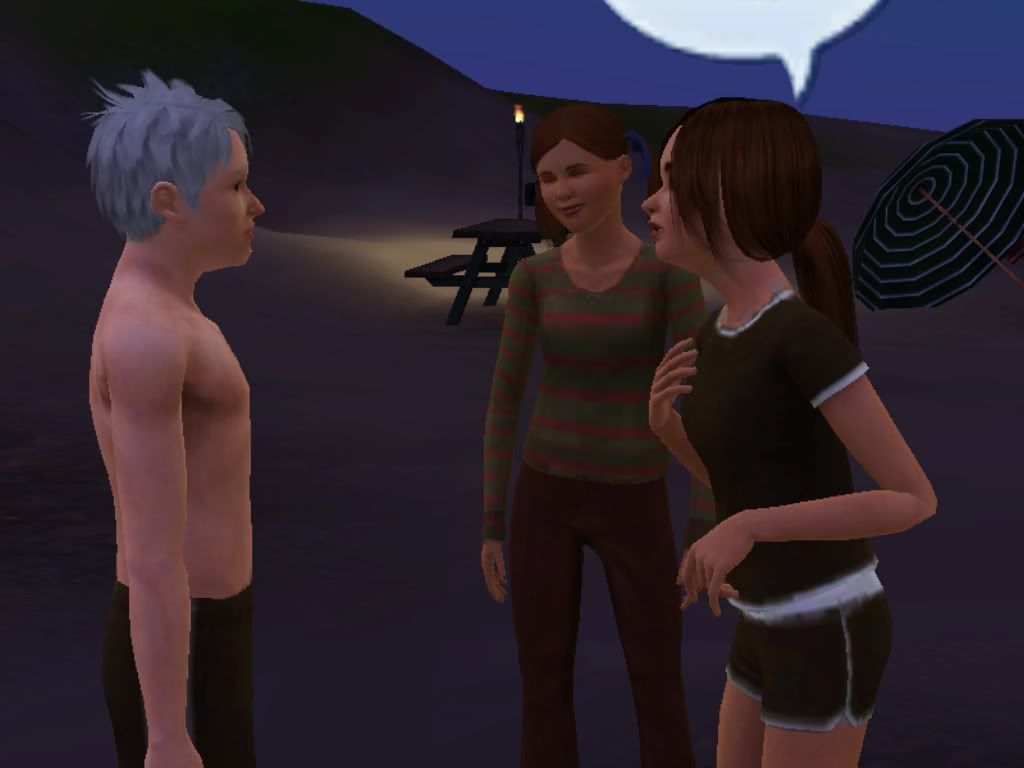 Fortunately, Gilbert was just talking to her. Elizabeta seems concerned at first, but the girl tells them there's a concert going on downtown so they're both quickly forgiven.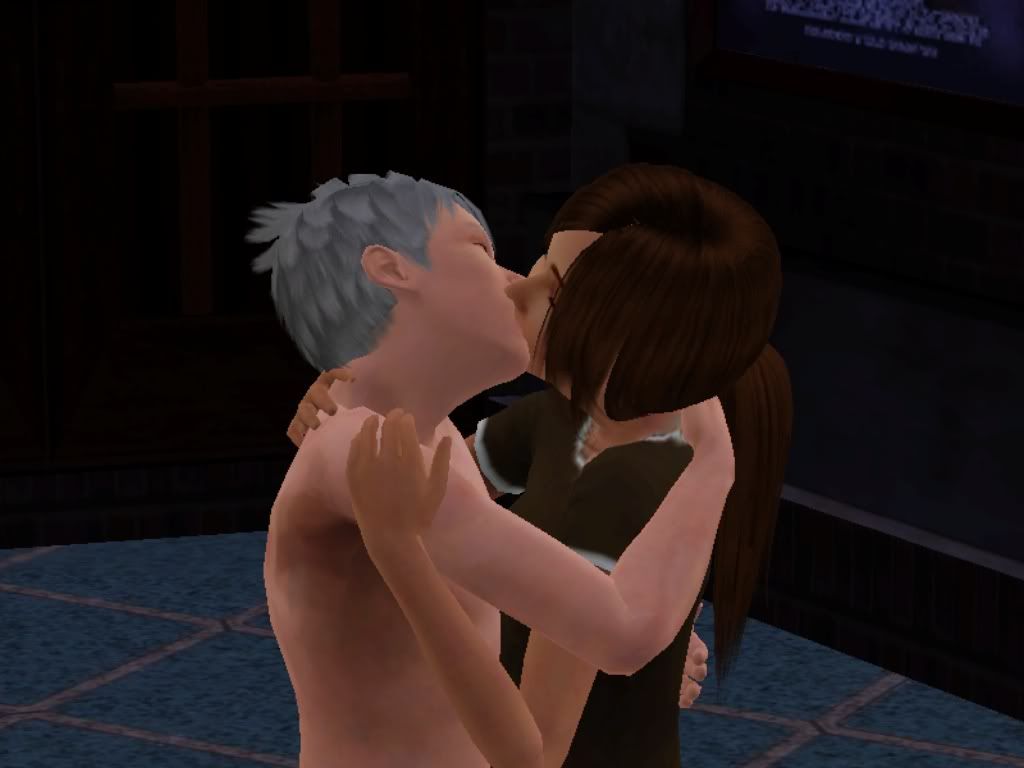 They have an epic time at the concert (which translates to they come home with their mood bars completely full).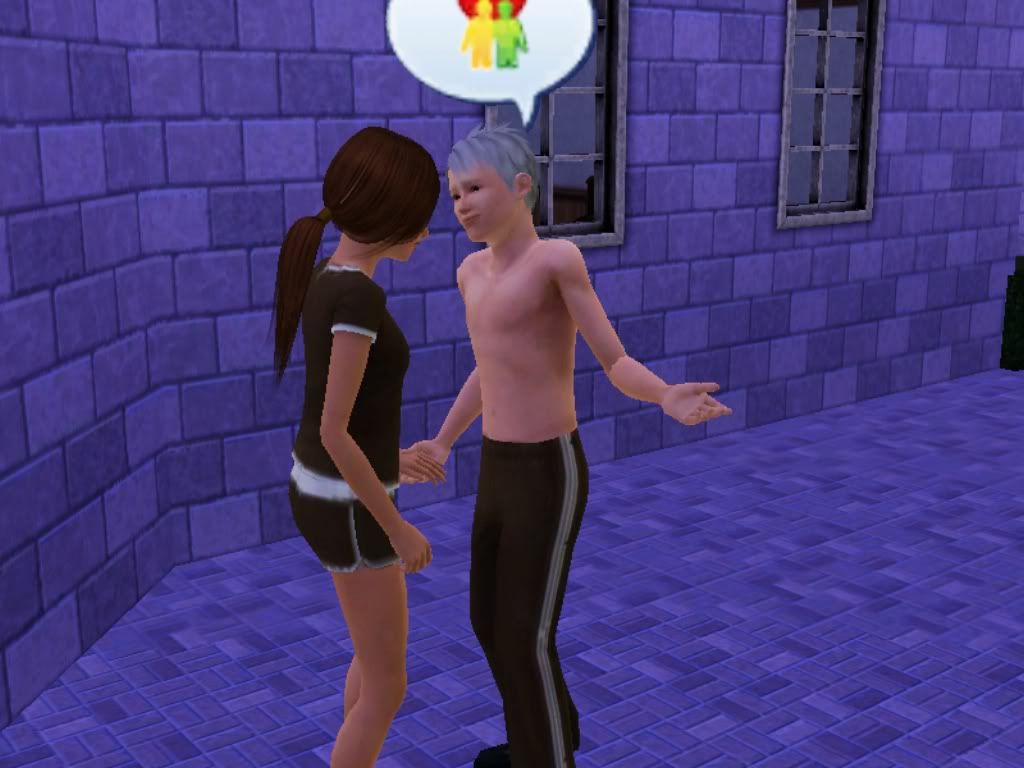 After a few kisses outside the girl's dorms Gilbert figures they might as well just make it official. Boyfriend and Girlfriend?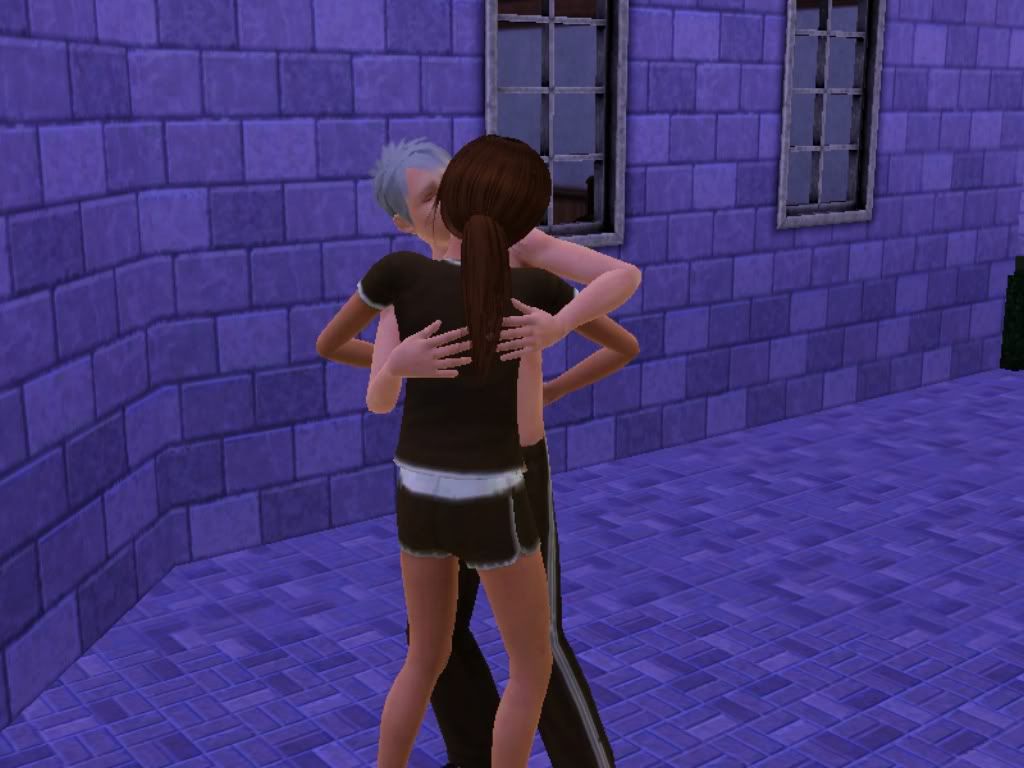 Elizabeta not only agrees wholeheartedly, she has a new wish.
...whut.
---
Chapter 3
Seriously. I was as shocked as you by that last wish. Marriage? You want to get engaged, Liz, really?
I suppose they are just ordinary teens, after all. I think I'll hold off on the proposal just yet though…
It was after this that I realized how very few girls there are attending this school.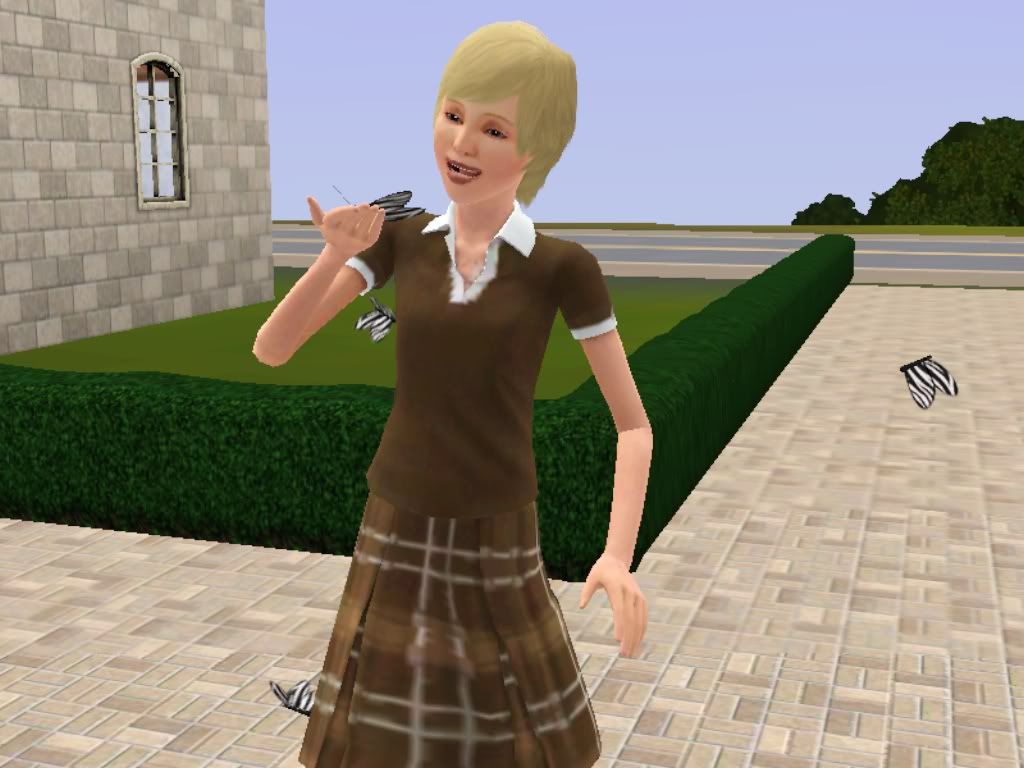 Here's Lili.
…And Michelle. And they don't appear ever again because I got bored and forgot about them. And also Gilbert and Elizabeta were being dramatic.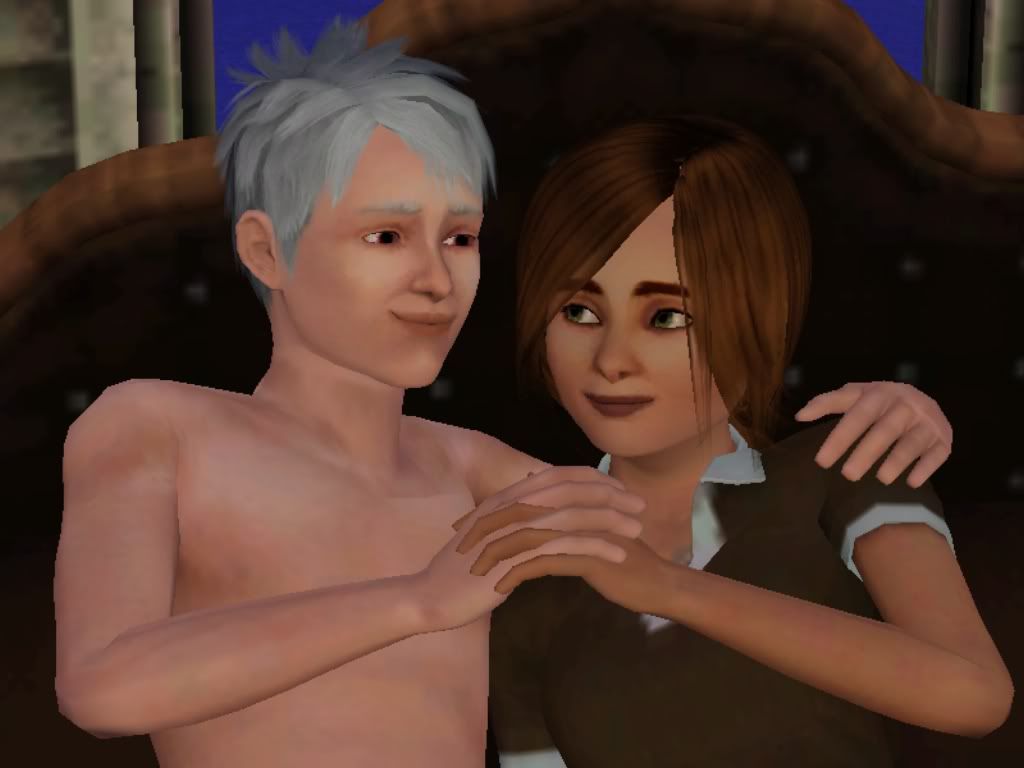 Elizabeta and Gilbert, meanwhile, were having an excellent time.
An excellent. Time.
Seriously.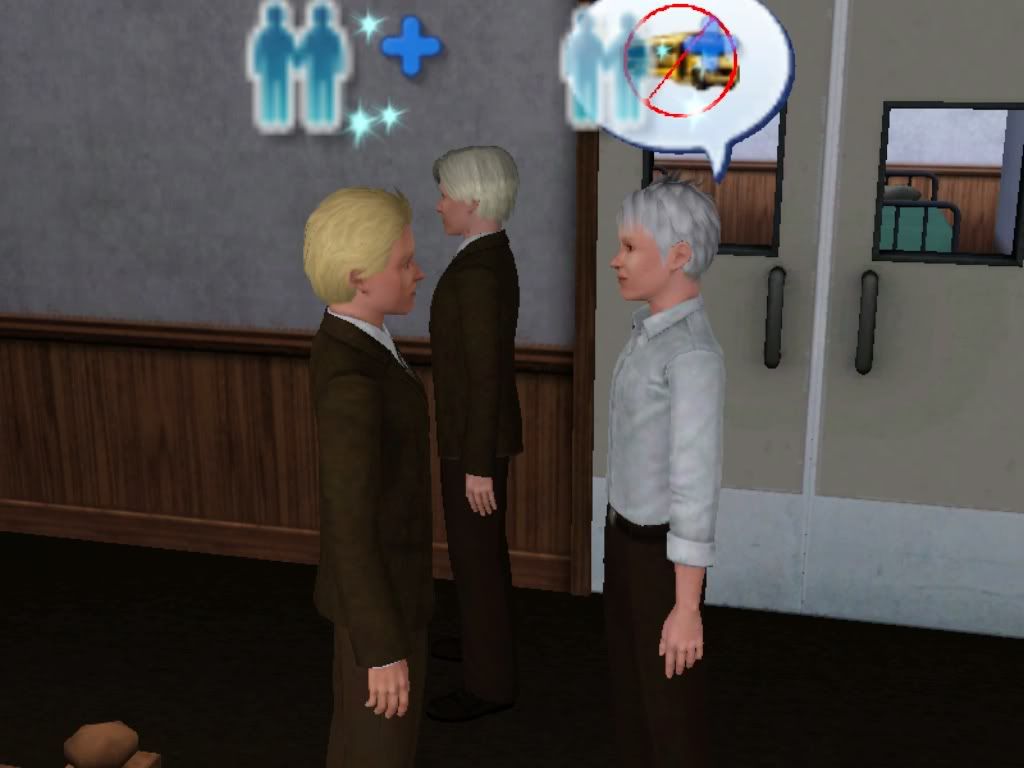 Being a teenage boy, Gilbert's main list of wants was taken care of. He decided to spend some time with his brother who has managed to not appear yet. He's actually been there, being Ludwig, but he was so boring so I didn't really follow him that much. Mostly he just sits in the study corner with Feliciano and manages to be one of the few people who buttons their blazers.
(For the record, I designed Gilbert as the only one to not be wearing a blazer. I don't remember exactly why I did this, but I think it had something to do with 'FUCK THE POLICE'. I was like, 15. Forgive me.)
Ludwig is actually the only student on campus that is getting an A. The rest of them are hovering around a C average.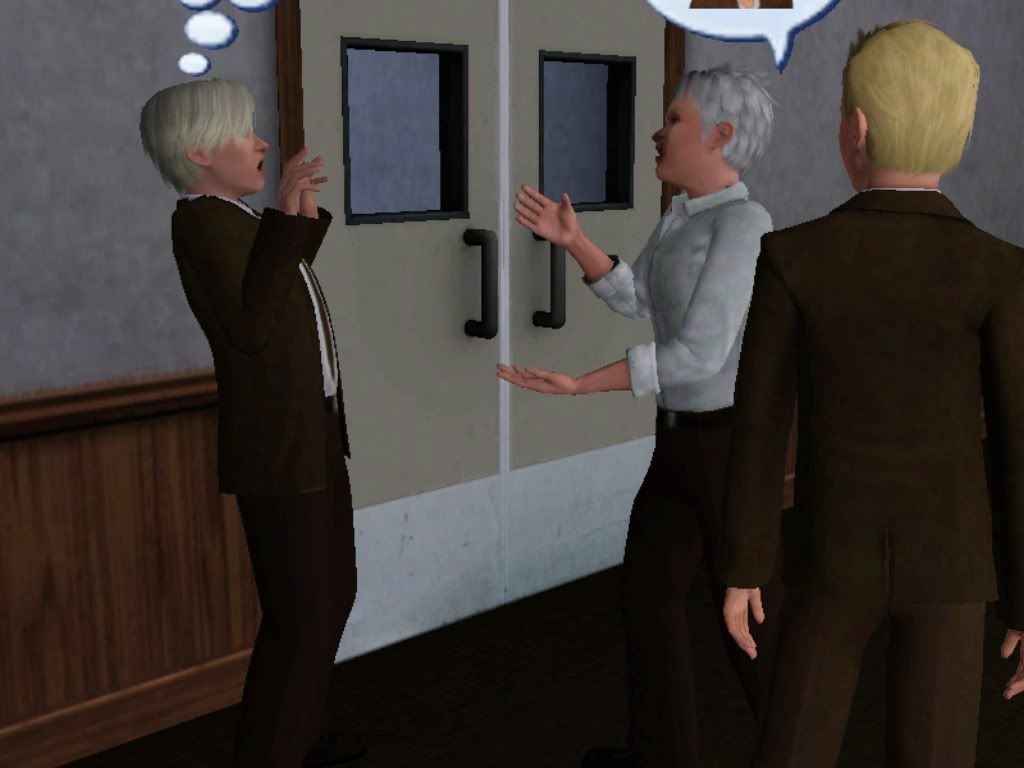 Gilbert then had the sudden desire to be mean to Ivan. Why Ivan looks so surprised I have no idea.
"And those shoes look like Natasha's."
"What..?"
Like I said, Ludwig is the only student getting an A. Gilbert uses this to his best advantage.
Also I think that puddle was from someone pissing themselves. There's only like, eleven toilets on this lot. Someone manages to piss themselves at least once a day.
Which, come to think of it, is probably why they all need showers all the time.
And this is the part where I totally forgot what mods I had installed and got thoroughly surprised. Elizabeta popped up with a new moodlet.
…whut. Whut.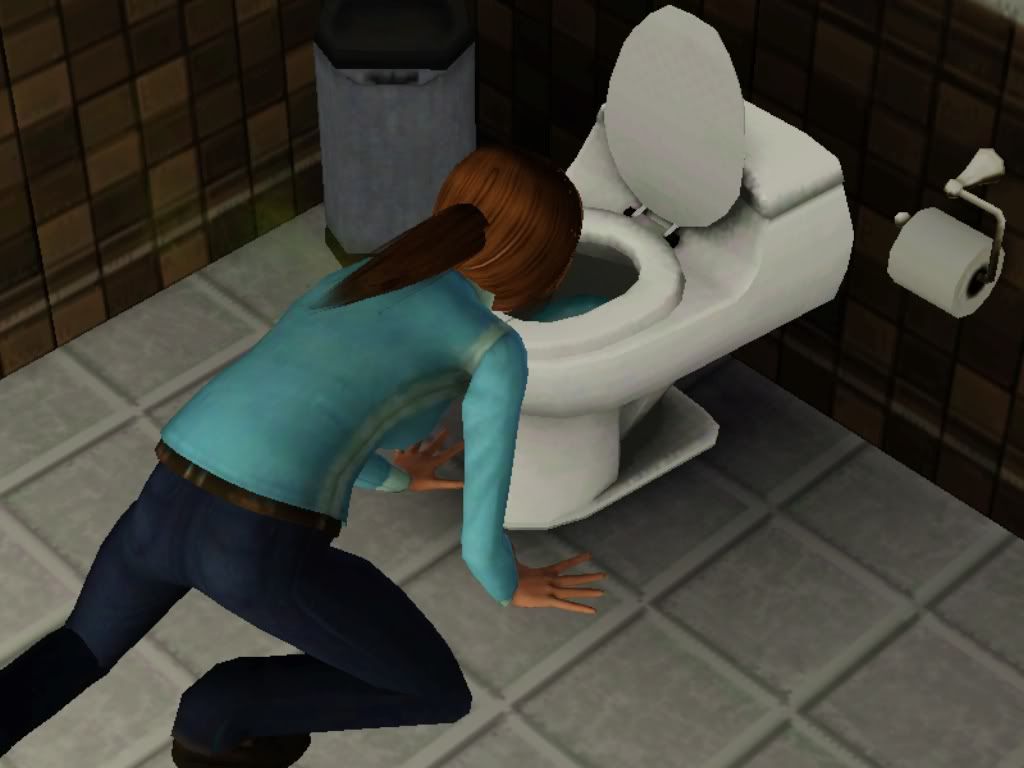 Whut.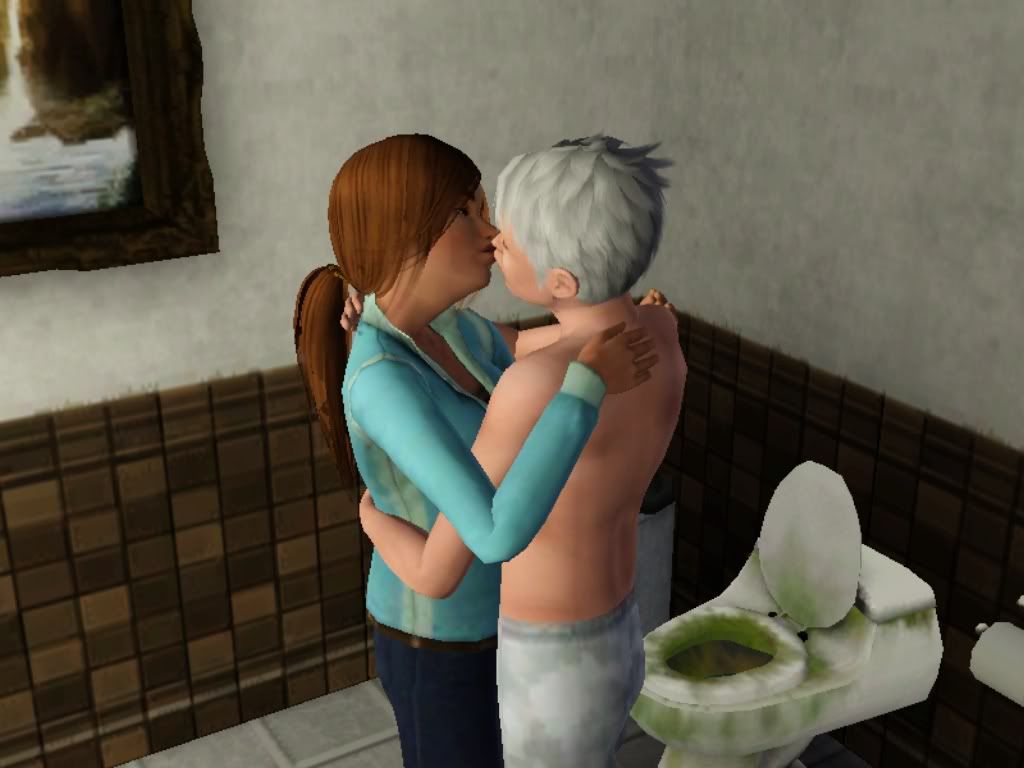 Elizabeta didn't seem that shocked…mostly she just wanted to tell Gilbert.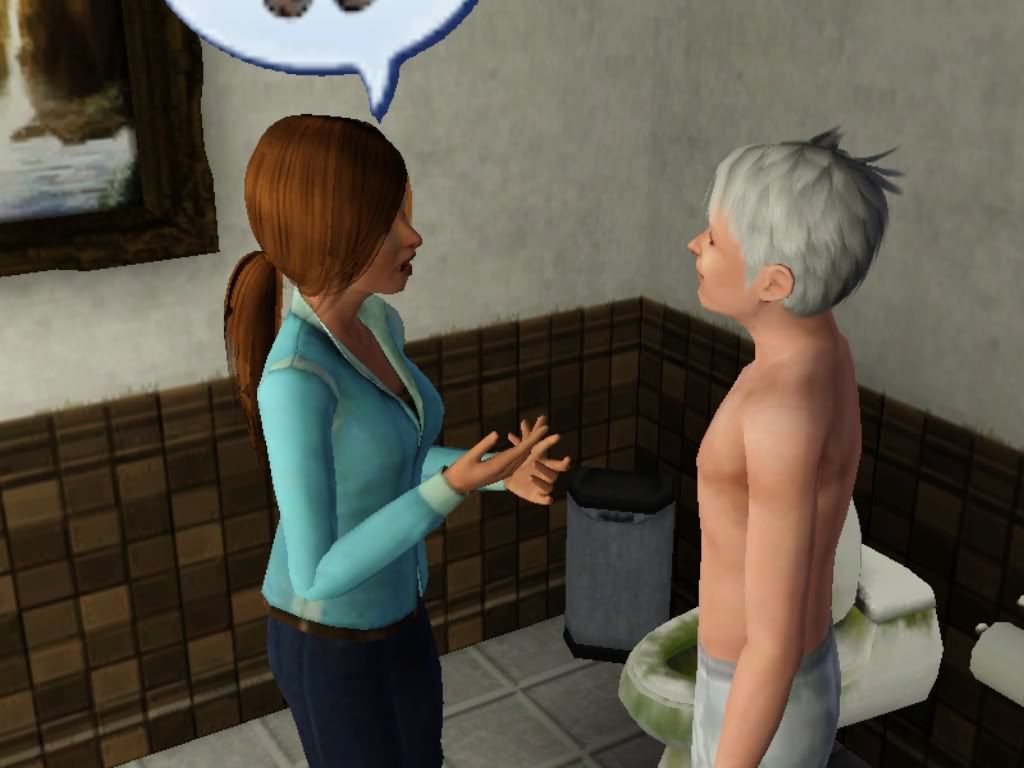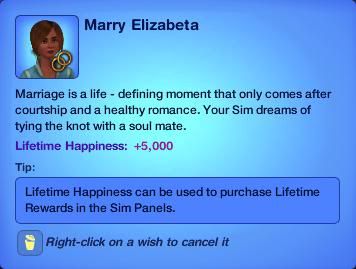 Gilbert took it well.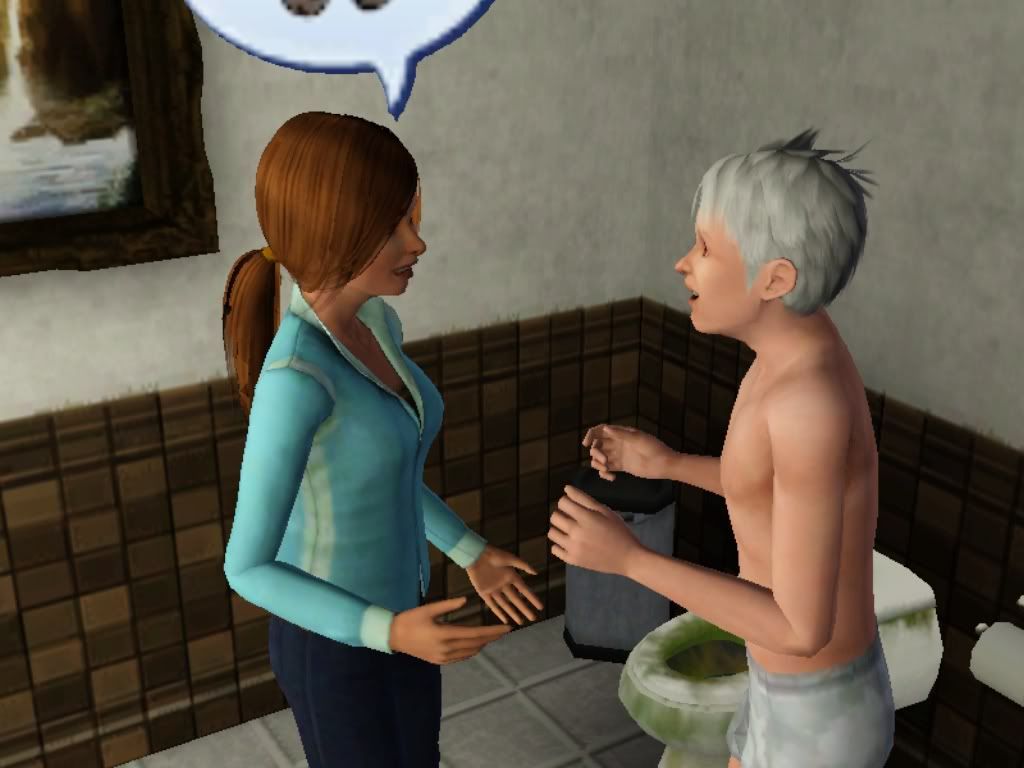 …Okay seriously you guys?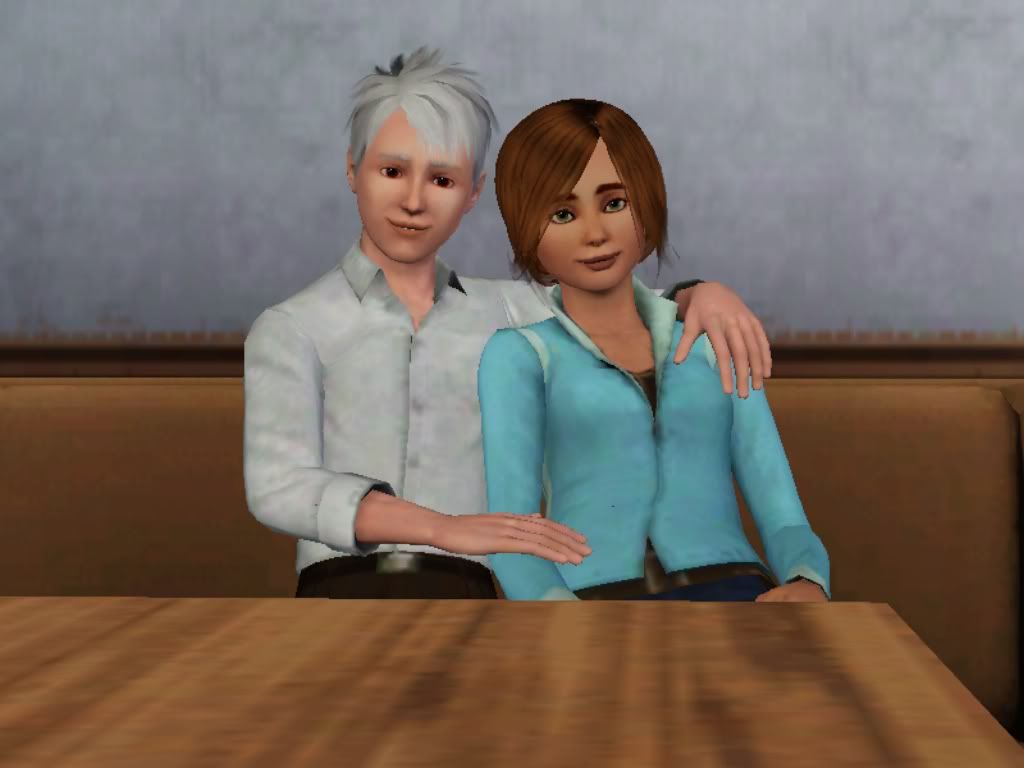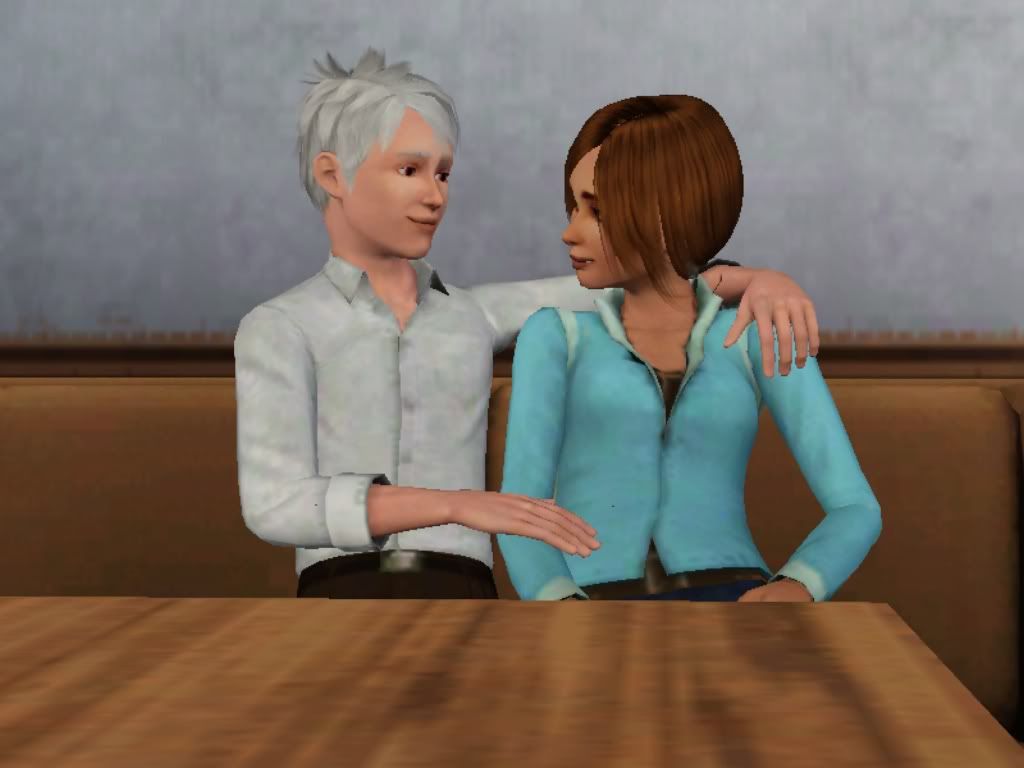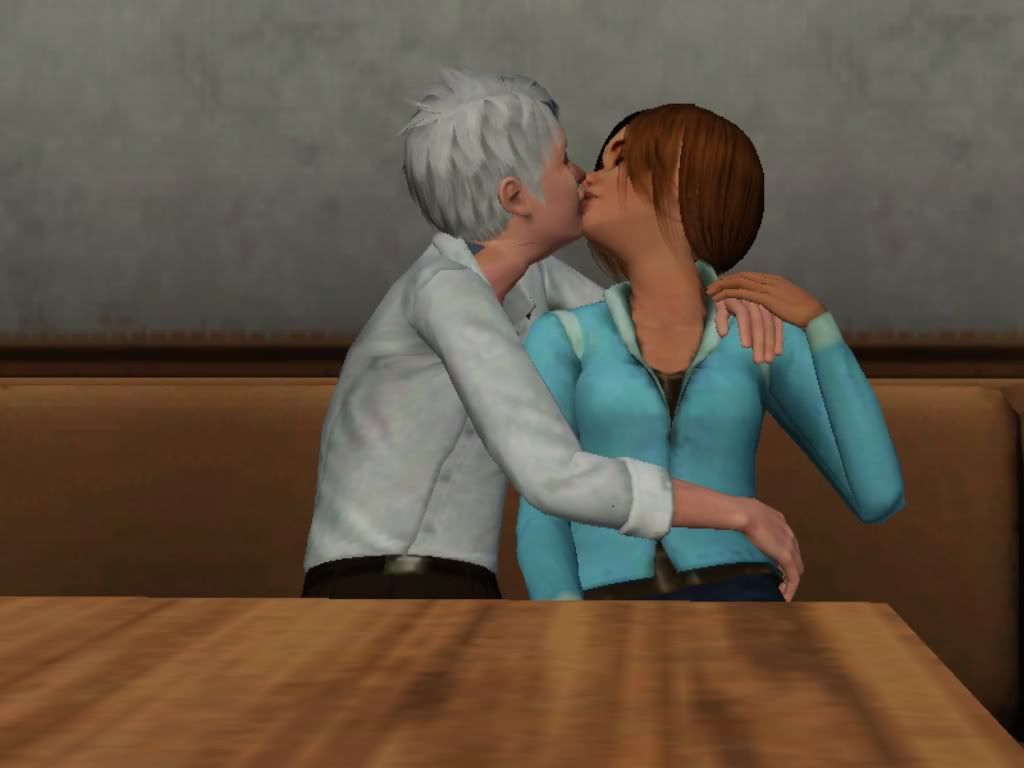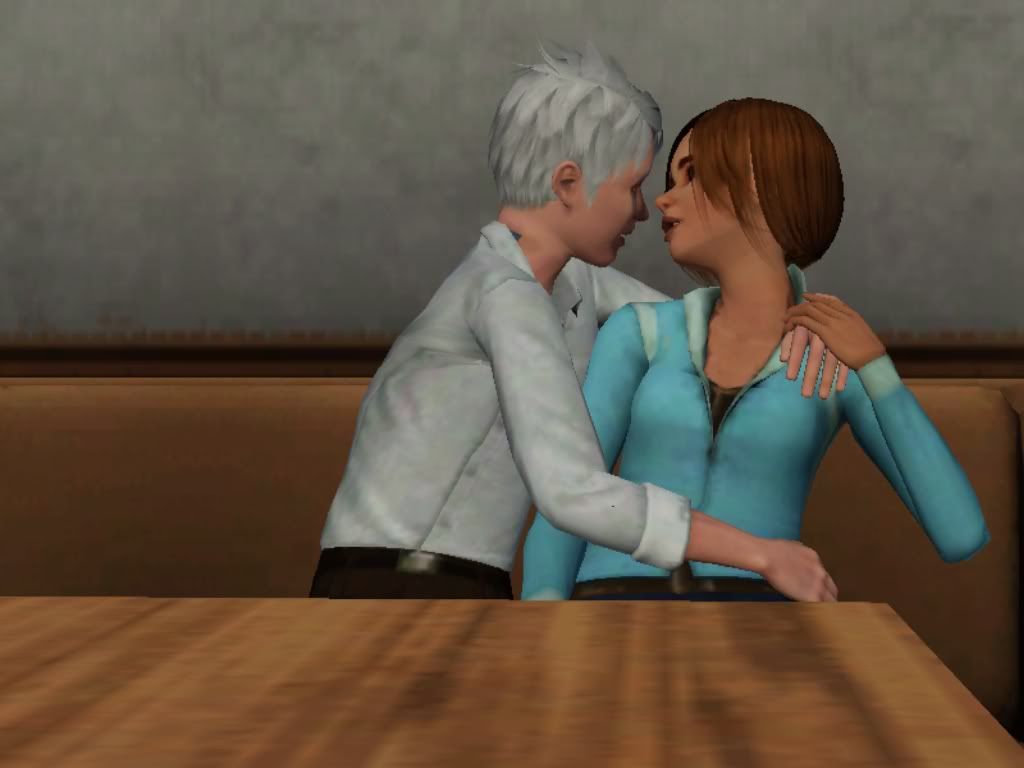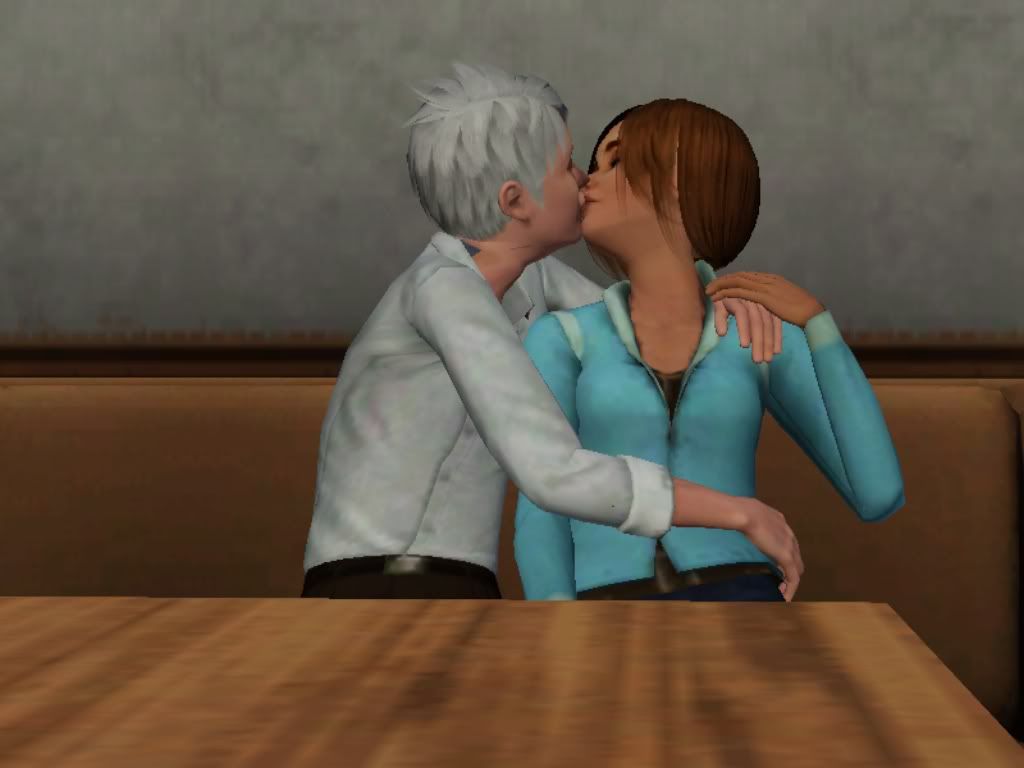 They carried on being adorable. Those are Elizabeta's maternity clothes, by the way. The game sets them itself and doesn't let me change them. Which is a shame because those are ugly.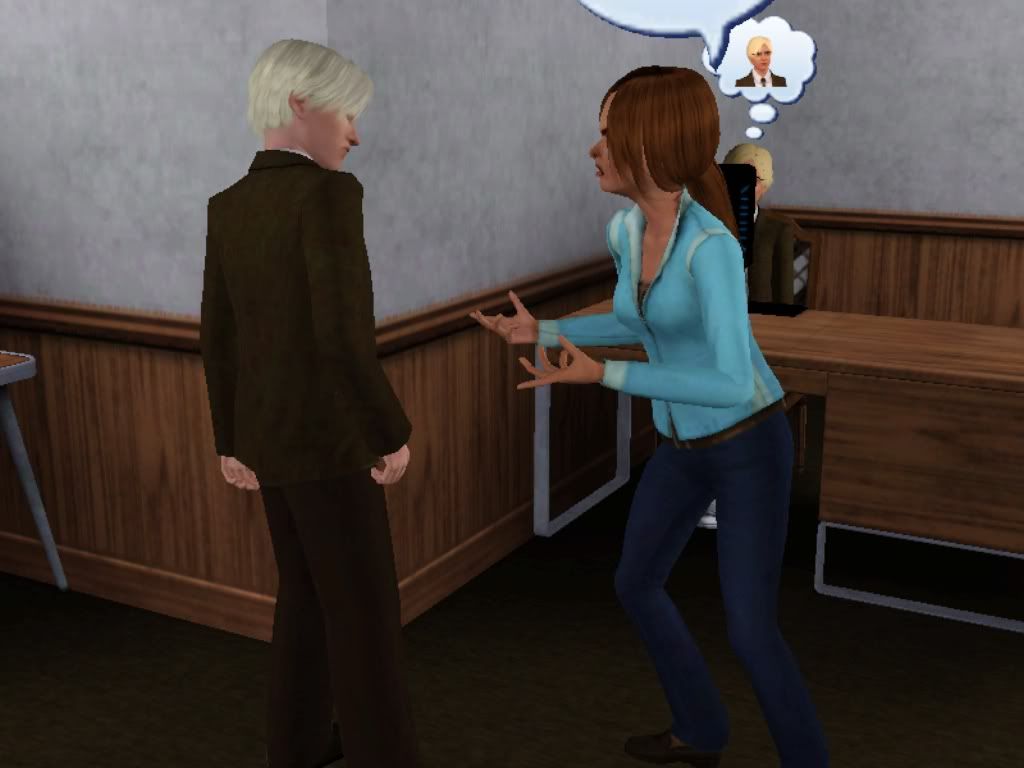 Elizabeta suddenly had several wants to be mean to people. One of them was repeatedly Ivan. Ivan doesn't look pleased.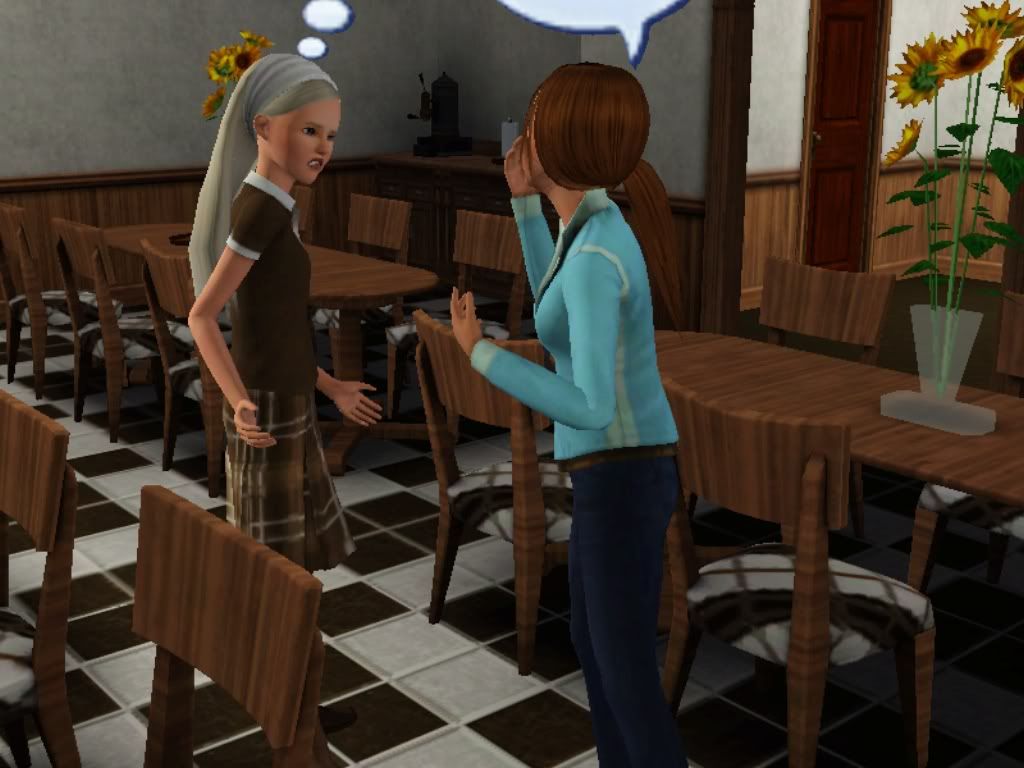 And Natasha.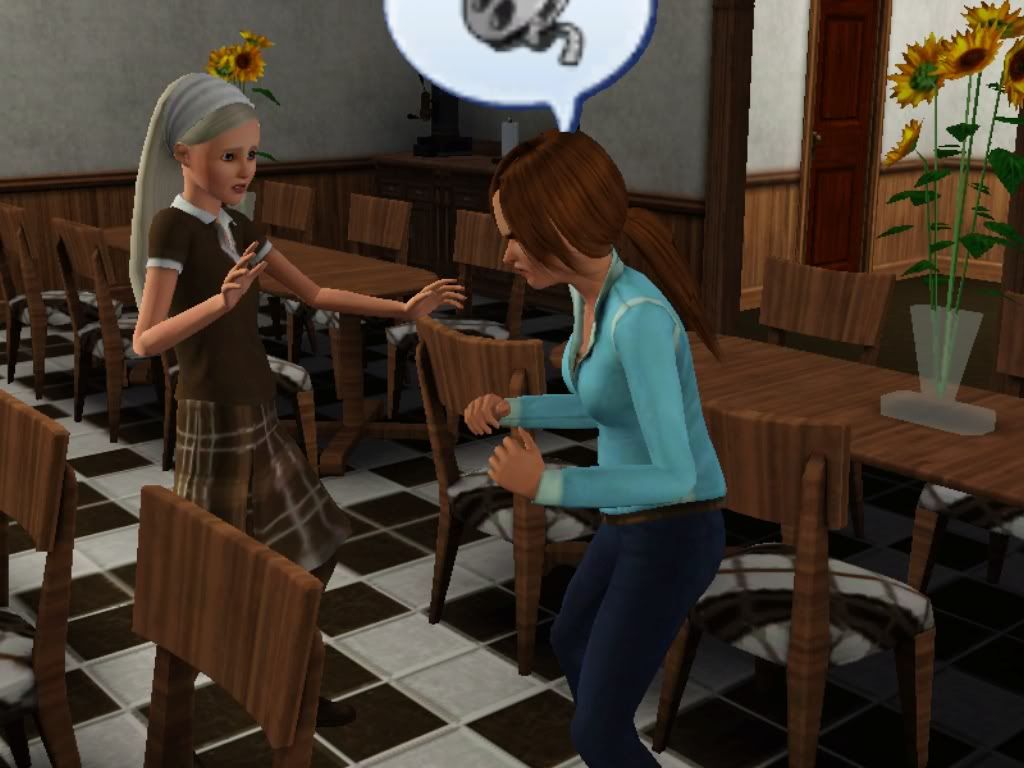 Poor Natasha.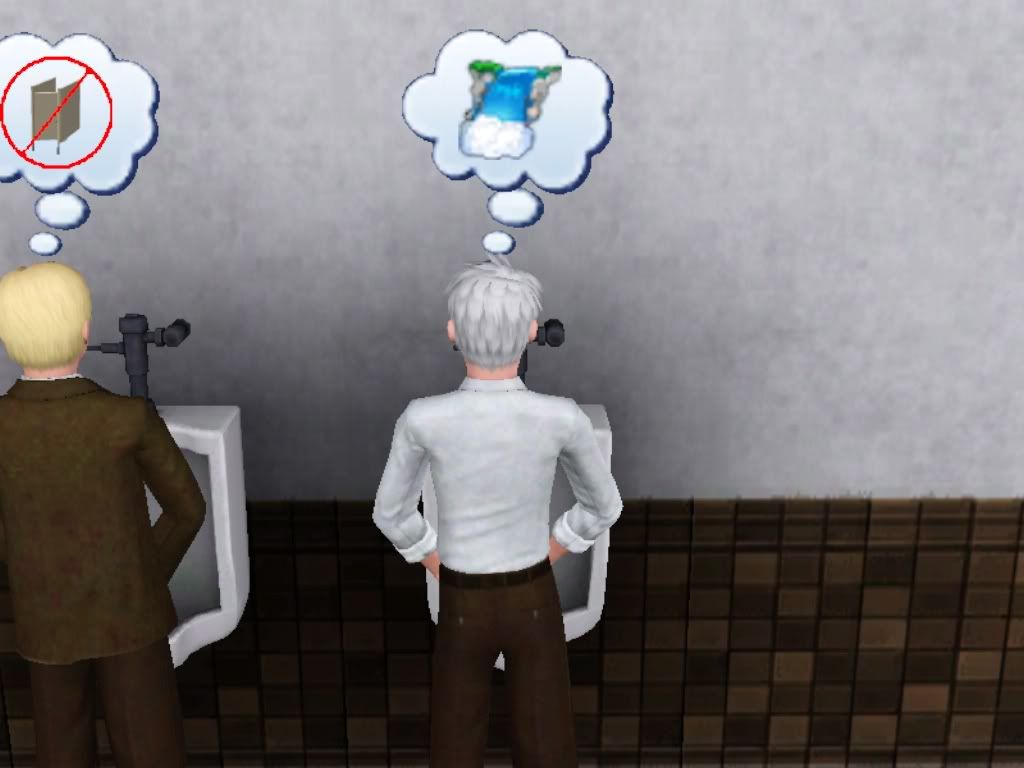 This has nothing to with anything. I just laughed when I realized the guys all do this at the urinals.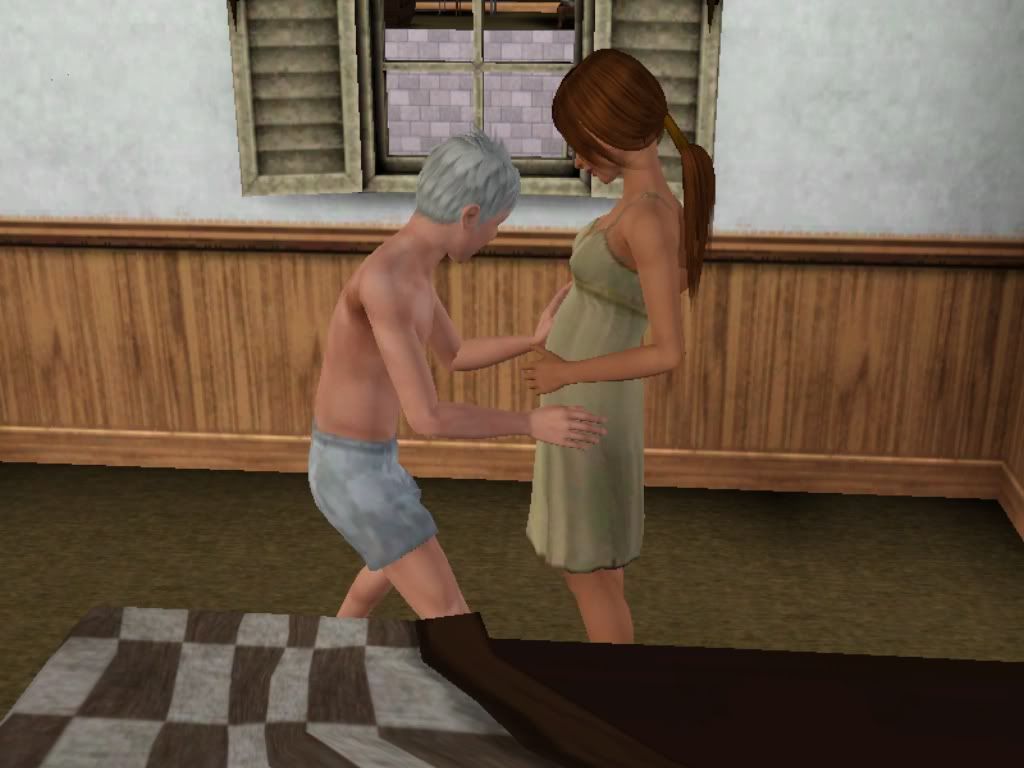 Meanwhile, Elizabeta grew a bump and Gilbert had about three thousand wishes to feel/talk/listen to it. Seriously. Every few seconds he wanted to drop everything and go chase after Elizabeta.
"You're pretty…"
"Okay Gilbert…"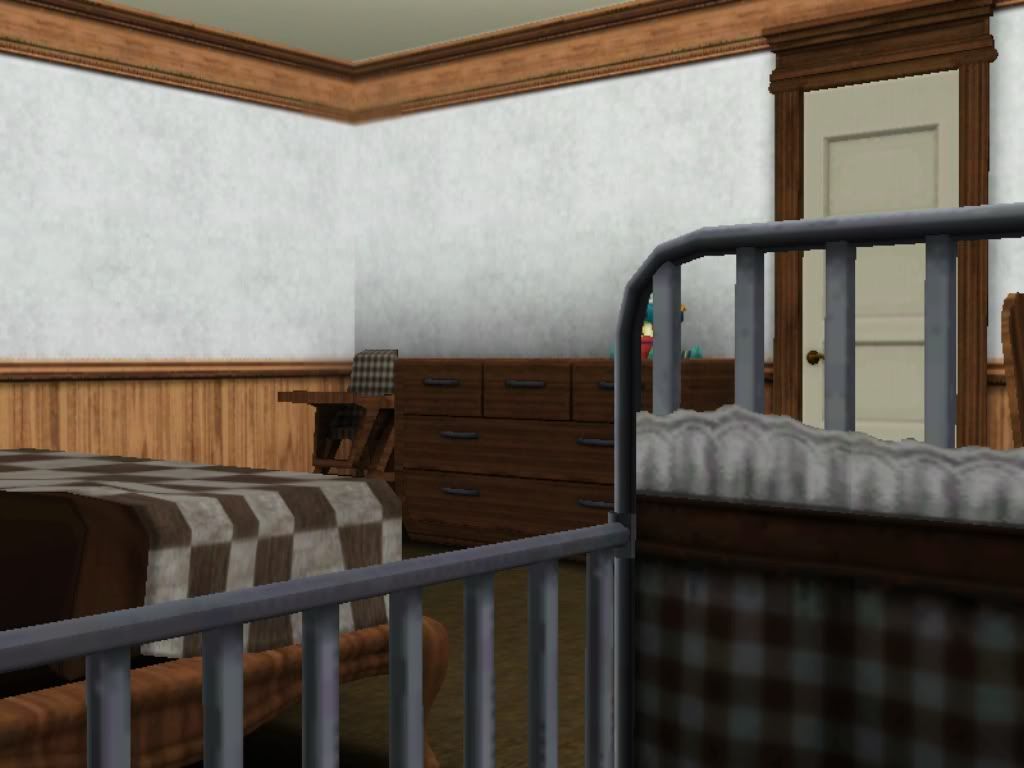 Gilbert dug into a few extra savings he had and the school gave them a little so they could buy something for the baby. As the school funded most of it, it's the school colors. Oh well, it's functional.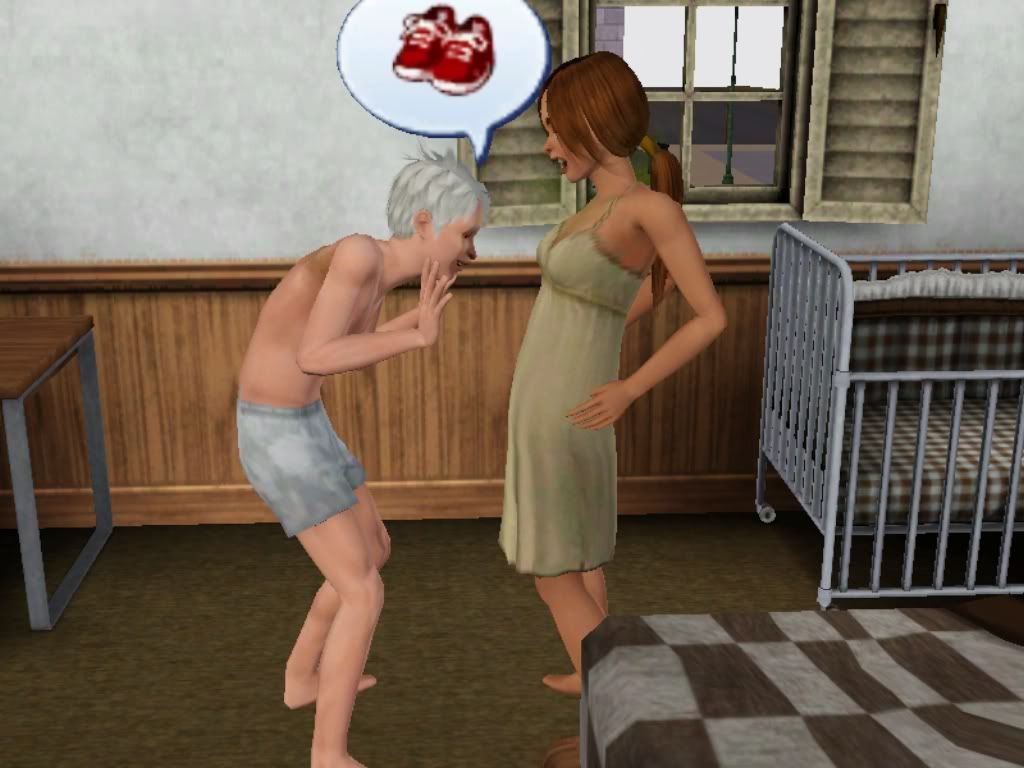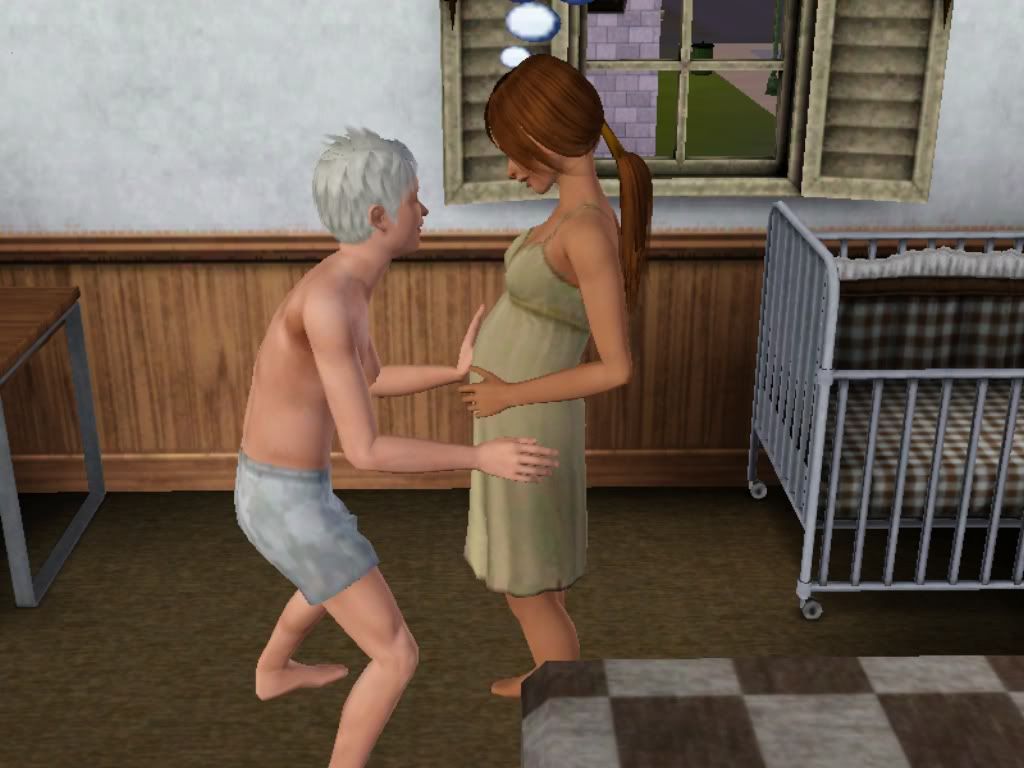 I wasn't joking.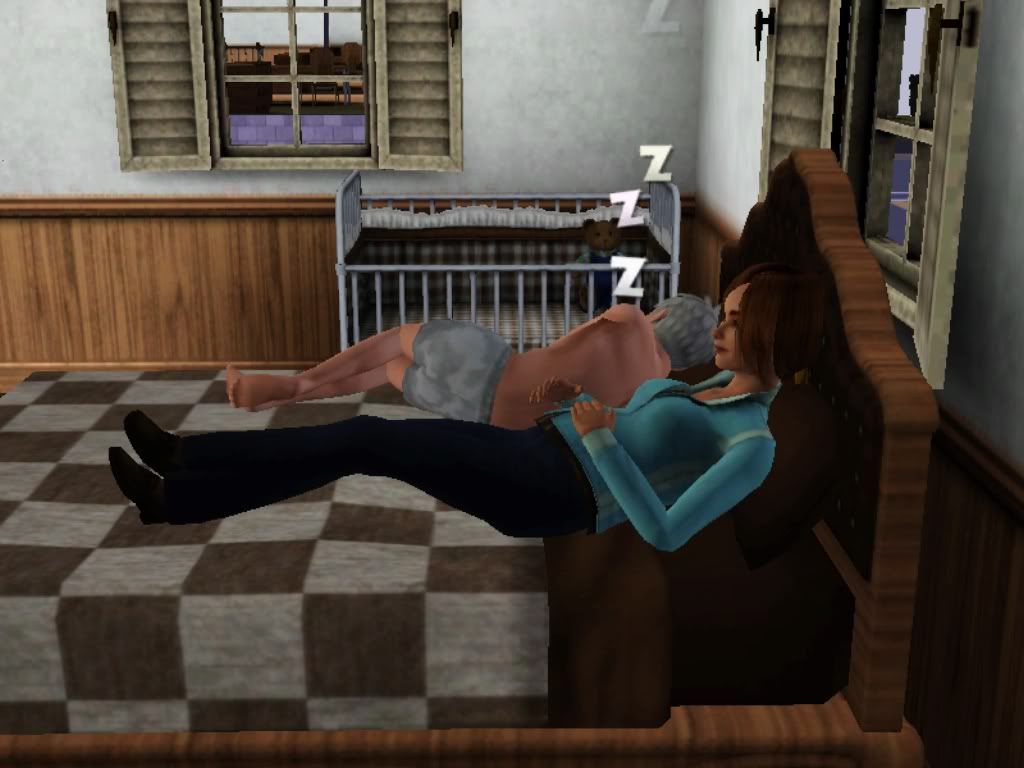 They're so cute…Sometimes I wonder why Elizabeta puts up with him.
…then I remember that it's sort of my fault.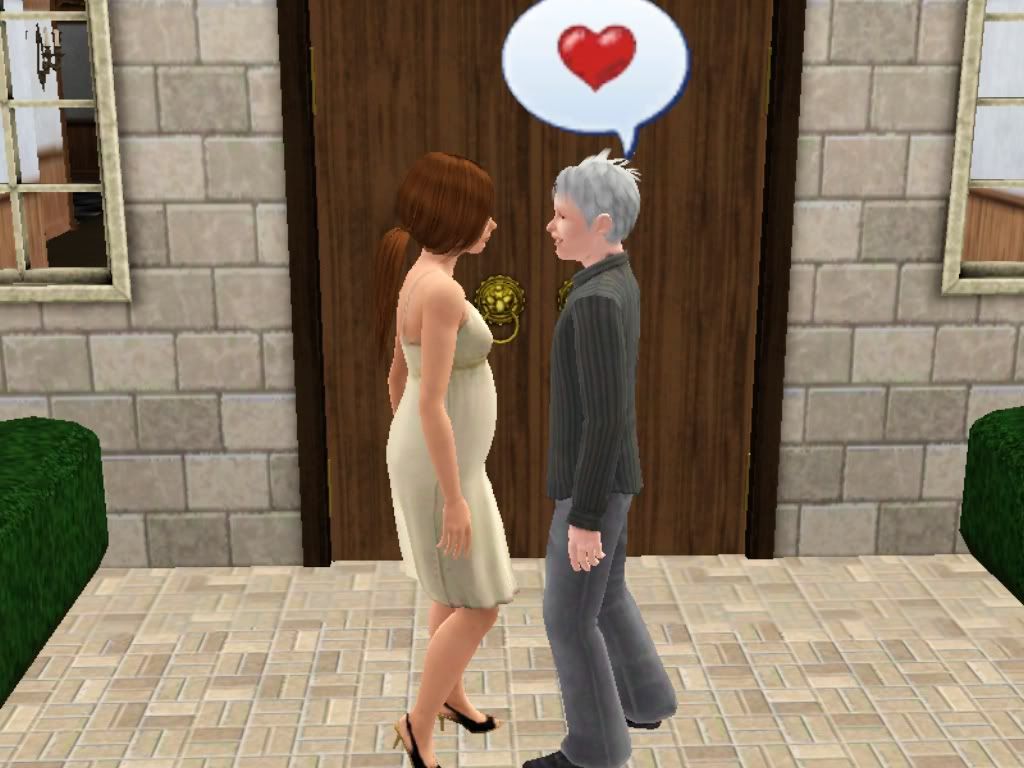 After class Gilbert convinced Elizabeta to meet him outside the main building. She's wearing heels because the game doesn't understand this doesn't make sense.
Elizabeta was thoroughly confused.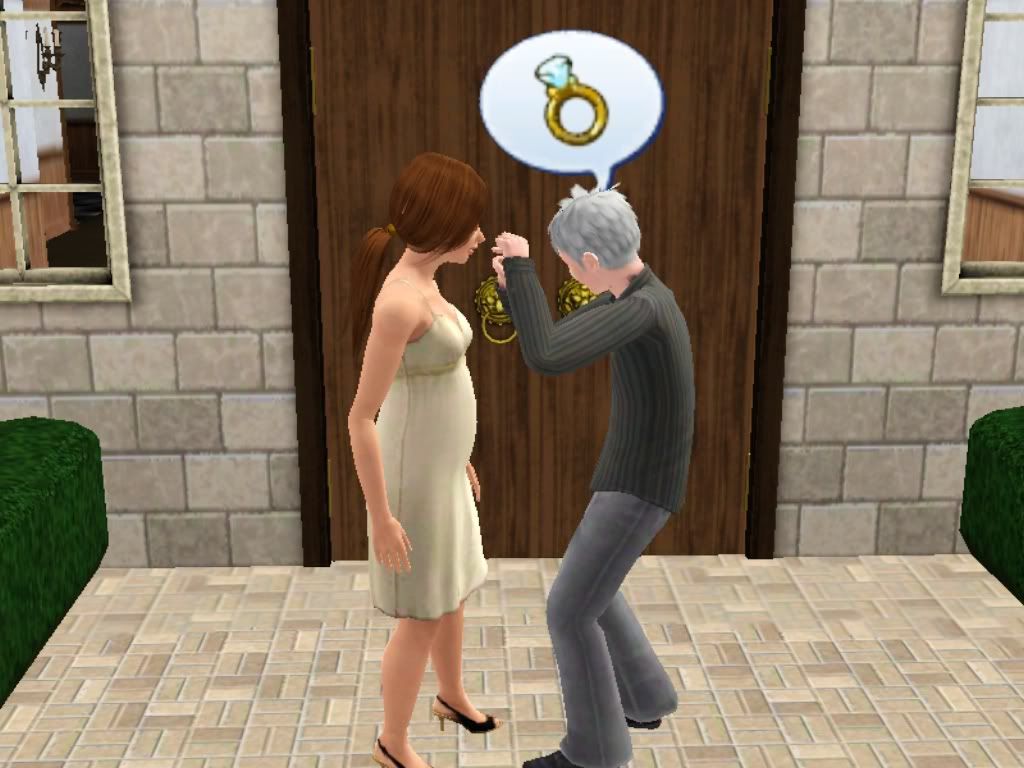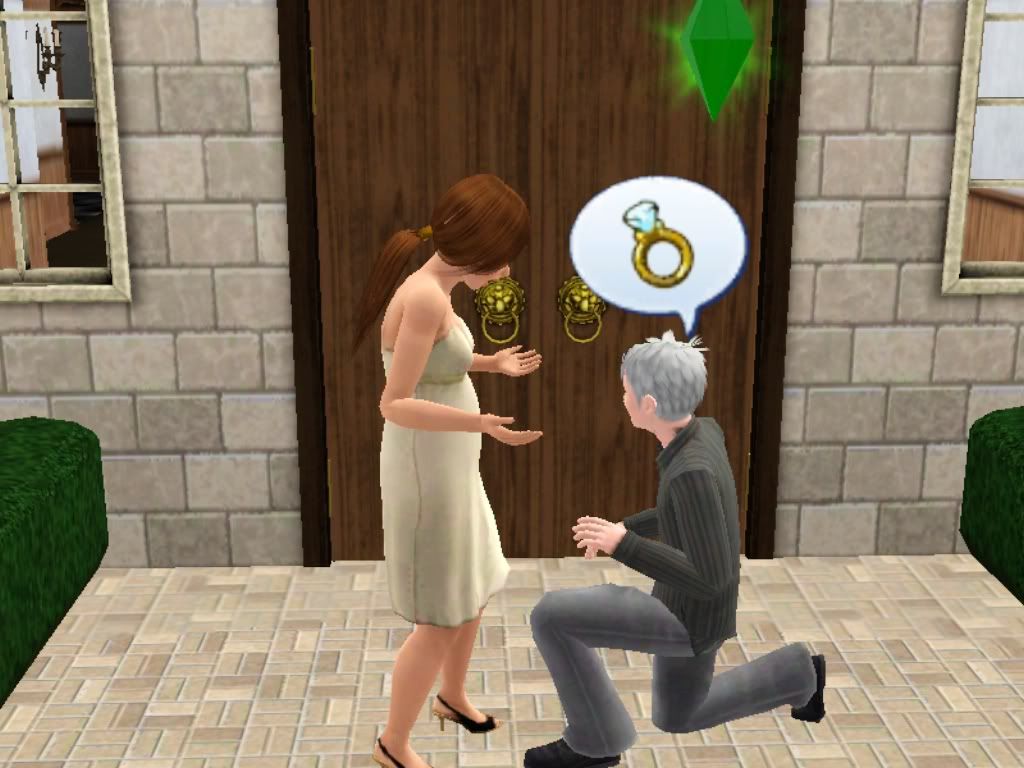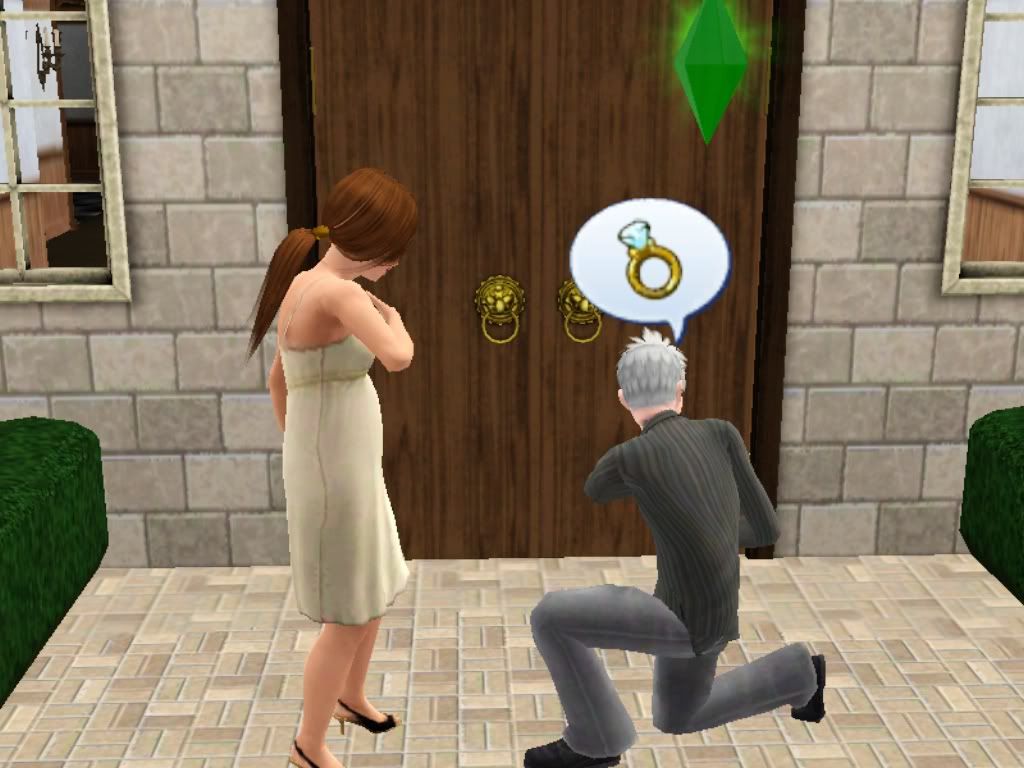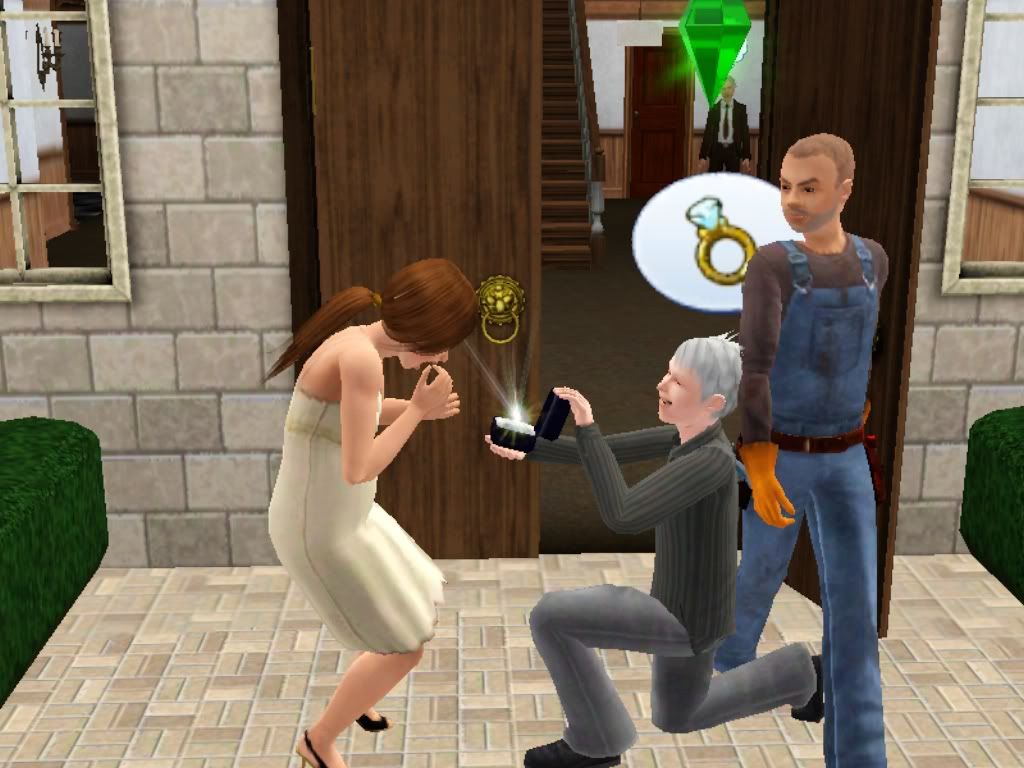 DAMN YOU UGLY REPAIR MAN. DAMN YOU.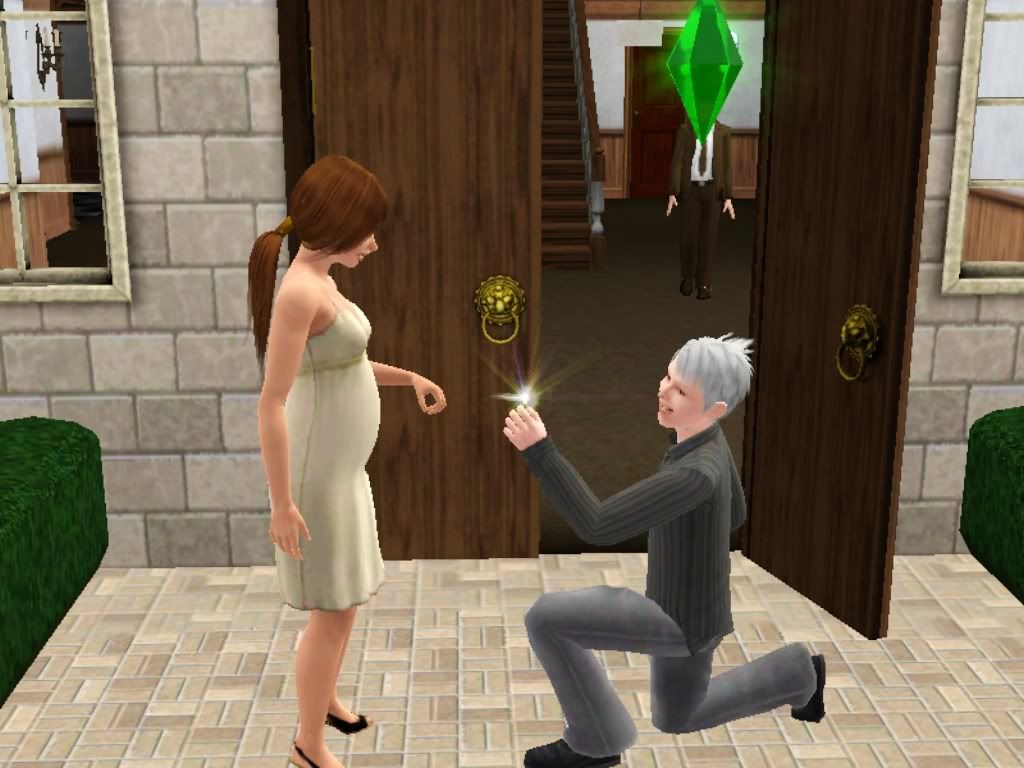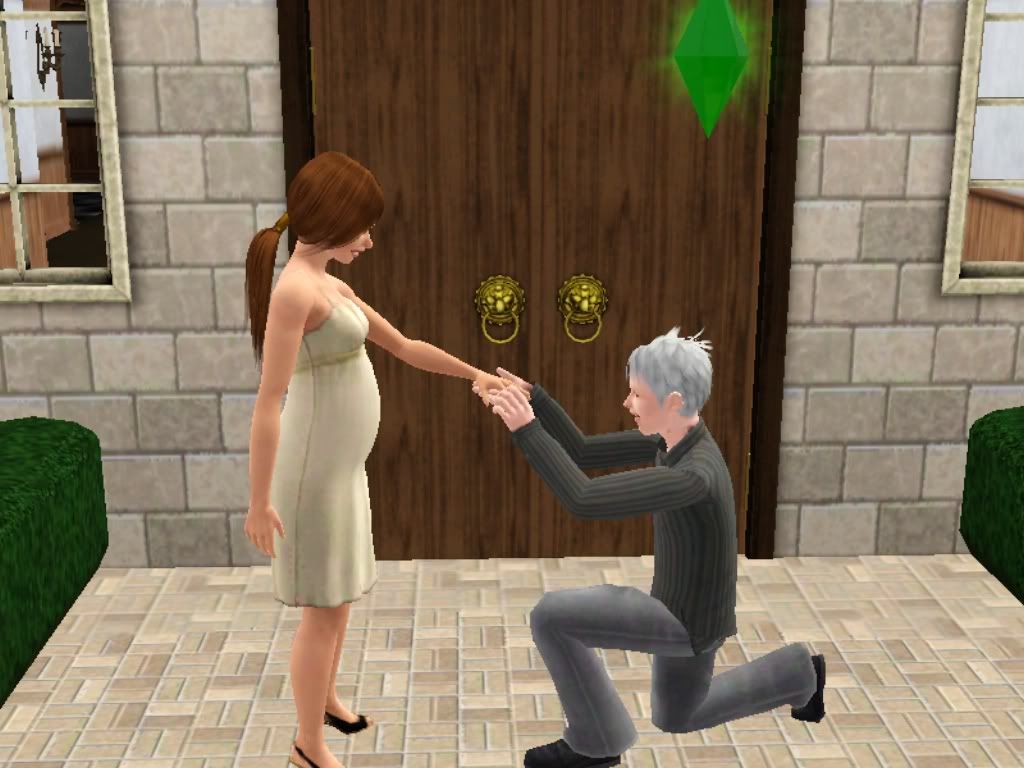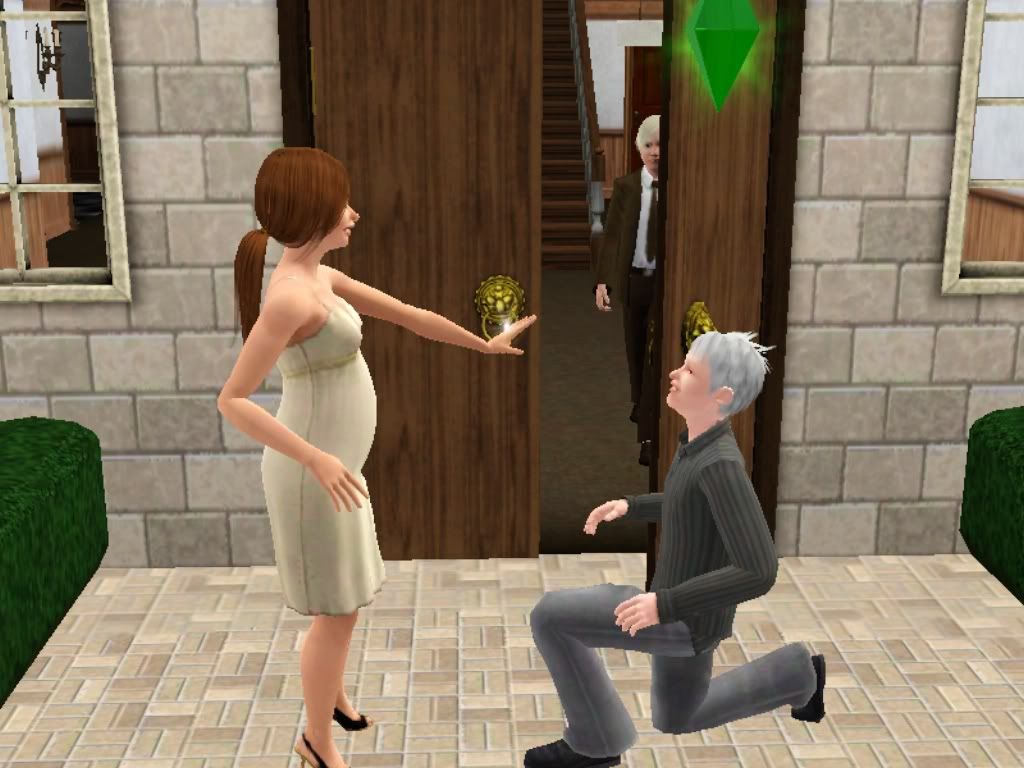 IVAN STOP IT.
"Hug?"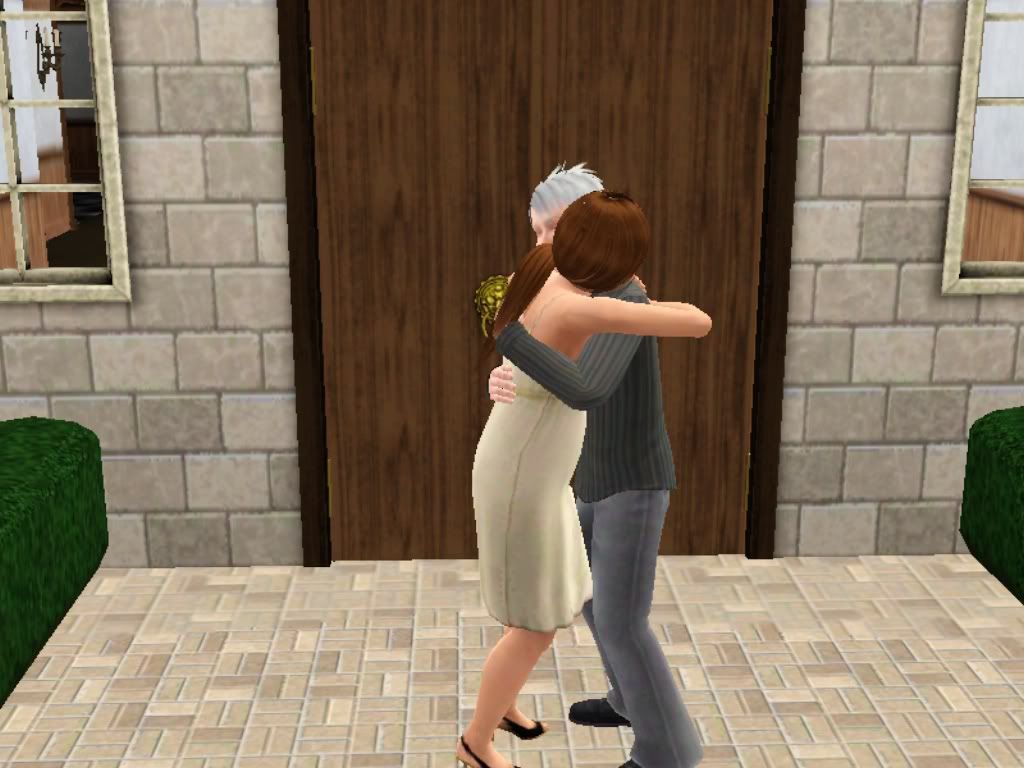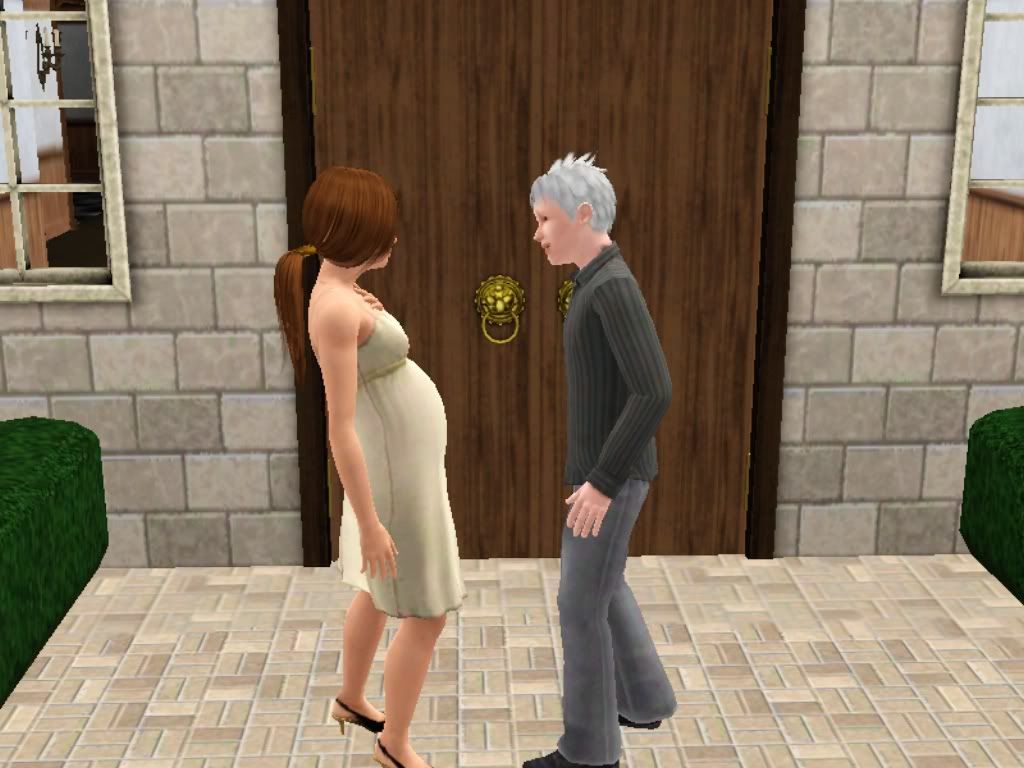 "You okay..?"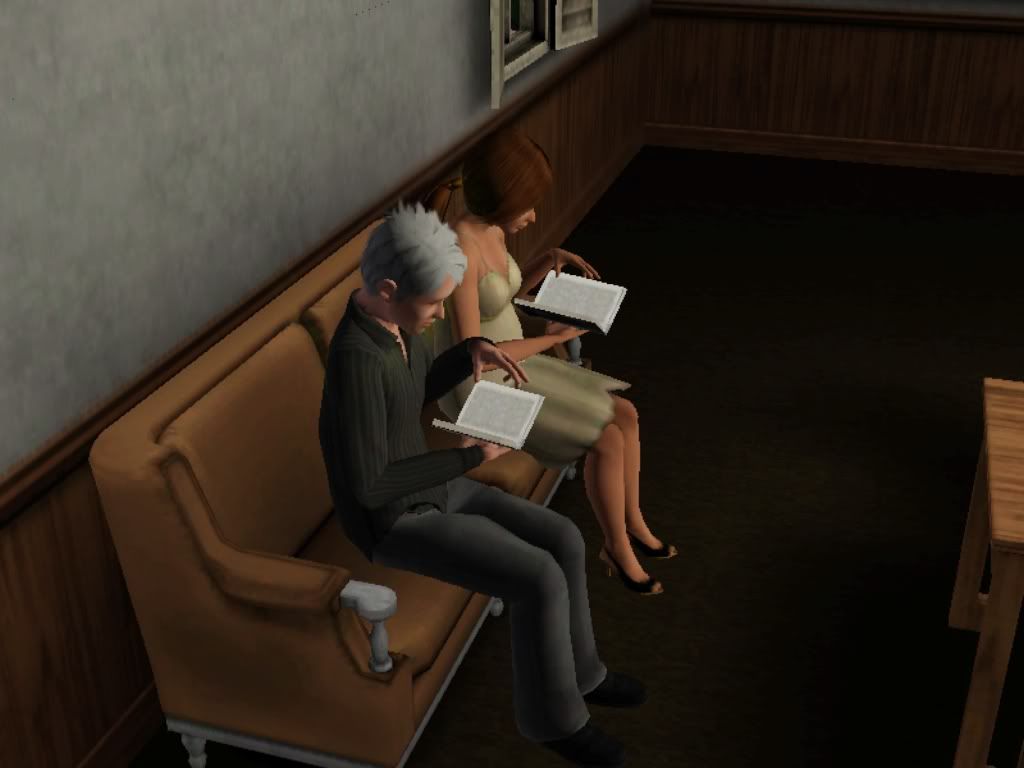 Meanwhile, they both had wants to read pregnancy books. About twice a day. I'm not sure why, really…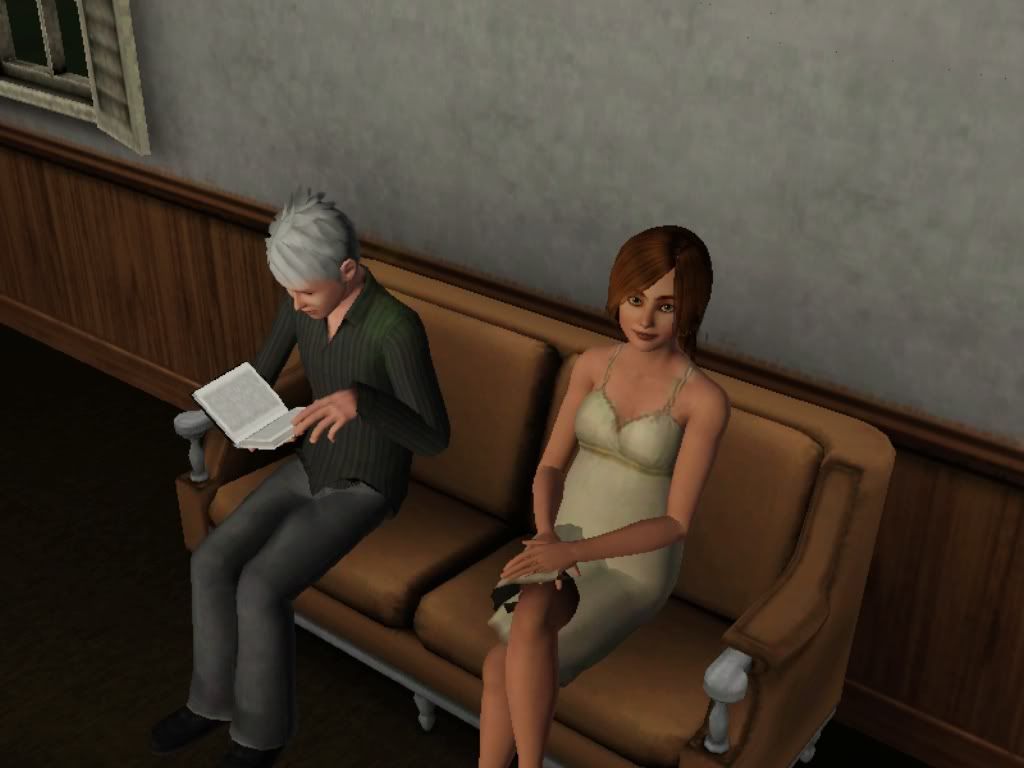 Elizabeta's very patient with Gilbert.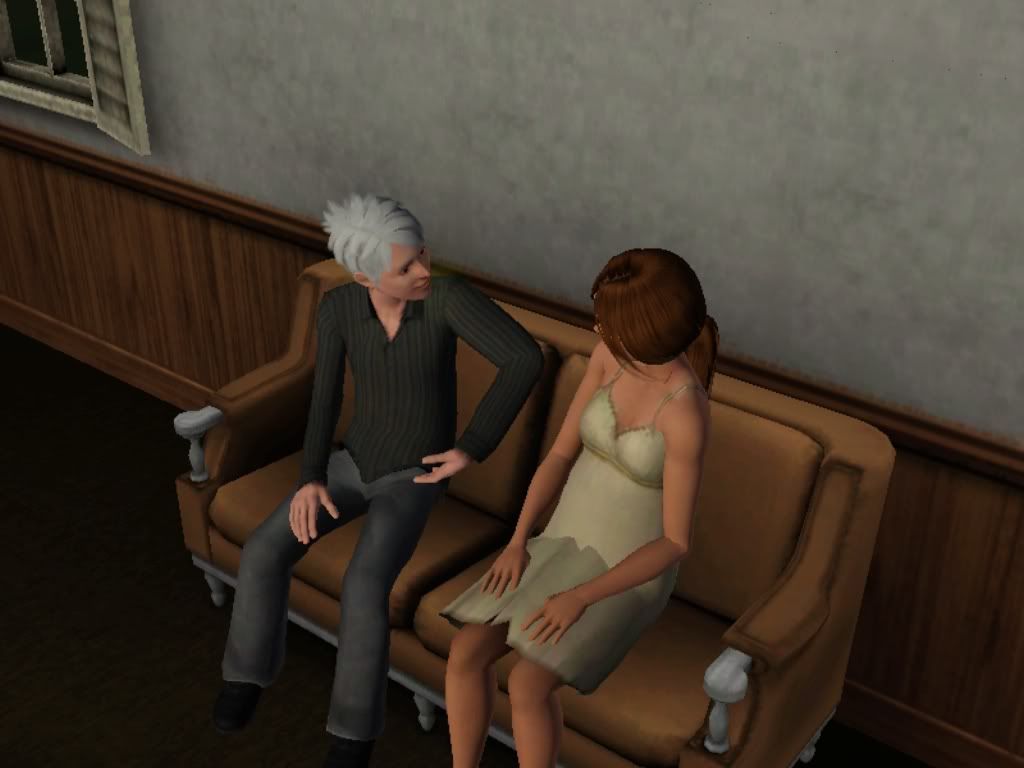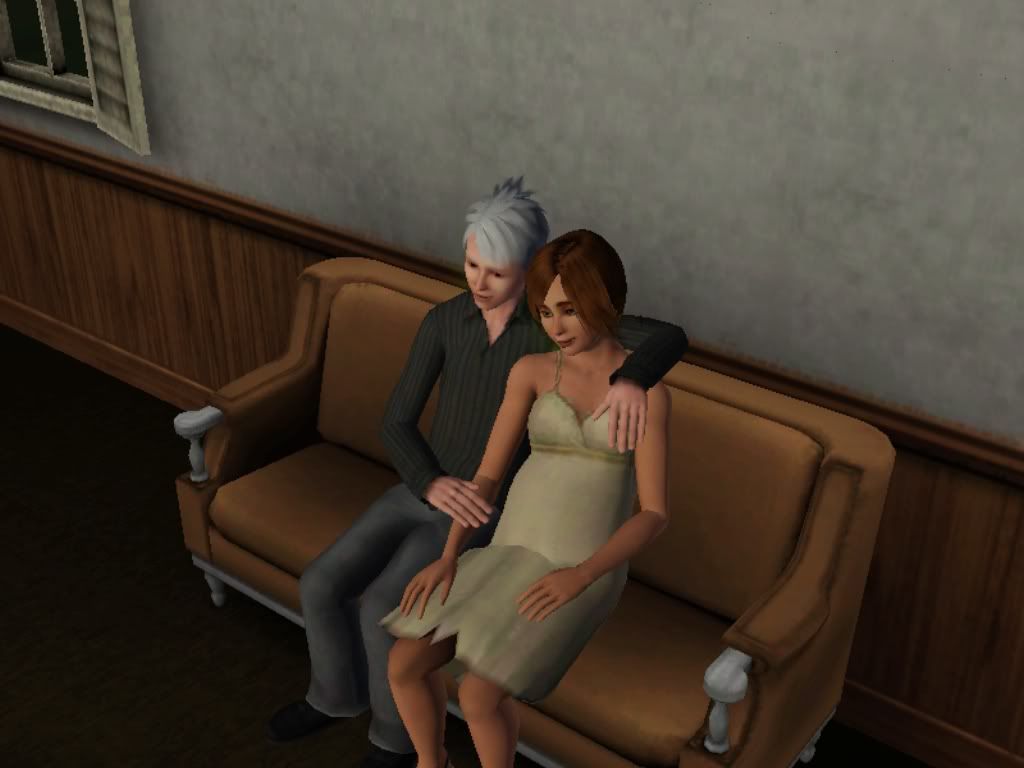 She gets what she wants in the end though.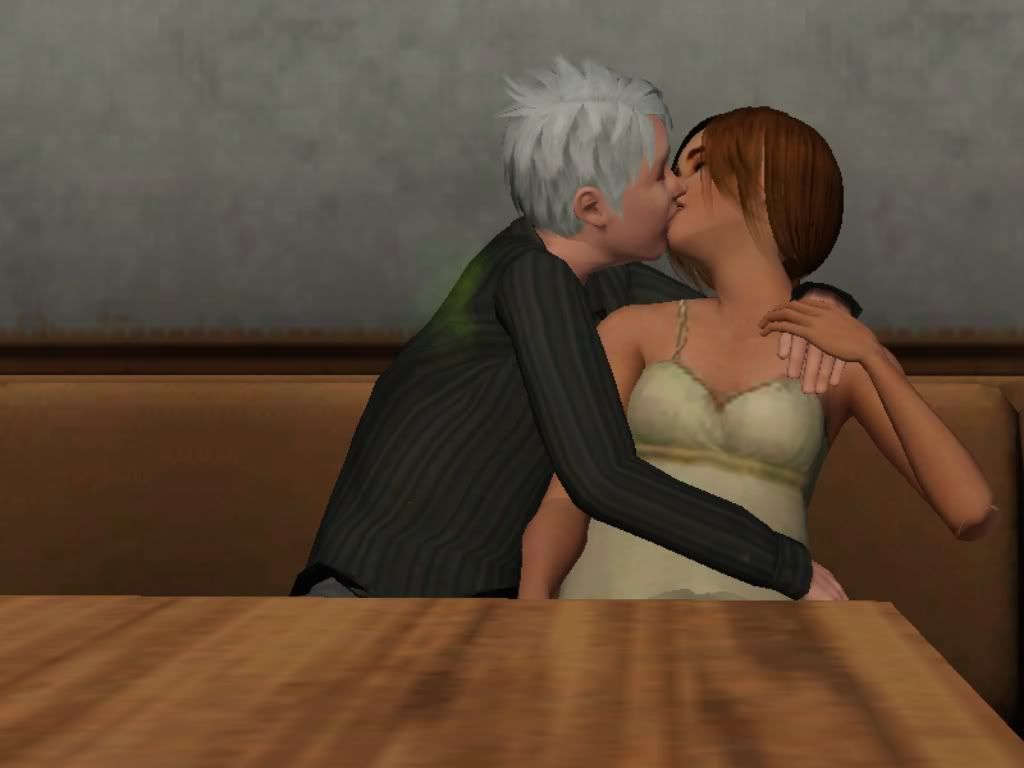 Aww…SERIOUSLY GUYS, IT'S CALLED A SHOWER.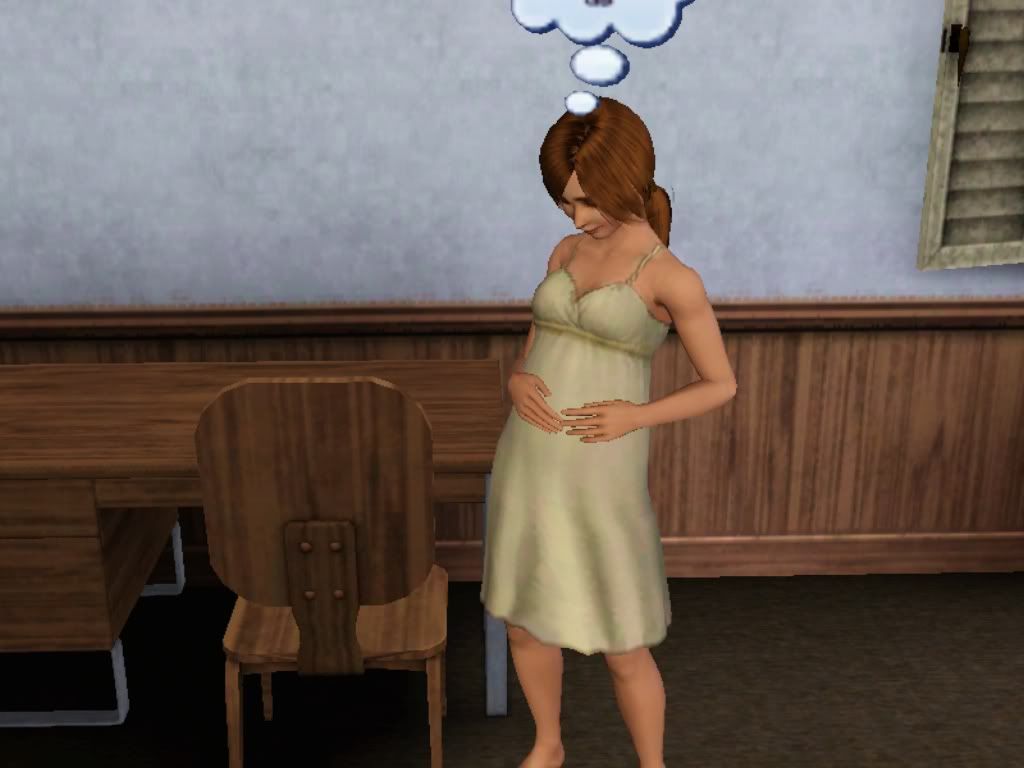 Elizabeta seems rather pleased.
Ivan found Elizabeta later and started making fun of her.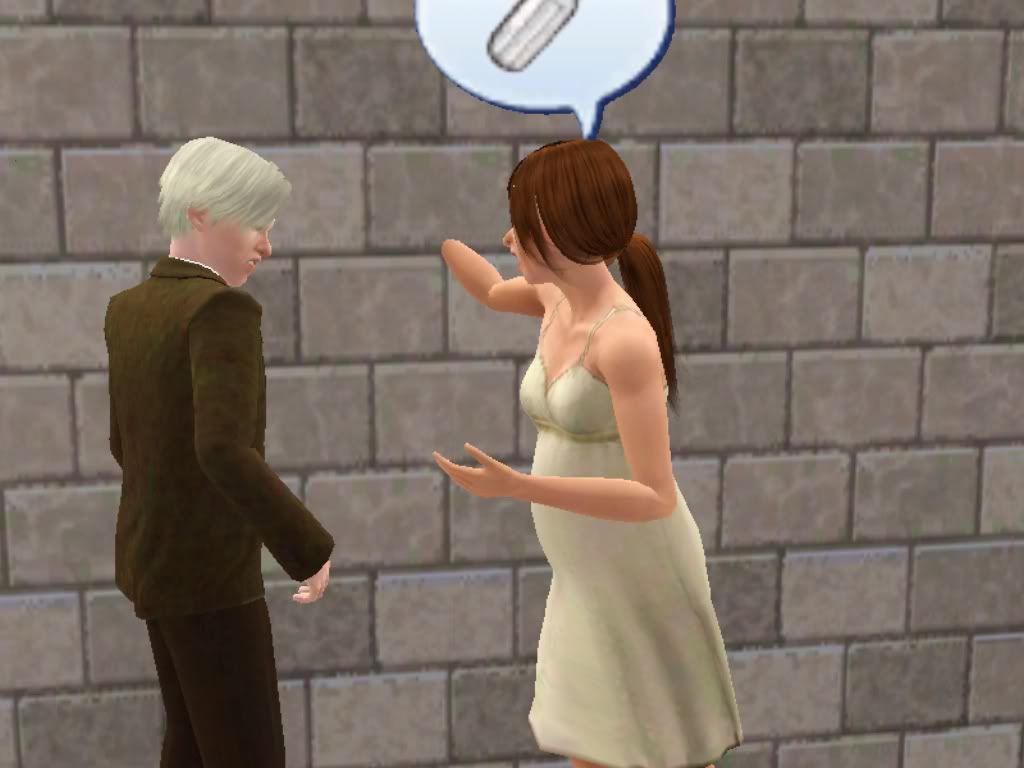 "STFU." *crash*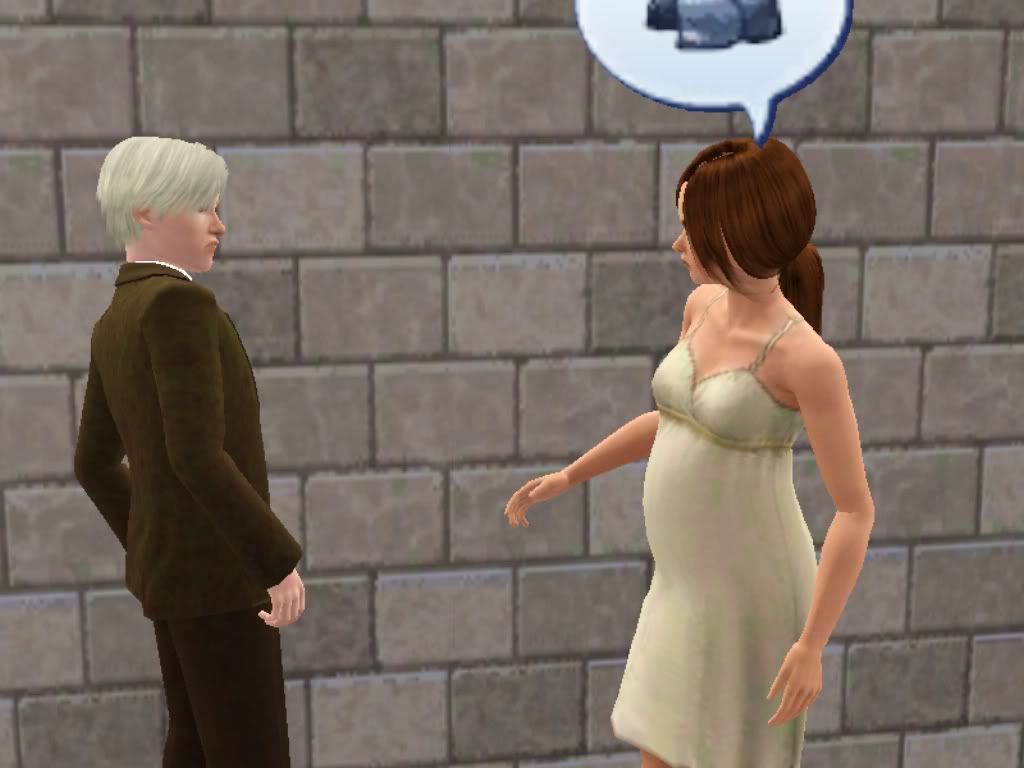 "…how did you punch through the wall without leaving a hole-"
"GET OUT OF HERE."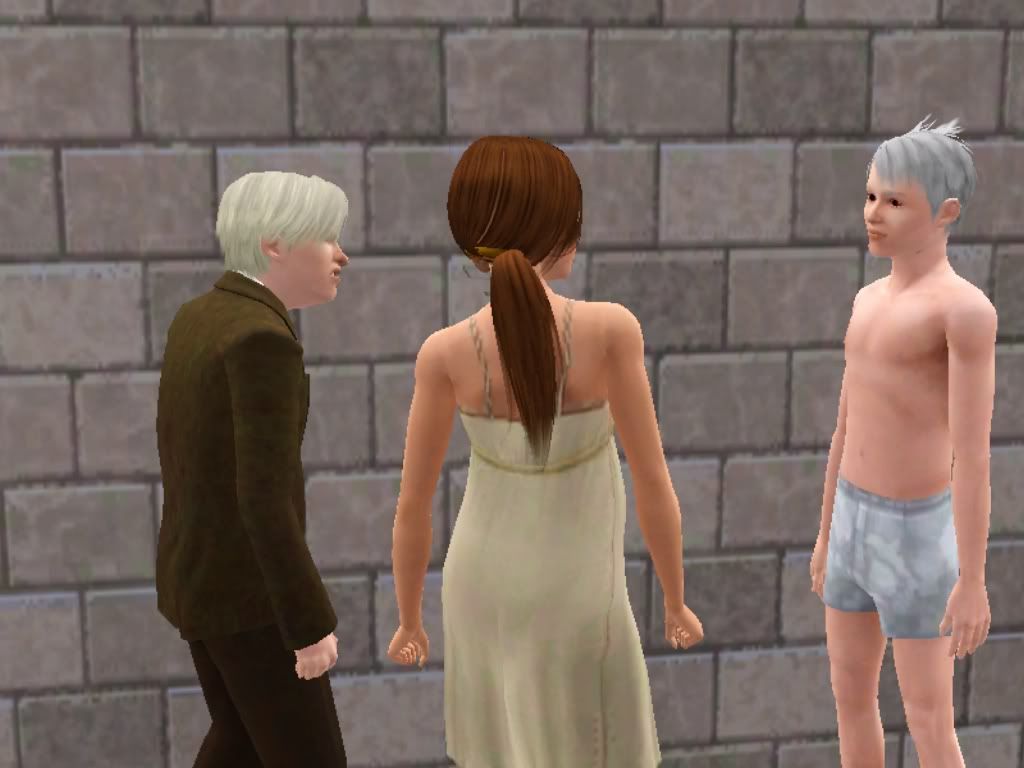 "Sup."
Gilbert has the best timing sometimes.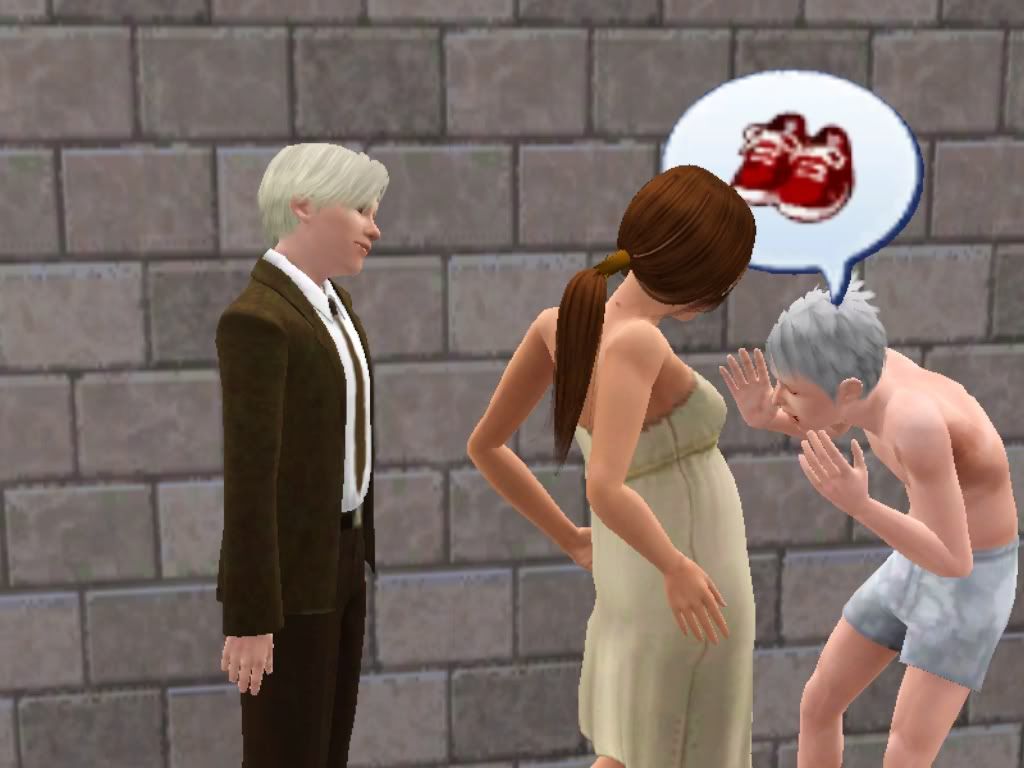 Ivan's face confuses me. I suppose he just loves children…Even..his…nemesis' children.
…idek.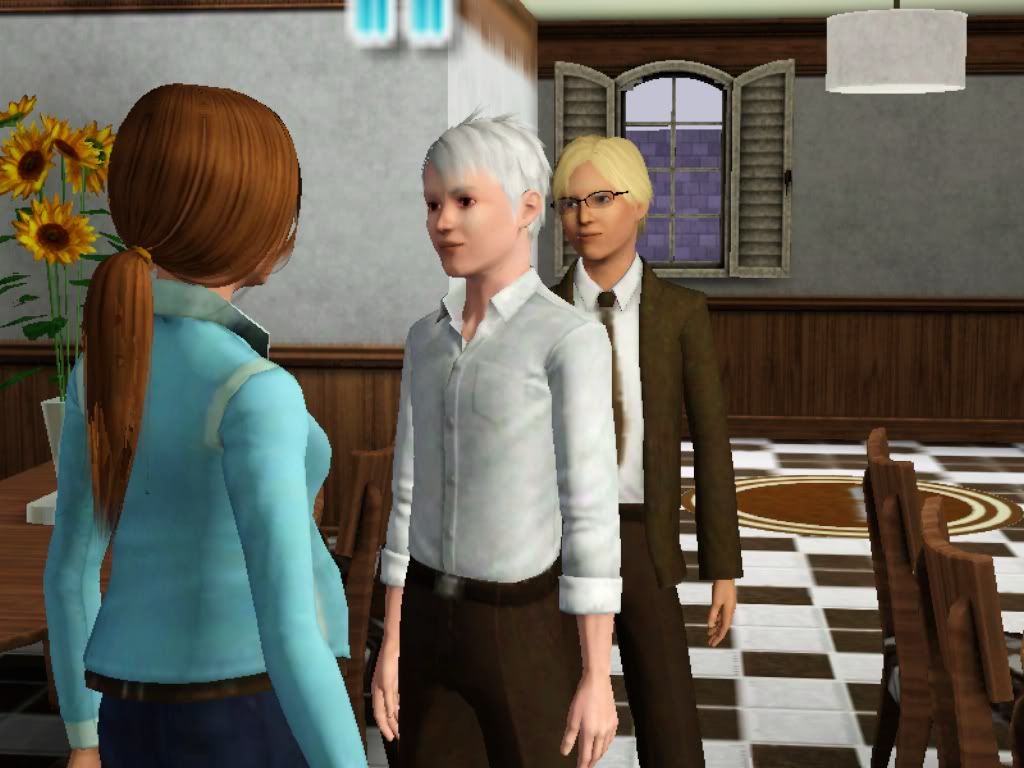 Matt continues to make things slightly awkward.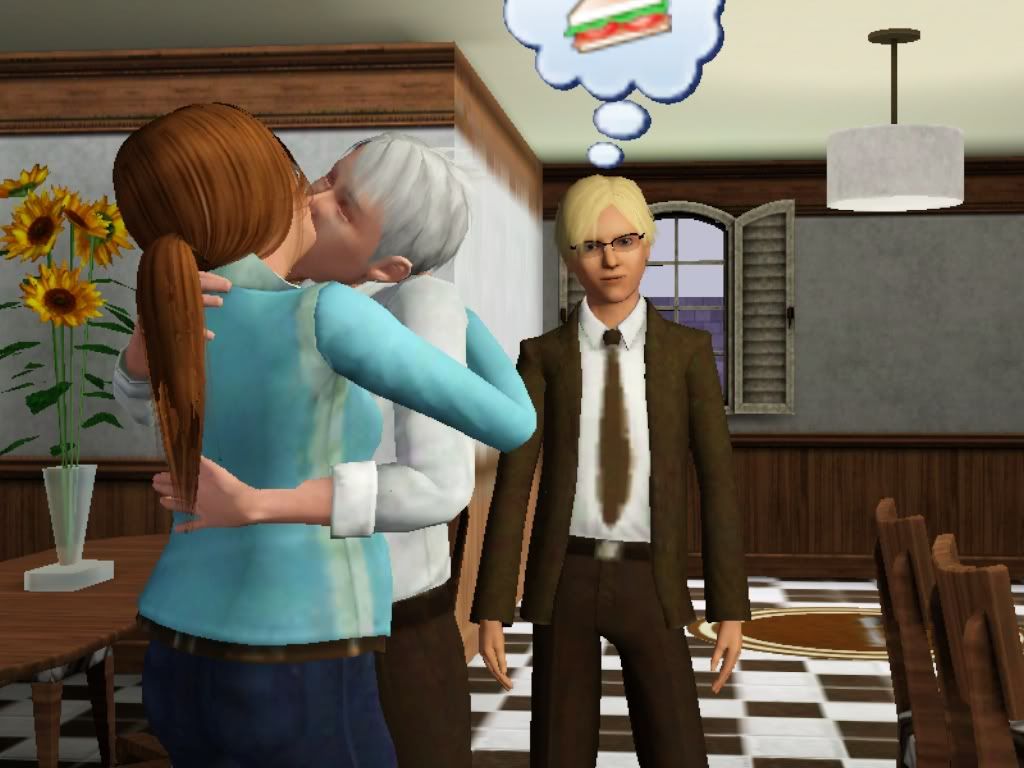 GO AWAY MATT.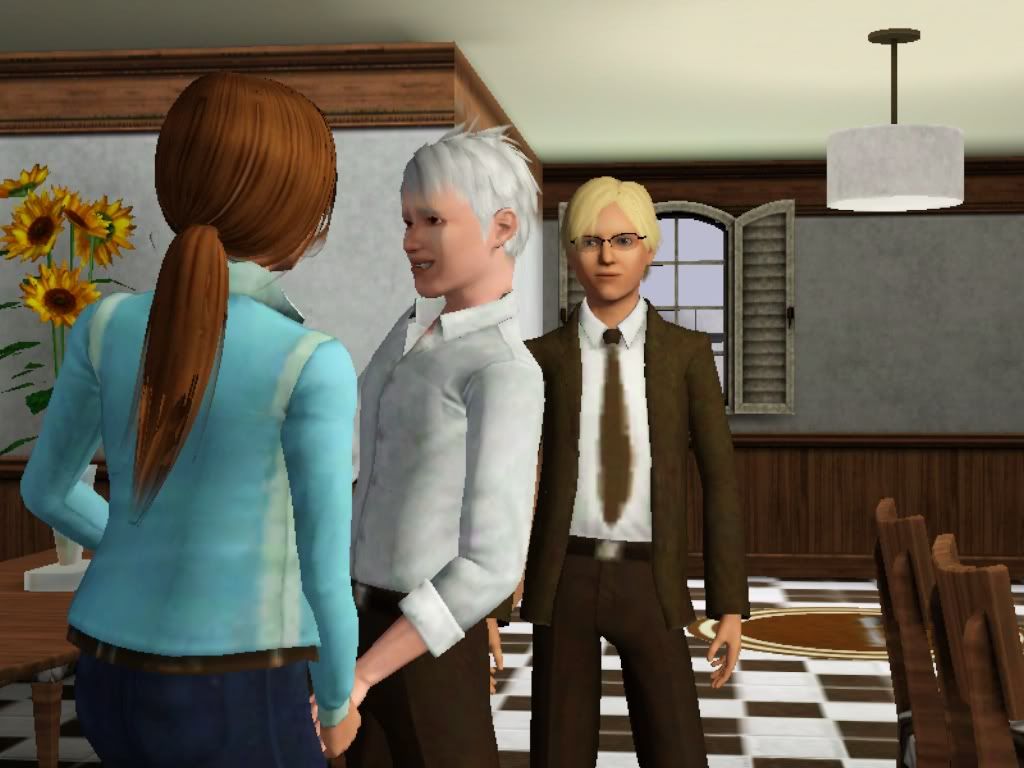 I think Gilbert just figured out who's behind him.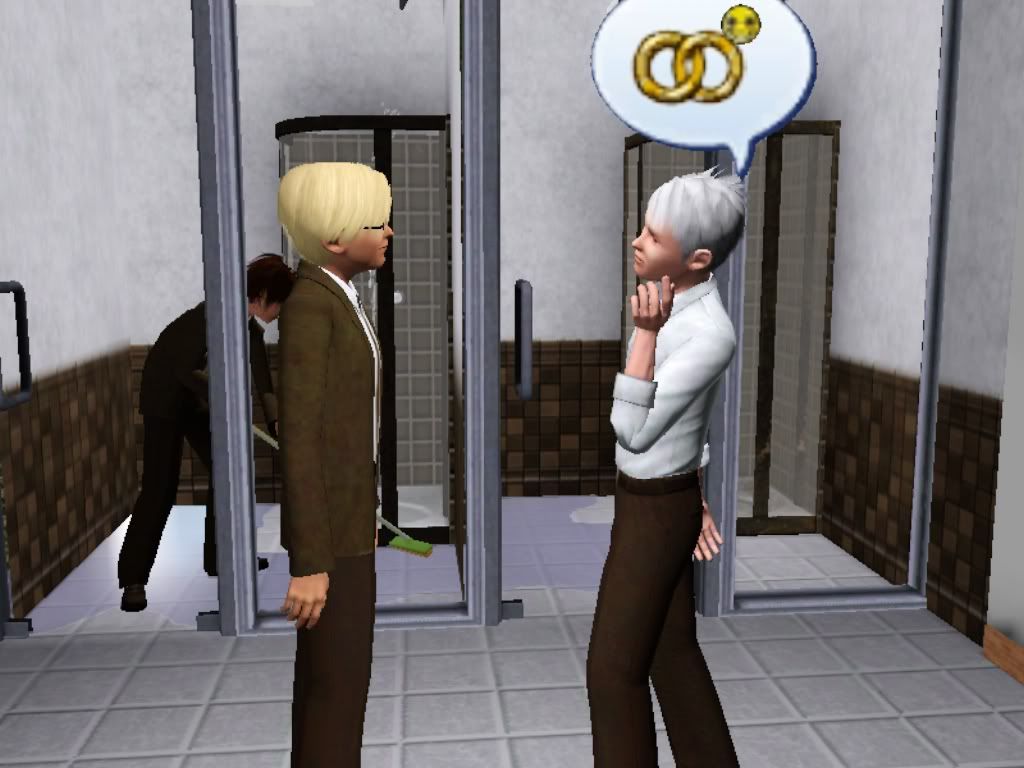 Meanwhile, Gilbert realizes he needs to give the good news to his best friend. And, hopefully, best man.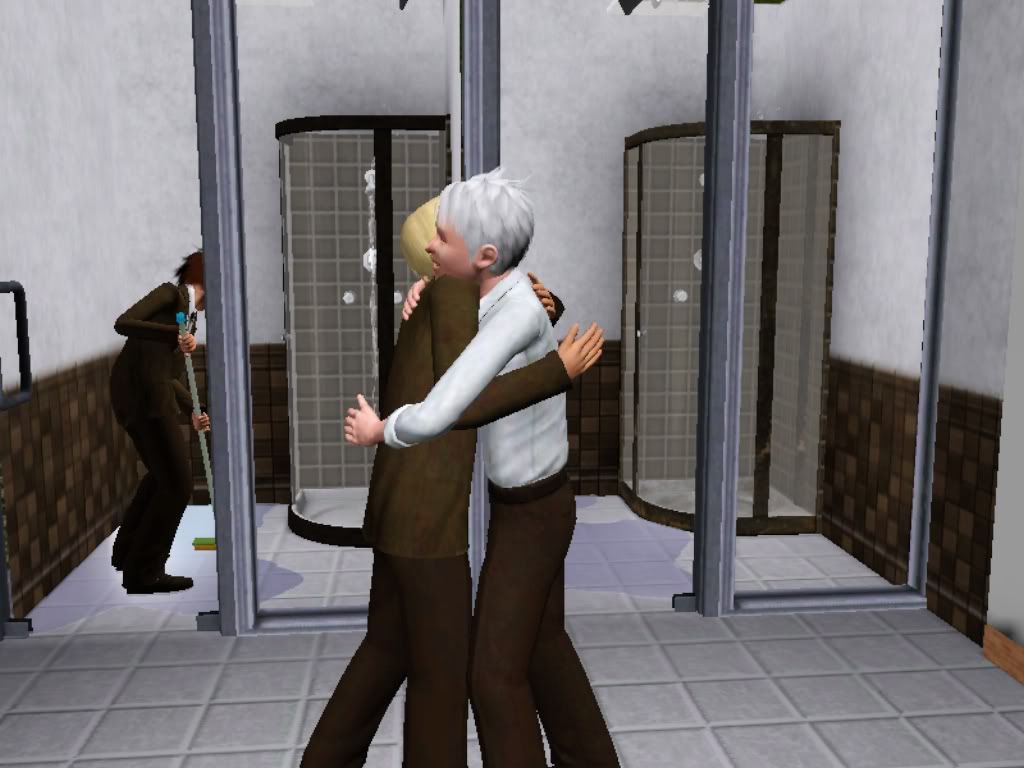 Alfred, being Alfred, is happy for him. Teenage love isn't awkward at all.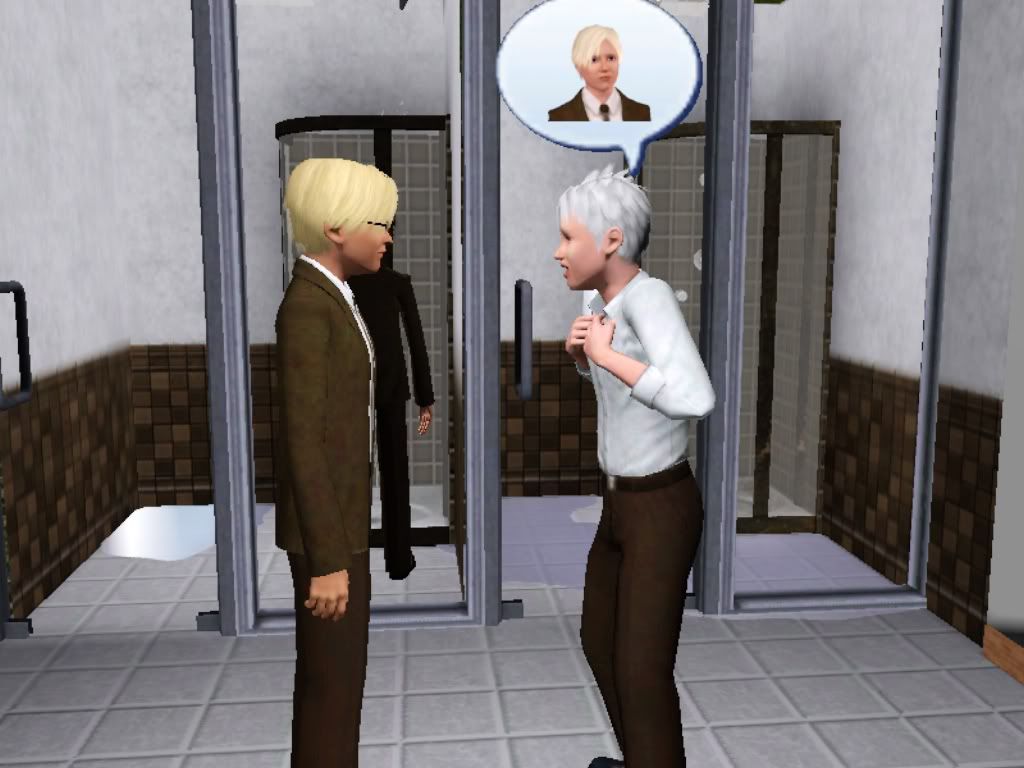 I don't even know anymore.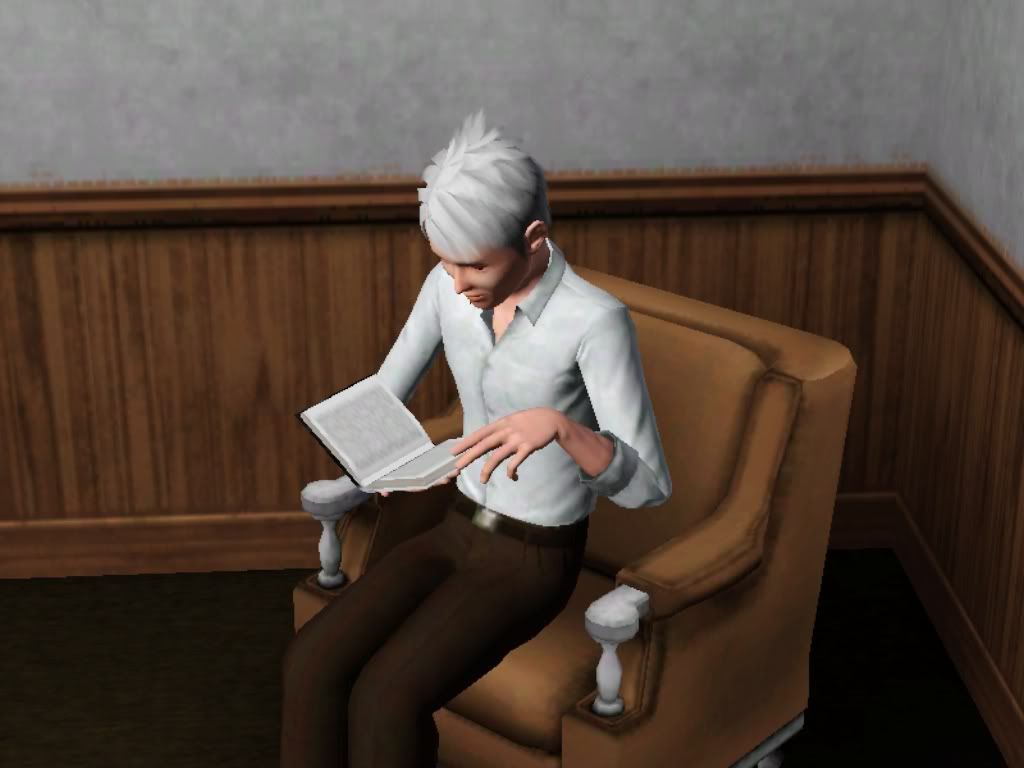 There's Gilbert. Trying to keep up with his rapid-fire 'read a pregnancy book' wishes. It's not working.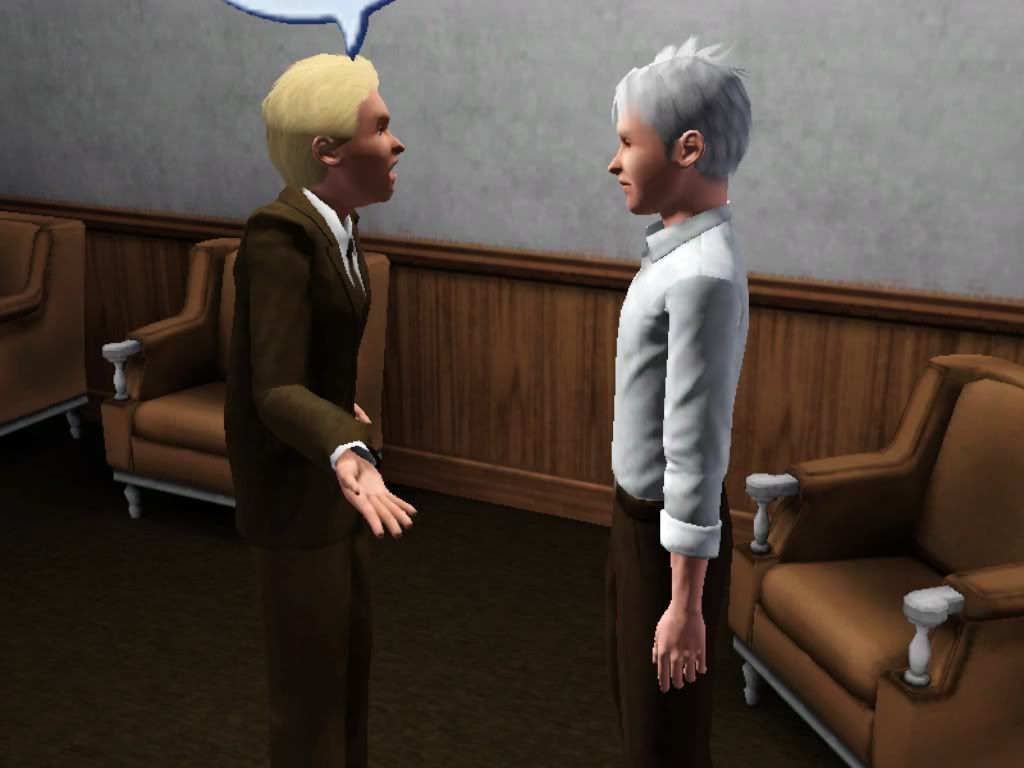 Ludwig, meanwhile, has caught word of recent events. Because Gilbert has conveniently avoided him.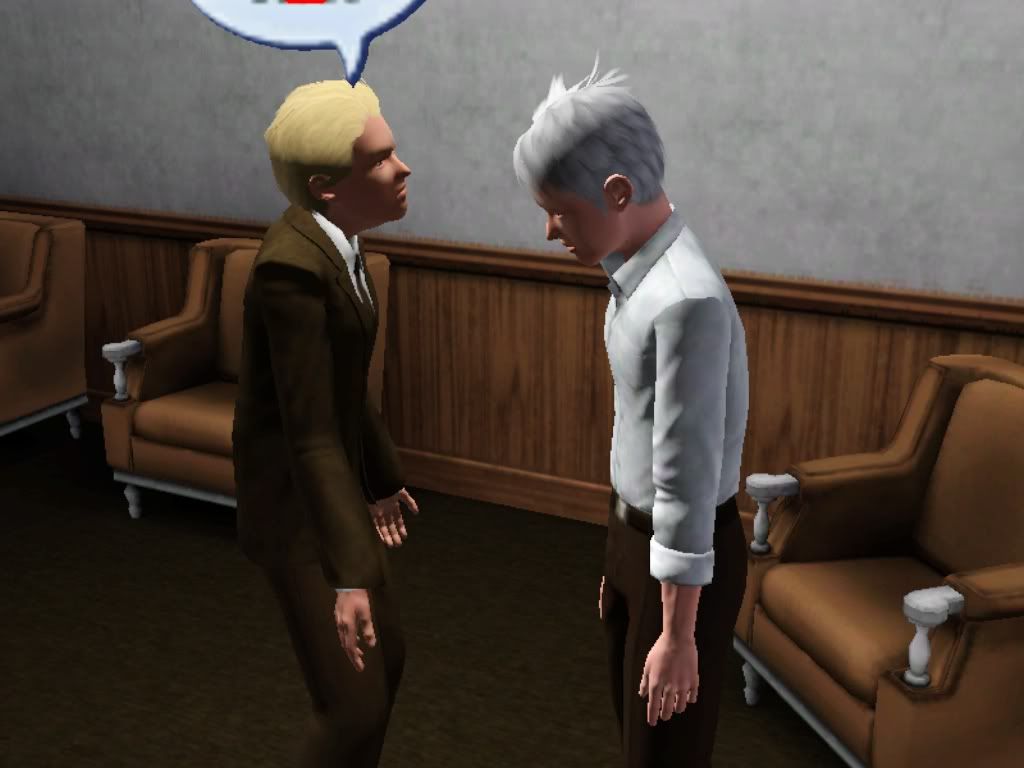 "What the hell?"
"I know.."
"WHAT THE HELL?"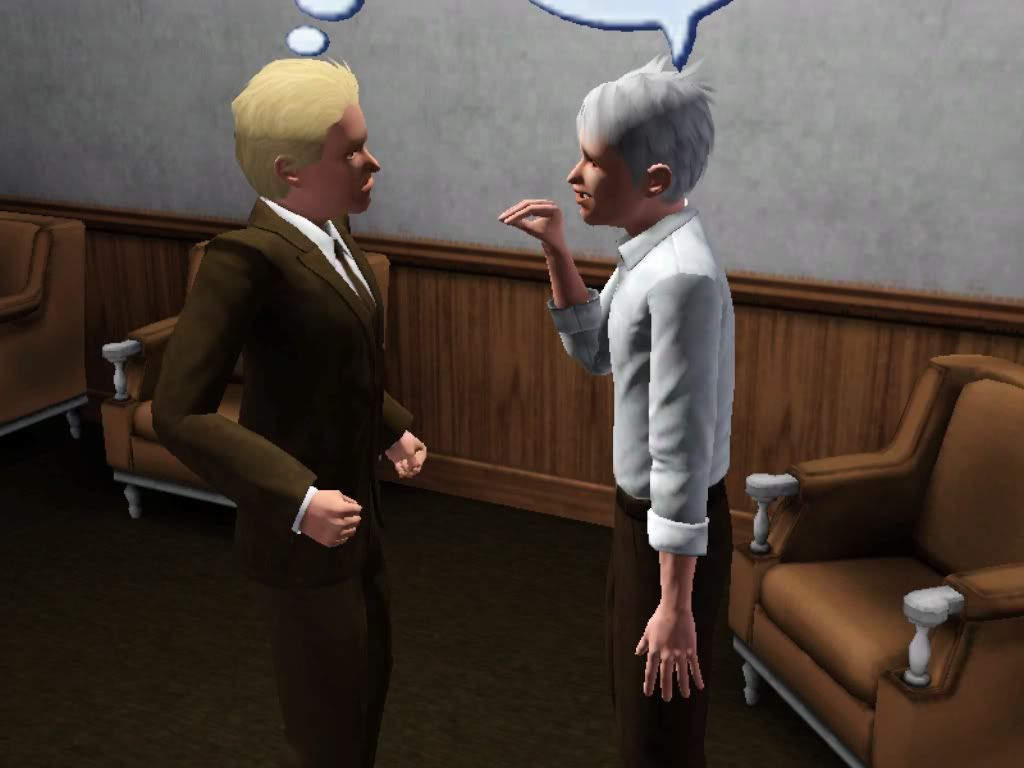 Gilbert takes it like the mature man he is.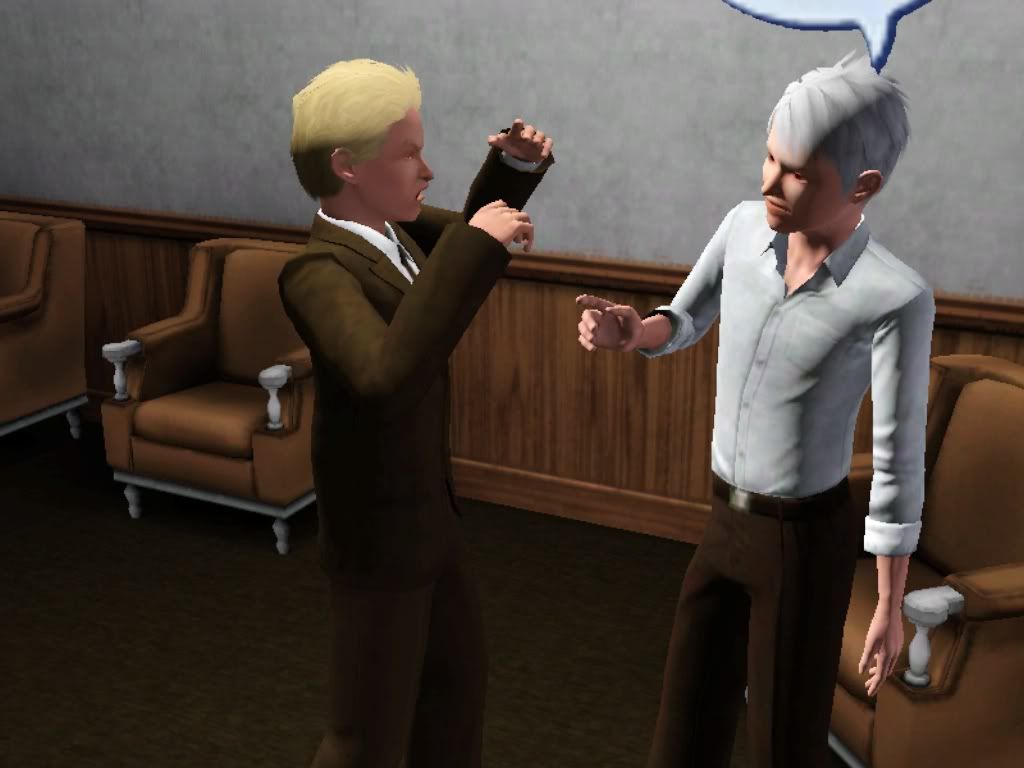 "YOU'RE A CHILD."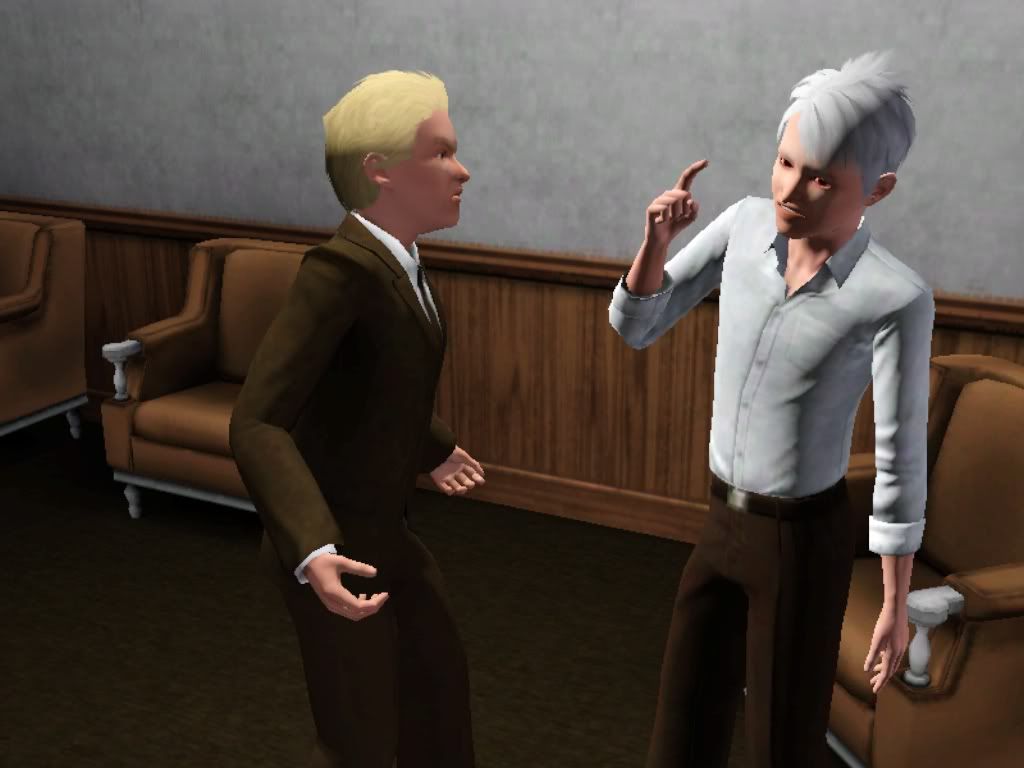 "You're an adult."
"SHUT UP."
They made up, don't worry.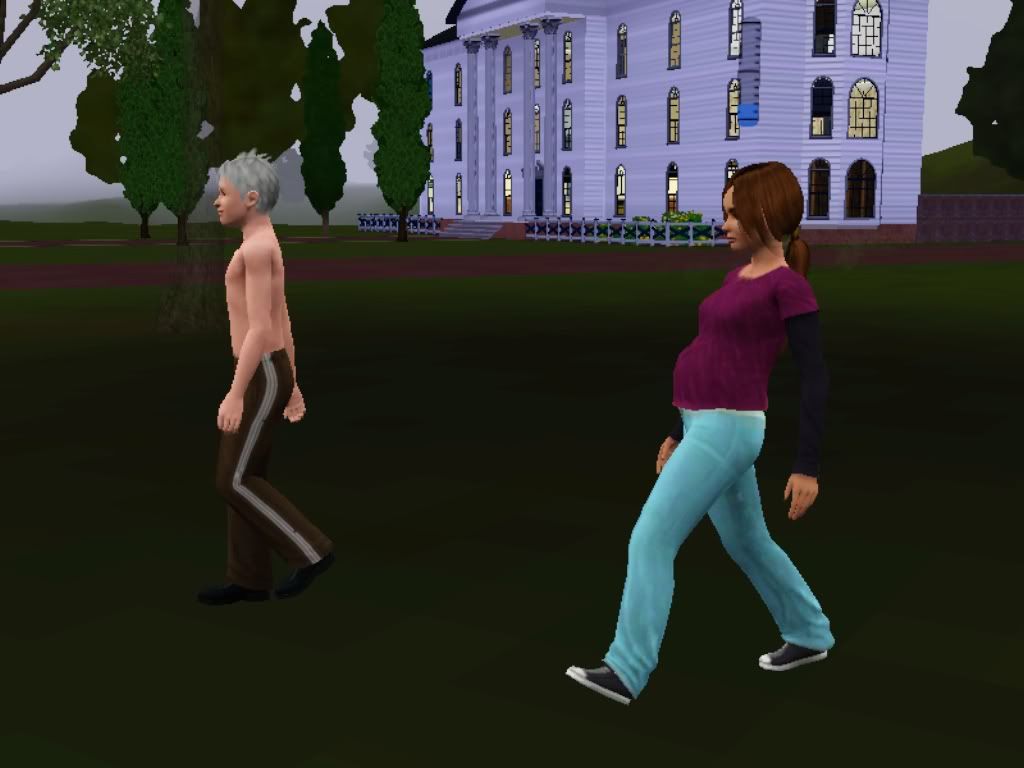 Elizabeta wanted to go jogging. And by jogging she means 'fastish walking'. Gilbert's trying not to look too amused. Shut up Gilbert.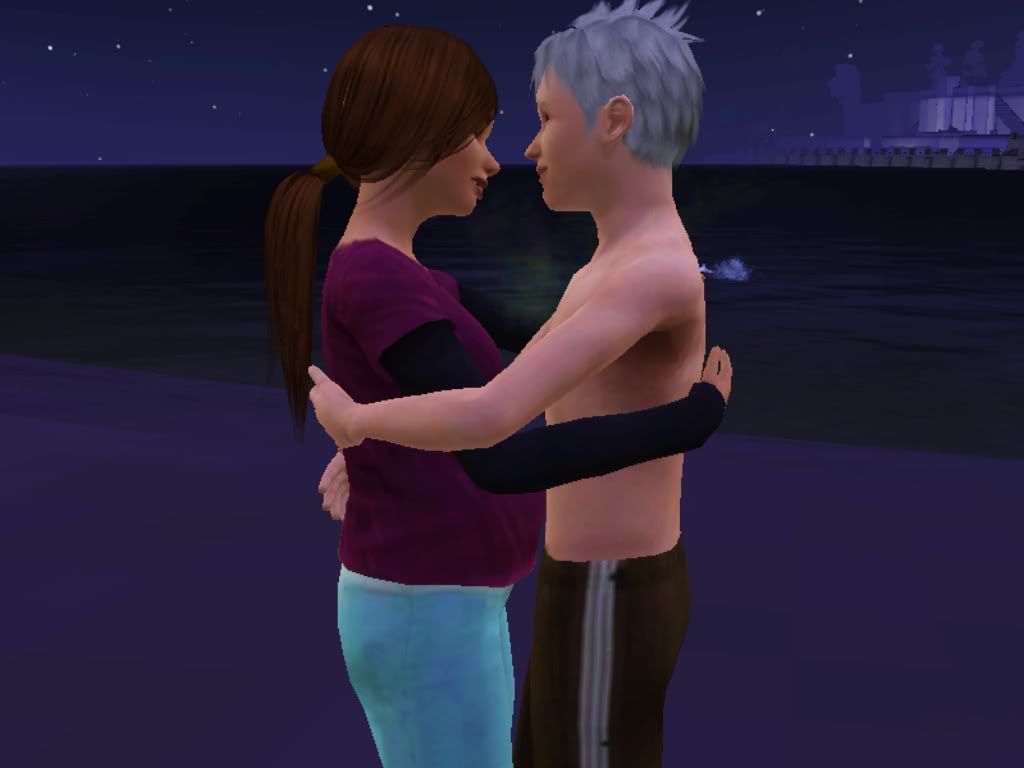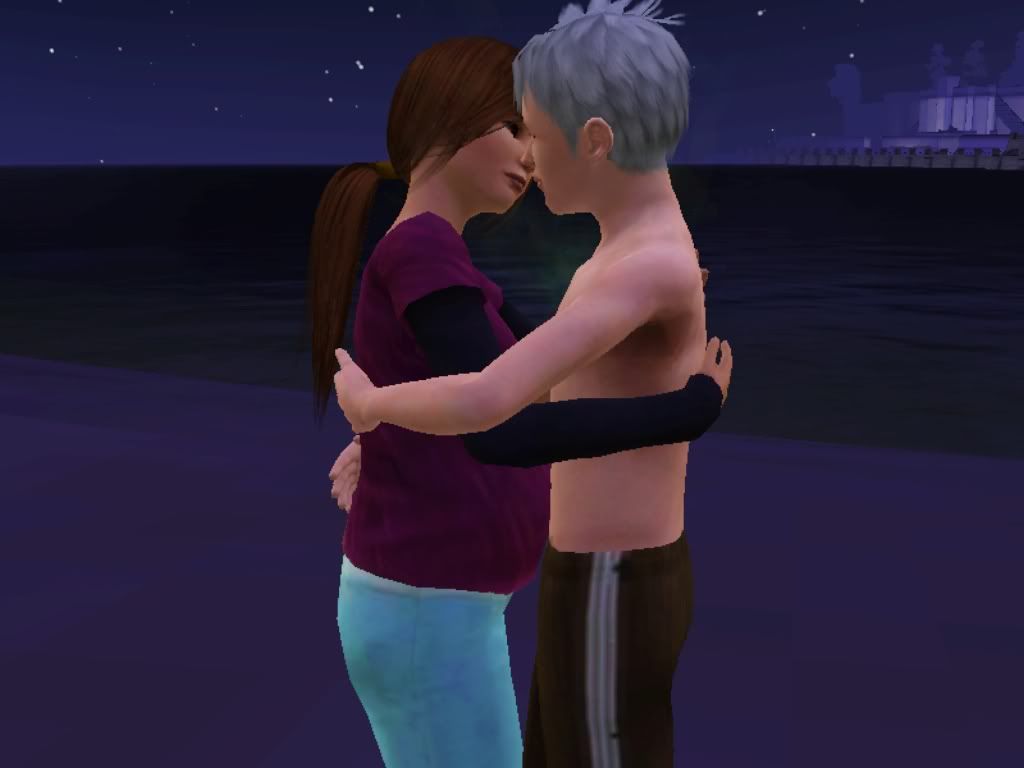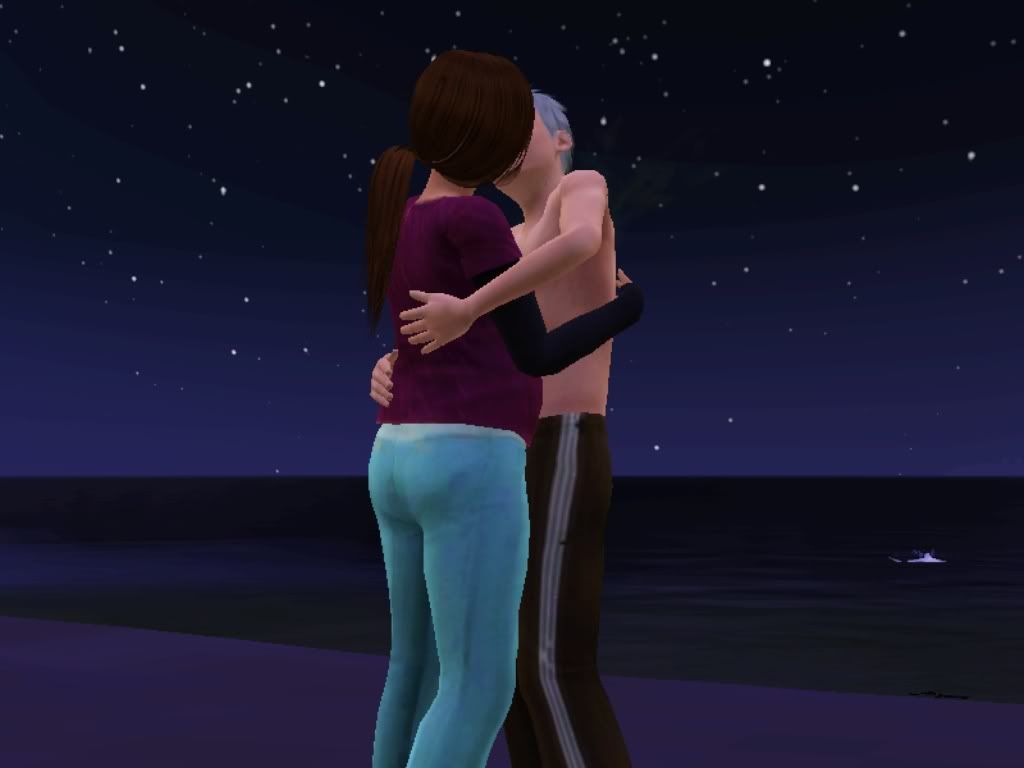 Aww….sims is so cute…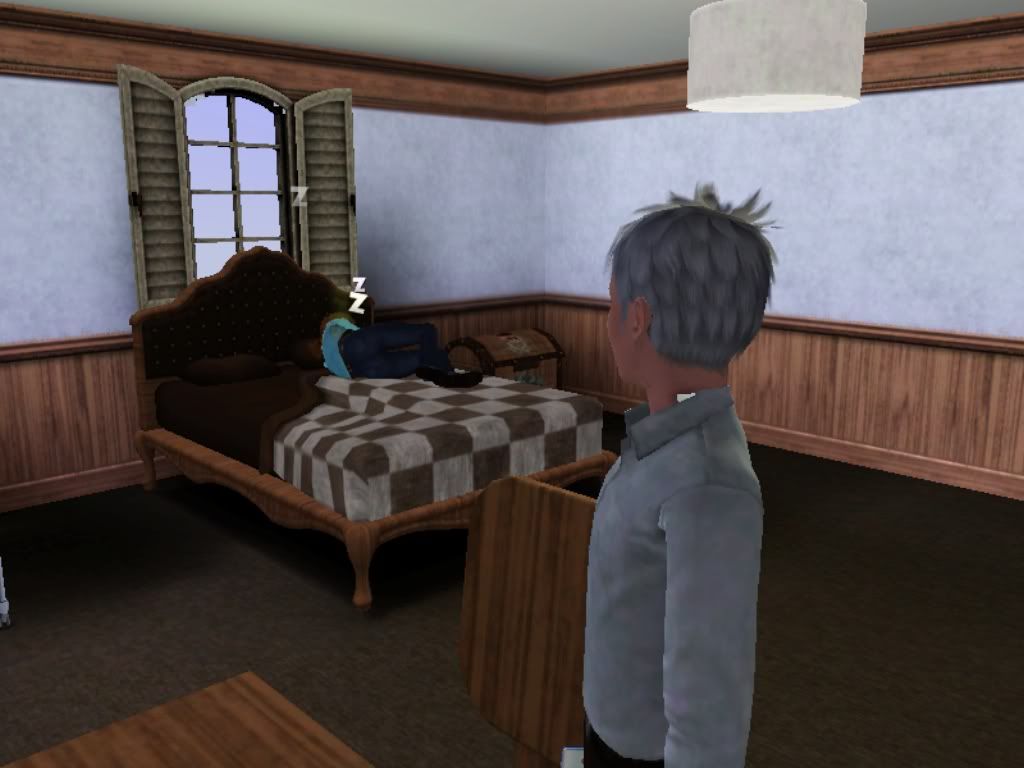 I think all the 'jogging' wore Liz out.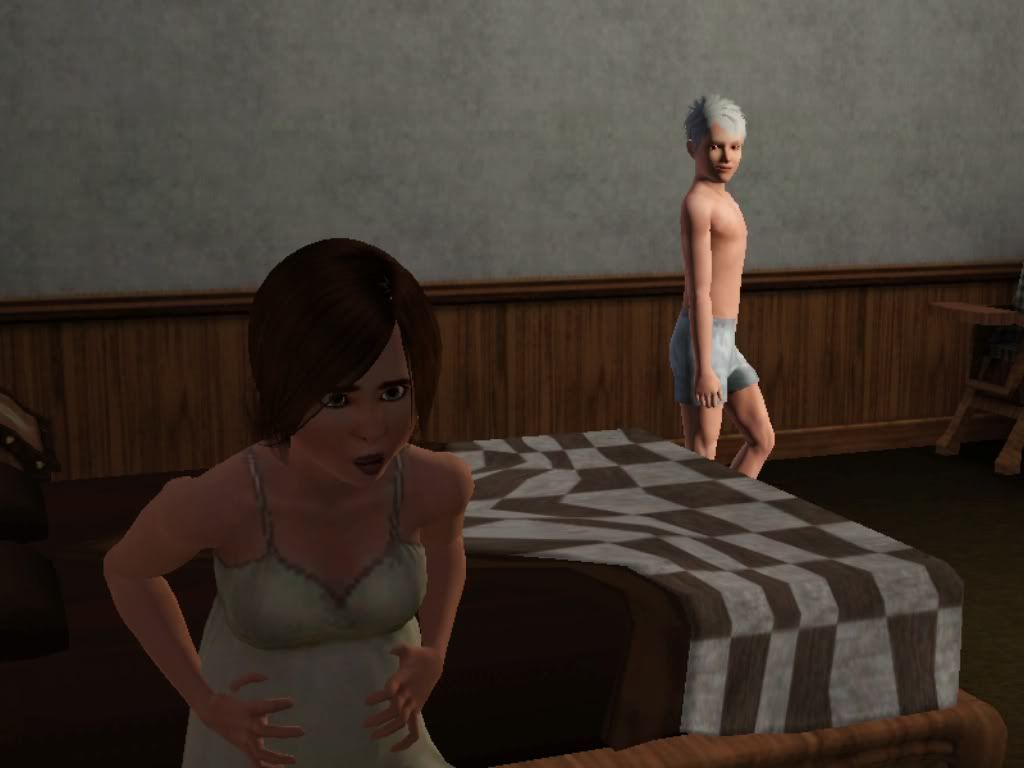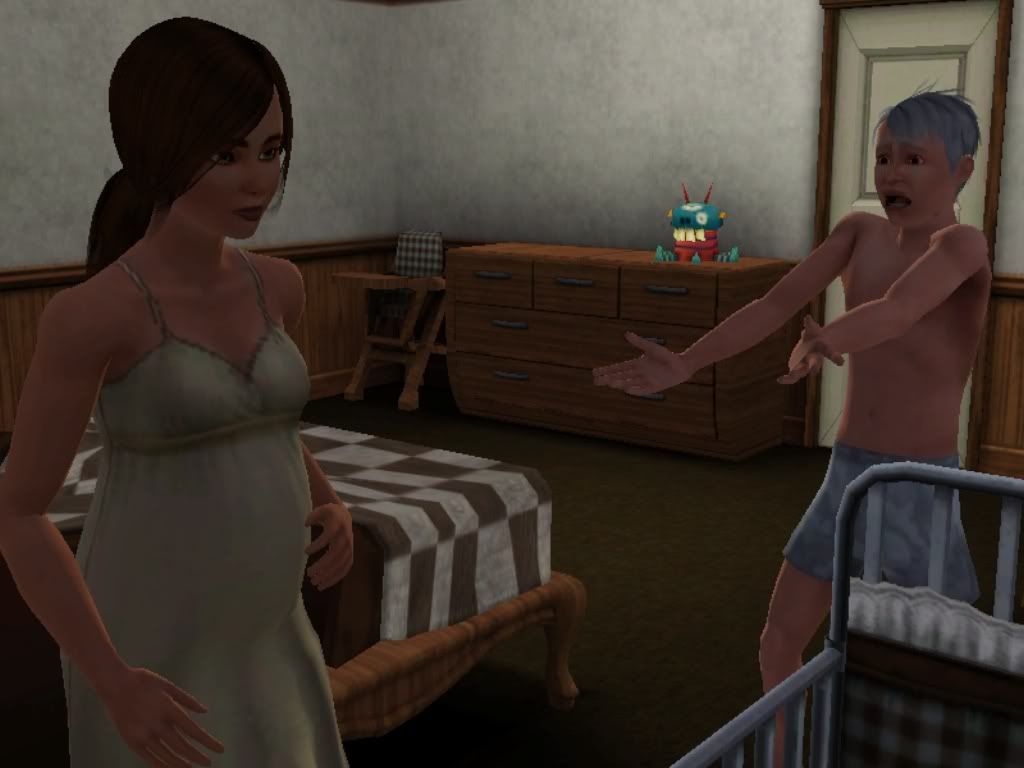 It's four in the morning and Gilbert is not calm. At all.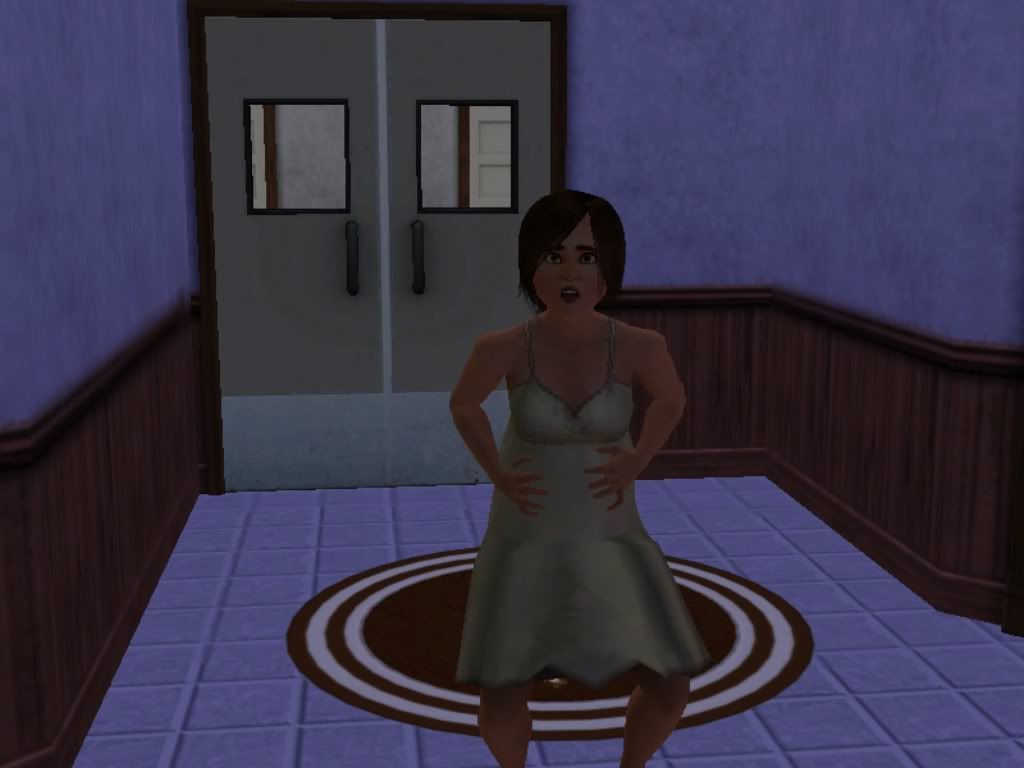 Liz decides to head up to the hospital wing to have the baby. Gilbert's there too, he's just off-screen and panicky.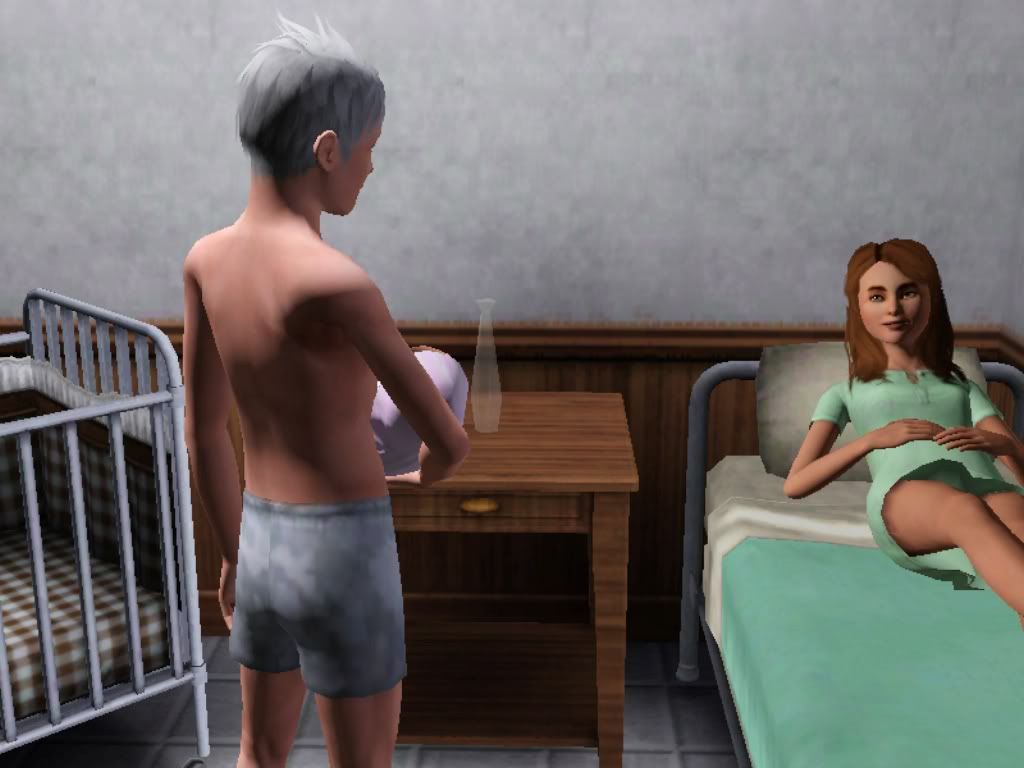 They had twins.
---
And that's about when my computer vomited all over my game and I lost them all. I was quite devastated, even though Elizabeta and Gilbert had decided to go and ruin everything. I mean, they just acted so…
right
I really miss those guys. But I'm rebuilding the school and I plan to start from scratch with no relationships. And I think I'll do this again, because it was
fun
That's all for now. I'll see where I get with take two.
And this time I will back up my god damn computer.
UPDATE:
More info on round two of the amazing Hetalia sims
here